PLEASE NOTE:The opinions, analysis and/or speculation expressed on BaltimoreRavens.com represent those of individual authors, and unless quoted or clearly labeled as such, do not represent the opinions or policies of the Baltimore Ravens' organization, front office staff, coaches and executives. Authors' views are formulated independently from any inside knowledge and/or conversations with Ravens officials, including the coaches and scouts, unless otherwise noted.
Wide receiver T.J. Houshmandzadeh wasn't content after making two catches in his first three games as a Raven.
That's putting it nicely.
And through most of Sunday's game against the Pittsburgh Steelers, Houshmandzadeh was again mostly a non-factor.
But when it mattered most, with the Ravens trailing by four points and mounting a last-minute drive, Houshmandzadeh showed he's not a player to be forgotten.
Houshmandzadeh ran a perfect double-move route and made the game-winning 18-yard catch to beat the Steelers, 17-14.
"I came to Baltimore to make a lot of plays," Houshmandzadeh said. "Not to be cocky, but I feel like I should always be the guy."
Houshmandzadeh lined up outside in a three-wide set with 42 seconds remaining. He faked outside and quarterback Joe Flacco pump faked. Just as Pittsburgh cornerback Bryant McFadden bit, Houshmandzadeh cut back inside, leaving himself wide open in the end zone.
Houshmandzadeh's route wasn't drawn up in the playbook that way, showing the improving chemistry between Flacco and his newest wide receiver.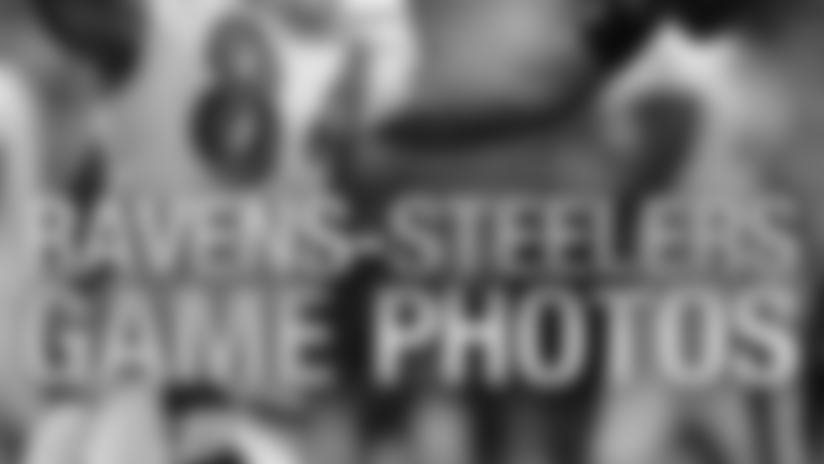 ](http://www.replayphotos.com/baltimoreravensphotostore/week-4-steelers-pictures/W04BR__0001024.cfm)
"When I'm running, looking at him, I saw him bite on the move so I just turned," Houshmandzadeh said. "And I was supposed to go up the sideline, but I felt him going outside of me, so I kind of crossed his face.  Simple."
Houshmandzadeh's start in Baltimore wasn't so simple. He had just two receptions in his first three games, including none against his former Cincinnati mates in Week 2. Houshmandzadeh had crucial drops in that game and afterwards admitted he needed to play better. Last week he made one catch late in the fourth quarter.
He expected to have a bigger role in Baltimore's offense, which he figured would be pass-oriented with a bolstered wide receiver corps.
"It's been a rough two games for me, to be honest with you because, I would say last week and this week, I hadn't played as much or gotten as many opportunities as I thought I would," Houshmandzadeh said. "And I'd be lying to you if I said things weren't going through my head.  But, you just gotta hang in there, you know.
"We're gonna to evolve [as an offense].  Whether we run or throw to win, we have to do what's best for the team."
Houshmandzadeh's day against the Steelers didn't start well. He dropped a potential first down on the Ravens' first drive, which ended with Billy Cundiff's missed 48-yard field goal attempt. Then two passes to him with the Ravens inside Pittsburgh's red zone went incomplete.
He caught his first pass with seven minutes, 14 seconds remaining in the game, a 21-yard gain that got the Ravens' potential game-winning drive moving. Baltimore got the ball down to the 2-yard line but threw passes to Derrick Mason and Anquan Boldin on third and fourth downs.
Flacco went to Houshmandzadeh on the Ravens' final drive.
On the play before his touchdown reception, Houshmandzadeh caught a 10-yard out pass that put the Ravens in the red zone. That up-and-out route set up the double move for the touchdown.
"I like playing against teams that got good defenses because they talk a lot," Houshmandzadeh said. "I talk a lot. They're not gonna scare me."
The Steelers' vaunted defense didn't slow down Baltimore's other receivers either. Mason made a large impact early and finished with a team-high 80 yards receiving on six catches. Boldin led all receivers with seven receptions.
"We're capable of making plays.  We have three guys in that room who have made a lot of plays in this league, who have caught over 100 balls, have been in Pro Bowls – so, you use them.  You find a way to use them," Mason said.
"We just want to make sure that each and every game, what we put on film makes the next upcoming defense have to think seriously about trying to take away the pass or trying to take away the run.  That's what we want, and we were able to do that today."