The NFL Draft is going virtual this year, and fans will have multiple ways to track the action via BaltimoreRavens.com, the Ravens app, all team-affiliated social media channels, national television and national radio.
Round 1: Thursday, April 23, 8 p.m. ET
Rounds 2-3: Friday, April 24, 7 p.m. ET
Rounds 4-7: Saturday, April 25, noon ET
ABC, ESPN and the NFL Network all three days
ESPN Radio, Sirius XM NFL Radio, Westwood One all three days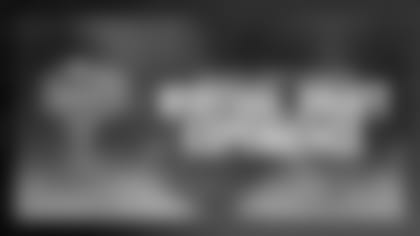 Tune In All Weekend
Join us throughout draft weekend for the best second-screen experience for Ravens fans. We'll have exclusive content with Eric DeCosta from his home, a live chat through all seven rounds, the latest news and analysis, opportunities for you to ask the decision-makers questions and a lot more!
BaltimoreRavens.com Coverage
Watch live press conferences with General Manager Eric DeCosta, Head Coach John Harbaugh, and Director of Player Personnel Joe Hortiz on Thursday night following the conclusion of Round 1. Find out the team's strategy in the first round and what the Ravens are looking forward to in the remaining rounds.
Fans can submit their questions to the team's decision-makers through Facebook live. There will also be press conferences to watch online following the conclusion of picks on Friday night and Saturday afternoon.
Follow the Ravens on social media for live updates throughout the draft. Ravens reporters Ryan Mink, Clifton Brown and John Eisenberg will host daily live chats Thursday through Saturday to discuss the Ravens' picks, as well as news from around the NFL.
Ravens fans can also participate in a variety of events on the team's website beginning Thursday to enhance their virtual draft experience.