As **Eric DeCosta** hit a winning shot in another racquetball match at the Ravens' training facility, he called out in pain.
He crumpled to the ground and instantly diagnosed what had happened.
"I think I just tore my Achilles," he said to* *his opponent, Senior Vice President of Public and Community Relations **Kevin Byrne**.
It was during his lunch break on Wednesday, April 13, about two weeks before DeCosta's version of the Super Bowl – the NFL Draft.
The Ravens were in the middle of full-blown meetings finalizing the team's big board and had everyone in town for the occasion. These are the meetings DeCosta, the team's director of player personnel, prepares for all year, yet he was in extreme pain.
So DeCosta called up to General Manager **Ozzie Newsome** to ask him to delay the meeting.
"I felt like I let people down," DeCosta said. "They were waiting for me. I just couldn't stand the thought of the meetings being delayed."
After getting the bottom half of his right leg frozen and put in a protective boot, DeCosta crutched up to the meeting. He had an ice machine brought to the "War Room" so he could re-numb the pain every couple of hours until the meeting ended at 7 p.m.
What most bothered DeCosta was that he couldn't get out of his chair to flip-flop the magnetic nameplates of each prospect as they were moved up or down the Ravens' board. Someone else had to do it.
For the past three years, DeCosta has been the man in charge of stacking Baltimore's draft board, which is equivalent to writing the team's Bible before it heads into selection day. And to him, that board "feels like a physical, living creature."
This is how much DeCosta cares about the draft. This is a reason why the Ravens have long been one of the league's best drafting teams and how DeCosta, at just 40 years old, has become one of the most sought-after front office names in the sport.
"Pain is pain," DeCosta said. "The injury I had wouldn't hurt as bad as not having a good draft."
'Some Kids Play With Dinosaurs'
DeCosta grew up playing fullback and linebacker in Taunton, Mass.
Like many boys, he was enamored with the Dallas Cowboys. But in talking about who he idolized, it wasn't players. It was Tex Schramm, the original president and general manager, and Gil Brandt, the vice president of player personnel from 1960 to 1988.
"Some kids play with trains and some kids play with dinosaurs," DeCosta said. "I just loved the National Football League, the draft and building teams."
DeCosta and his father, Joe, shared a common love of the draft. As DeCosta said, it became an event for them every year.
At just 7 years old, he started making his own draft board. In the fall, he watched all the players in college football and made a list of those that he liked. DeCosta memorized the names, positions and even statistics of all the players.
As spring rolled around, DeCosta poured over numerous publications and prospect rankings. He loved Mel Kiper Jr., ESPN's draft guru, because he was one of the first to analyze the draft ingreat depth.
DeCosta would compile analyst mock drafts, compare them to his own big board, and come to a consensus of his own before watching the draft to see who the Cowboys and nearby New England Patriots selected.
"I loved evaluating those picks," DeCosta remembers. "This was for me from Day 1, from a young age. That's what I wanted to do and I had a passion for it."
'He Does Not Like To Lose'
DeCosta came to the Ravens at the franchise's beginning, 1996, as an original member of the "20-20 club," a collection of entry-level scouts that begin in their 20s and make about $20,000.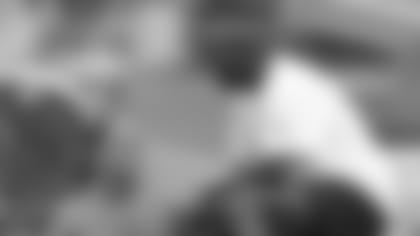 The English major's only scouting experience was at a training camp internship in the Washington Redskins' player personnel department in 1995.
Newsome, who discovered DeCosta and gave him a chance, saw the passion and an analytical mind.
"I think the thing about Eric is his ability to process a lot of information quickly," Newsome said. "To be a good talent evaluator, you have to be able to process information. He had an opportunity to learn from a lot of good people."
DeCosta became a sponge, soaking up all the knowledge he could from a bevy of talented evaluators (ex: Phil Savage, Terry McDonough, James Harris and **George Kokinis**) and coaches (ex: Ted Marchibroda, Marvin Lewis and Kirk Ferentz).
But it was Newsome's brain that DeCosta was constantly picking.
"I learned what I know about scouting from Ozzie," DeCosta said. "People always ask me, 'Do you guys ever disagree?' I'm telling you, it doesn't happen very often because he trained me. I know what to look for because Ozzie taught me what to look for."
Another reason why DeCosta has been able to move up so quickly is his competitive drive.
As Kokinis said, DeCosta is one of the most competitive people he has ever known, which is saying a lot considering Kokinis, Ravens Senior Personnel Assistant and former Browns general manager, has been in the ultra-intense NFL for 17 years.
"He does not like to lose; he does not take well to losing," said Kokinis, who has played many a racquetball game against DeCosta. "It'll anger him, but then that anger will go away and he's going to quickly analyze what went wrong and how he's going to fix it. If he's got to go into hibernation and train his little tail off, he's going to do that and then he's going to come out swinging and he's going to beat you."
DeCosta recalled numerous emotional fits while playing sports when he was a child. He also confessed to ruining a few pairs of binoculars on Ravens gameday. The workout warrior is the Ravens' residing racquetball champion. He has turned O.J. Brigance's Fiesta 5K run benefitting ALS research into a yearly race amongst staff.
"I definitely fear failure," DeCosta said. "That drives me in a lot of different ways through my life, it really motivates me. Whether that's as a parent, as a husband, as an athlete, as a scout, anything I do I make a contest so I can improve."
'Work-Hard, Play-Hard Personality'
DeCosta's mind never stops.
He's constantly culling for new ideas, and sometimes finds them in the most random of places, such as when listening to a CNBC report on stocks or analyzing funds while driving into the office. He also "cross pollinates" scouting ideas from other professional sports.
"I'm an ideas guy," DeCosta said. "It can be a very static business, kind of like Groundhog Day. April 1st rolls around and this is your time to get ready for the draft. So I'm trying to make it challenging, open up new ways of doing things. You do that by really thinking about it and studying it. There's a way to get better and I'm always trying to challenge myself and other guys."
There's also a tireless work ethic.
Kokinis said the other scouts feel a need to watch more tape because of DeCosta. It's like they're all trying to keep up with him, Kokinis said, so they can engage in his level of conversation.
"He's very focused, very organized," said Director of College Scouting **Joe Hortiz**. "He takes his job with the upmost sincerity – very, very serious about the job and what we do."
But there's another side to DeCosta that one wouldn't expect. He's also the Ravens' biggest prankster.
DeCosta says his best prank was pulled on Vice President of Football Administration **Pat Moriarty**, a frequent target. Moriarty had just bought an expensive pair of Nordstrom dress shoes and had them delivered to his office. DeCosta snuck in, surgically opened the package, replaced the shoes with an old, beat-up running pair from Moriarty's locker and re-sealed it to wait for the stunned and confused reaction.
DeCosta's recent prank of choice has been to crack into co-workers' cell phones and re-arrange contacts. Hortiz once thought he was calling his wife when it was really Newsome's number.
Asked to estimate how many times he has been pranked by DeCosta over the past 15 years, Moriarty said, "I'm a numbers guy and that's incalculable. It's a way of life for me."
"Eric's mind is always working," Kokinis said. "When his job responsibilities are done, his mind clicks into something else. It'll be, 'How can I get Pat Moriarty?' or 'How can I get Joe Hortiz?' His mind is always working from one thing to the next and it doesn't stop. That's where you get the work-hard, play-hard personality he has."
'On Everybody's Short List'
After six years as director of college scouting and two years in his current role, DeCosta's name is consistently raised in general manager open positions.
He was rumored to be a candidate in Seattle last year, but removed his name from the search. He came up again when there was an opening in San Francisco a few months ago.
"Eric DeCosta is on everybody's short list when looking for a general manager in the league," said Charlie Casserly, a former general manager turned NFL Network analyst. "He's done a terrific job there in Baltimore. Some day he will be a general manager in the league and I think he'll do a terrific job."
Ravens Owner Steve Bisciotti said he gave DeCosta a new contract after last year's draft with "a lot of financial incentive to stay" and be the Ravens' general manager-in-waiting.
DeCosta doesn't want to leave.
He grew up watching Boston legends such as the Red Sox's Carl Yastrzemski and Jim Rice and Celtics' Larry Bird, who all spent their entire careers with one team. Even Newsome spent his entire Hall of Fame playing career with the Cleveland Browns and moved with the franchise to Baltimore.
"That's one of the things I admire about Ozzie," DeCosta said. "I think that's really cool; one of the beauties of sports. I've been part of this organization for 15 years with [Owner] Art Modell and Ozzie and everyone. This club gave me a chance. I started here and I want to finish here."
One thing is for sure. DeCosta will be in the War Room Thursday night, crutches and all. He can't wait.
"The thing about the draft, it's nine months," DeCosta said. "This is an analogy that my wife won't appreciate, but you feel like you're carrying a baby. We're in the final weeks of the third trimester and we're getting ready to have the baby."