For a year-and-a-half, Ravens tight end Dennis Pitta couldn't give an answer to the question of whether he was ever going to play football again.
It wasn't that he was being secretive. He truly didn't know.
Now, at long last, Pitta is sure.
When asked if he could hypothetically suit up for a game today, Pitta confidently responded, "Yeah, I'm ready to play."
"I don't think there's much of any hurdle left," he said. "Barring a major setback in OTAs or training camp, I feel comfortable being out there practicing and playing."
Pitta hasn't played in a game since Sept. 21, 2014, the day he suffered a second hip dislocation and fracture in as many years.
He's worked with six doctors since, each bringing a different opinion. He's discussed the comeback with the team. He's hashed it out with his family.
But ultimately, the decision has been left to Pitta. And he's coming back.
"It was really a decision that I struggled with for a long time," Pitta said. "Really, for the last year-and-a-half, I was trying to figure out what I was going to do."
Pitta will be on the field in full capacity with his teammates Tuesday, the Ravens' first day of Organized Team Activities.
From there, he'll vie to play Sept. 11 versus the Buffalo Bills. Once considered the longest of long shots, Pitta has a very real chance of running out of M&T Bank Stadium's tunnel once again.
In an interview with BaltimoreRavens.com, Pitta detailed what went into his decision and the work to make it a reality.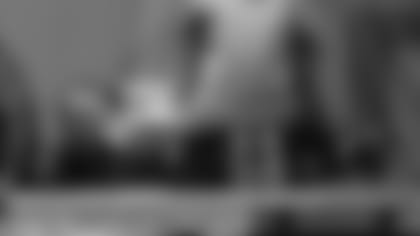 The Risk
The first time Pitta dislocated and fractured his hip was on July 27, 2013, the first day of contact in training camp. He jumped to catch a pass and his knee was the first thing to hit the turf, jamming the leg back into his hip. It's an injury seen in car crashes, not often on the football field.
Pitta immediately had surgery and rushed to get back on the field, which he miraculously accomplished just five months later, on Dec. 8, for a snowy Week 14 victory over the Minnesota Vikings. Pitta caught a crucial fourth-quarter touchdown to give the Ravens a momentary lead. He played in the final four games of the season without any setbacks.
The Ravens re-signed quarterback Joe Flacco's right-hand-man to a five-year contract extension the following February, hopeful the injury was behind Pitta.
But on Sept. 21, 2014, Pitta suffered the same injury again, this time without a shred of contact. In a Week 3 game at Cleveland, Pitta caught a pass, turned up-field, stumbled and crumbled to the turf. He immediately knew what happened.
The toughest moment, Pitta says, was when he left MetroHealth Medical Center in Cleveland, where he was rushed into surgery. Although he had done this once before, he had no clue what he was going to feel like in three months, six months or a year.
"And I had no idea if I was ever going to be able to play again," he said.
"There was a point where you kind of write yourself off. You're like, 'It's happened twice, they're telling me not to play at this point, so I'm probably done.' That's something I had to accept."
Like many people around him, Pitta assumed his body would respond worse to a second surgery than it had to* *the first. And it obviously hadn't responded well enough the first time to avoid another injury.
But there are important medical nuances to each injury and surgery that has Pitta more hopeful this time.
Pitta is not Bo Jackson, the former professional baseball and football player who was one of the greatest athletes of his generation. Jackson saw his two-sport career end far too early on Jan. 13, 1991 after a routine tackle. He managed to limp off the field because his hip actually popped out and then back into the socket on the play.
It wasn't the hip dislocation that ended Jackson's career, however. It was a bone disease called avascular necrosis (AVN), which occurs when the blood supply to a bone is disrupted, causing the bone to essentially die and require a full hip replacement.
In both of Pitta's hip injuries, he did not suffer AVN. While his hip did not slide back in on its own, doctors were able to get it back in place very* *quickly without interrupting the blood flow, and surgery was immediate. As strange as it may sound, Pitta says he's "fortunate."
Pitta's second hip surgery was very different than the first. The mission of the first surgery was to get him back on the field as soon as possible. The second surgery, performed by Dr. Roger Wilber in Cleveland, was about long-term stability.
"There were corrective measures done the second time around that weren't necessarily addressed the first time," Pitta said. "We didn't know they needed to be addressed the first time."
Pitta said Dr. Wilber is confident that "over the long term, it will be stable."
But is that stable for a desk jockey or for an NFL player?
"That's what's difficult to quantify," Pitta said. "Really with this injury altogether, it's difficult to put any kind of projection, or percentage, on the likelihood of it coming out again. In my opinion, and in some doctors' opinions, it's lower than the first time – significantly lower – because of some of the things that were done."
Pitta recognizes that his hip could still dislocate at any time, on any given play.
"You could talk all day about what the risks are," he said. "There will always be people that say I'm crazy and don't understand why I would put myself at risk. But to those people you say, 'We all put ourselves at risk playing football.' Whether it's a head injury or a hip injury or whatever it may be. We are at risk. What those risks are, I don't know and we don't know."
Part of the decision making involves asking the question: What's the worst that can happen?
If Pitta suffers a third hip injury, his career is presumably, once and for all, over. He would need a hip replacement. But while that's the end of football, it's not the end of a happy life.
Pitta said he anticipates there's a "high chance" that he'll have a hip replacement, no matter what, at some point in his life. He's not too worried about it because advancements in medical science have made it rather routine.
"At the end of the day, we're not talking about a life-or-death scenario," Pitta said.
"Obviously, you don't want to suffer another injury and you don't want to have a hip replacement surgery earlier than you should. But we understand that, as athletes, those are the long-term consequences of playing football."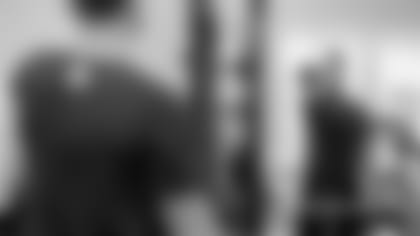 The Reward
At first, Pitta rehabilitated just to return to normalcy. But the more he worked and rested, the better he felt. The better he felt, the more football called.
There was no way he was coming back during the 2014 season, but he approached 2015 with an open mind. After going on the physically unable to perform list, Pitta returned to practice on Oct. 21, 2015 for a three-week "tryout."
Pitta impressed his teammates and coaches so much that some thought he could come back and play. But Pitta said the hip "just didn't feel quite right." Certain movements bothered him and there was some soreness after practices.
It was disappointing and tough not to return last season, especially as the team struggled on the field, but those three weeks were the greatest time of this whole process, Pitta recalls. Had he not practiced last year, he doesn't think he would have gained the confidence to keep going.
"Even though I wasn't 100 percent, I realized I could still play," he said.
This offseason, he decided to test his hip again.
Pitta took to the basketball courts at local rec centers and churches near his offseason home in Arizona. It's a far cry from football, but it required him to make cuts in space and included a fair amount of body contact in the paint, where there are hips colliding.
"It's pickup basketball, but guys go hard and have a lot of pride," Pitta said with a chuckle. "It was one of the better indicators of how I felt physically and how my body was going to respond."
One person who came out was former Ravens tight end Todd Heap, who also lives in Arizona and is a good friend of Pitta's. In his final year in Baltimore, Heap took the rookie under his wing.
"When we're playing hoops, it's not like we're going soft at all," Heap said. "He gets after it out there. There's no let-up in him, I'll tell you that much."
Heap said he hasn't seen any difference in the way Pitta played basketball before his hip injury to how he plays now. And Heap doesn't take it easy on Pitta for fear of hurting him.
"When you're competing, you're competing. If somebody's out there and not 100 percent, you're not thinking about that," Heap said. "He's going as hard as he can to the rim. That's how he always does it, and I know he'll do the same thing on the field."
Heap dealt with his fair share of injuries and hits to the head over his 12 NFL seasons. So of all the people Pitta has talked to about his decision, Heap is one who may understand best.
After leaving the Ravens in free agency in 2010, Heap played two more seasons for the Arizona Cardinals. He suffered a knee injury in Week 2 of his second campaign, and the Cardinals released him on Dec. 4 with 499 catches on his career resume.
"Every player wants to go out on their own terms," Heap said. "It's something a very rare few players get to do, but you give it everything you have to make that happen. I think that's kind of where Dennis is at. He left the field not on his own terms, and that's hard to deal with."
That said, the only advice Heap says he's given Pitta is that if he's going to go back on the field, he can't think about past injuries. He has to play like he's always played, just like on the basketball court.
"It's not my place, or anybody's place, to tell him that he should hang it up," Heap said. "It's my place to support him, and if he asks my opinion, then give it. When you get to that stage, it's super personal. You want to make sure guys are making decisions they can live with."
At the same time, there's no eliminating the pit in Heap's stomach. It's a feeling many close to Pitta will have.
"I'm nervous to watch him," Heap said. "I get nervous thinking about it because that's an injury I haven't had, and that's one he's had twice. It's one of those deals where I'll definitely be thinking about him a lot and hoping everything goes well."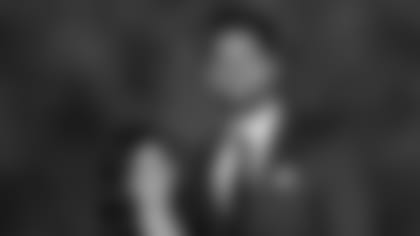 Heap isn't the only person close to Pitta who has concerns. There were three moving parts to Pitta's final decision to come back: the doctors, the Ravens and the Pittas.
The doctors had various opinions and differing levels of confidence that the hip wouldn't come out of place again. They're often on the more cautious side, Pitta said, because the last thing they want to do is give a patient the thumbs up and have them back in their office not long after.
The Ravens left the decision to Pitta. The team secured insurance by drafting two tight ends (Maxx Williams and Nick Boyle) last year, and signing another (Benjamin Watson) in free agency this offseason.
The toughest conversations were with Pitta's family.
Pitta and his wife, Mataya, have three children, including twins under the age of 1. When Pitta suffered his first hip injury, his oldest son, Decker, was just two months old. The doctors had to call Mataya during her husband's first surgery to get her OK to put him under anesthesia.
"I know my wife will be nervous to watch games come the fall," Pitta said.
But when asked who has been the most difficult to sway, Pitta didn't hesitate.
"My mom. She's still having a hard time with it," he said. "When you're a mother, you obviously don't want to see your kid laying on the field being carted off. She's had to watch that a few times, and she doesn't want to ever have to think about experiencing that again."
Pitta has heard the same questions time and time again. Why risk it when he has a beautiful family and already earned a good sum of money? Why risk it when he's a smart guy who will find his way in some other career?
Pitta said his family has been "tremendous" and very supportive during the process. For the most part, he said, they're excited that he's excited about coming back.
"Although it was a team effort in discussing things, ultimately it was my decision," he said.
"I've even had fans reach out to me who are concerned. It's appreciated. You understand that everyone's looking out for you. But at the same time, I feel like I know my situation better than anyone, and I feel really confident in the decision I'm making."
Pitta's reasoning is primarily four-fold:
Love of the game: "Obviously, I enjoy playing football. That's first and foremost. This is such an incredible opportunity to be in this position, and it's so short-lived that you want to enjoy it as long as you can."
Obligation to the team: "Over the past two years, I haven't been on the field much. I feel like I owe it to my teammates, to this organization, to get out there and contribute."
Leaving his mark: "I feel like I have a lot to prove and a lot that I still want to accomplish that I know I still can. Part of it is a selfish matter, to really leave the mark that I feel like I can."
Good health: "Physically, I feel really good – better than I've felt at any juncture since my surgery. Running-wise, I don't feel like I've lost a step. I feel like I can do whatever I want to do on the field – what I used to do."
The Ravens needed a final answer from Pitta on April 1, two weeks from when their offseason program started. On April 12, they hammered out a contract restructure and released two reserve tight ends.
Though he has a green light, Pitta's comeback isn't complete. He must stay healthy this summer and beat out one or two teammates at a crowded tight end position with Watson, Crockett Gillmore, Williams, Boyle and Darren Waller.
"I've been around for a couple years and certainly don't think anything is going to be handed to me," Pitta said. "We have a lot of tight ends in the building now, and I'm excited for that kind of competition, to be back out there competing. Hopefully I can earn a spot somewhere and add value to this team. That's really the thing that's important to me."