Though the NFL has its sights set on global expansion, the players within it are still quite domestic.
Last season, one out of every 39 active NFL players were born outside the United States, per The Washington Post. Compare that to professional baseball, basketball or hockey and it's not even in the same ballpark, arena or rink.
The Ravens are somewhat of an anomaly. In 2014, Baltimore drafted two Canadians, defensive end Brent Urban and offense lineman John Urschel. Last year, the Ravens drafted British offensive lineman Jermaine Eluemunor.
This summer, Baltimore opened its doors to two more international undrafted rookie prospects, Norwegian punter/kicker Kaare Vedvik and German fullback Chris Ezeala. These are the stories of their two very different paths chasing the American dream.
The Next Norwegian Kicker
After visiting his father's family in Nigeria when he was 16 years old, Kaare (pronounced "Corey") Vedvik knew he wanted to spend a year of high school as an exchange student.
Australia or the United States? The deciding factor was sports.
"America – it's the best in the world at everything," Vedvik said. "I always loved sports, always been super competitive in everything I do. It was the place to be."
Vedvik played hockey, did martial arts, ran track and field and, as just about every Norwegian does, grew up racing around his neighborhood on cross-country skis. But soccer was his main sport.
Vedvik knew of football. Across the Atlantic in Scandinavia, Norway absorbs a lot of American culture, and Vedvik watched classic football movies such as "Friday Night Lights" and "Remember the Titans." But he had never thought about playing football until he watched the Super Bowl seven years ago, and he had never kicked a football until he was 17.
In 2011, Vedvik landed at McPherson High School in Kansas. He wanted to be a wide receiver because he's fast, but the playbook was totally foreign. With his soccer background, coaches sent him to work with the kicker/linebacker. He was ticked, but saw an opportunity.
"I just looked at him like, 'If I start kicking, I'm going to take this job,'" Vedvik said. "The way he was kicking was all wrong."
Kicking a football is far different than a soccer ball, however. In soccer, players rarely focus on drilling the ball as hard as they can. It's about curving the ball or putting it in a specific spot.
Once he started kicking a football, Vedvik and his coaches realized he had a special leg. Vedvik went to "The Roundhouse," a circular gym, and blasted a basketball as hard as he could for 30 minutes every day before practice.
After watching Vedvik launch an 80-yard kickoff, coaches moved him up to varsity midway through the season. At the end of the year, someone told him he had a strong enough leg that he could perhaps play college football. The fire was lit.
Every weekend, Vedvik spent between two and six hours a day alone on a field with a camera so he could teach himself how to kick. He tweaked little things, and in a half year's time, he went from kicking 44-yarders to 64-yarders. He could even do it both right- and left-footed.
Vedvik scoured the Web for kicking camps where he could learn and get exposure. At a Kohl's kicking camp, he hit from 58, 60, 63, 65 and 70 yards consecutively. The 70-yarder put him on the map, and he was ranked the 13th-best kicker in the class of 2013.
When Vedvik went back to Stavanger, Norway, he spent his senior year of high school looking for any and every way to get back to the States. He emailed every person he could find contact info for at every Division I and Football Bowl Subdivision (FBS) school.
Vedvik got just two responses. Ultimately, Missouri offered a preferred walk-on spot. Marshall said it would give him a scholarship in the spring. He couldn't afford tuition (university is free in Norway), so he headed to West Virginia.
"As soon as I saw the window open that I could live my childhood dream of playing sports for a living, then I was taking that opportunity right away," Vedvik said. "I'm putting every ounce of my being into it. I've never looked back since then."
Vedvik was originally the Herd's kickoff specialist because of his big leg. He sat out his entire junior year to learn how to punt. Finally, as a senior, Marshall gave him kickoff, punt and field-goal duties. He loved it. Against Old Dominion, he bombed a punt 92 yards.
Ravens Special Teams Coordinator Jerry Rosburg heard about Vedvik and put him through a private workout at Marshall. He could immediately tell he had special talent, using his 6-foot-3 angular frame to deliver leverage and power. But Vedvik's personality also stood out.
"He's a fine young man," Rosburg said. "He's unique in that he's been on his own in a foreign country for going on six years now. Not too many people have those experiences."
When the NFL draft ended with Vedvik unsurprisingly not selected, multiple teams were interested in his services as an undrafted rookie. Vedvik had a good feeling about Rosburg and the Ravens, and he knew their track record of coaching up and churning out quality specialists.
Wil Lutz, who came to Baltimore as an undrafted kicker in 2016, is entering his third season with the New Orleans Saints. Vedvik and Lutz share the same agent.
Like Lutz, Vedvik has virtually no chance of making the Ravens' 53-man roster. That's just the reality when the most accurate kicker of all time, Justin Tucker, and arguably the league's best punter, Sam Koch, are both on your team.
Vedvik says he doesn't focus on any of that. He made waves with a 70-yard field goal in practice and in two preseason games, he's made three of his four attempts with a miss from 53 yards.
"If you're good enough, you're going to play in this league," Vedvik said. "I'm out here trying to see how much I can close the gap between, Sam, Justin and me. It's more of a personal competition against myself to see how much I can improve."
Vedvik still isn't sure whether he wants to be a kicker or punter. Ultimately, it will probably be settled by whatever team wants to sign him. Rosburg said it's been fun to watch his progress, especially as a placekicker, and it's just a matter of time before he lands a full-time job somewhere else.
"He has the traits, in my view, that will lead to that," Rosburg said. "He's talented; you can't do it without talent. He's got great character and work ethic. And he has a burning desire to play in this league, and he will."
Vedvik got plenty of inspiration during the Ravens' first preseason trip to Canton, Ohio. There, he met Jan Stenerud, the only kicker in the Pro Football Hall of Fame who just happens to be (yup, you guessed it) Norwegian.
"It was an honor," Vedvik said. "We had a really good talk, talked about how his journey was from Norway over here. It's never easy. In fact, it's freakin' hard, man."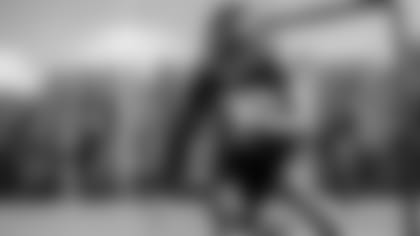 Chris Ezeala didn't just dream of playing in the NFL one day. He dreamed of playing for the Ravens.
While soccer is king in Germany, a friend asked Ezeala if he might be interested in football. At 13 years old, he reluctantly gave it a shot and instantly fell in love.
He liked the teamwork and camaraderie. And when he saw Ray Lewis for the first time, he was hooked.
Ezeala's flag football coach was a Ravens fan. Even though he couldn't do a single push-up at his first football practice and league rules don't allow tackling until age 16, Ezeala wanted to be just like Lewis. 
In high school, with a six-hour time zone difference, Ezeala stayed up late watching Lewis ride off into the sunset in Super Bowl XLVII. At the same time, his career was beginning.
"I loved the game so much," Ezeala said. "Everybody knew I had big potential."
Ezeala investigated coming to the United States with the hope of earning a college scholarship. He received some interest from smaller schools and junior colleges, but his Nigerian-born parents were leery. Instead, he went to the German Football League (GFL), hoping to attract the NFL from afar.
Simply put, he dominated. Ezeala played fullback, running back and linebacker. He looked like the Ray Lewis of Germany.
After three years in the GFL, Ezeala found his route to the NFL. In 2017, the league began the International Pathway Program in which it assigns a player from abroad to each team in one division. Last year was the NFC South. This year, it was the AFC North's turn, which meant an opportunity for Ezeala to connect with his favorite team.
Ezeala flew to Bradenton, Fla., to train at the IMG academy alongside college prospects preparing for the NFL Scouting Combine. More than the training, it was the work in the classroom that helped most, as the foreign recruits were well behind their peers in understanding the game.
At the end of the three months, Ezeala was assigned to the Ravens. He felt like it was destiny, but he was still blown away (and still is). When he first arrived, Ezeala walked around the Under Armour Performance Center lost and wide-eyed.
"It's crazy. It's CRAZY," he said. "A year ago, I was sitting at home thinking about being in the league, thinking about being here. Now I'm seeing Joe Flacco and Terrell Suggs and everyone. It's just amazing.
"When I found out I was coming here, it was one of the greatest feelings of my life. Purple was my favorite color too. Now I can rock purple and nobody says anything."
There's still a long way to go, however. Ezeala, who ran the 40-yard dash in 4.5 seconds at his pro day and has added a ton of muscle since the days when he couldn't do a push-up, has the physical tools. But the playbook was a third, and much more difficult, language to learn than English.
"It's so much to absorb," Ezeala said. "It's soooo much. I'm trying to learn it as fast as possible, but it is way harder than I expected. Way, way harder."
"He's a good athlete. He can run, he can hit, he's physical. He's made a lot of progress," Running Backs Coach Thomas Hammock said. "He just has to learn all the details of playing the fullback position. The speed of the game is different, the intensity is different. All those things he was doing in Germany, it's got to be 10-fold coming over here."
Ezeala found that out for himself when he stepped in for a full-contact pass protection drill and was clobbered by outside linebacker Kamalei Correa.
"In Germany, I was one of the most physical guys ever. Now? Pshh," he said. "The NFL is no joke. All of these guys can really hit."
Ezeala is slowly getting used to it. The beauty of the International Pathway Program is that it gives participating teams an 11th practice squad spot to carry the foreign player for one season. There's no way he would make the 53-man roster yet, but this gives him a redshirt year to develop.
"I think next year, it'll be different," Ezeala said. "If I learn everything, I will stay in the league for sure. I love this game and I want to be someone big in this game. I'm trying to get all my assignments and all of the information so I can play the game the way I played it in Germany – like a baller."