The Ravens made their first official free agency move early Friday, signing cornerback **Domonique Foxworth** to bolster the cornerback position. Domonique is originally from Maryland, so coming back to play for the Ravens is a bit of a homecoming for him. It's been a whirlwind day for the Foxworth family, but Domonique still found time to blog his thoughts as he becomes the newest member of the Baltimore Ravens.
Domonique Foxworth here on BaltimoreRavens.com. I can't put into words how excited I am right now. I've been working so hard to get to his point, where I can get a contract that can change my life and change the lives of the people around me. It was hard to sleep last night. I knew teams would call (or hoped anyway) based on the body of work I've put out there, and there was no shortage of interest. When it hit 12:01 last night, the floodgates opened, but as soon as I heard the Ravens were interested, they were at the top of my list. Everybody else goes on the back burner when your hometown calls.
I drove into town this morning with my girlfriend, who is a 1L at Harvard Law right now. We came in from D.C., and on the way we passed by the University of Maryland, College Park, where I played as a Terp. We came through Randallstown where I grew up, and played as a Randallstown Panther. We even drove by my old elementary school. Finally, we arrived at 1 Winning Drive. It's incredible to look back on my football career and to finally come back and play home in Maryland, for the team I rooted for growing up.
It just means so much to be back home, for both and my family and me. Family is the most important thing, I love them to death. I fly as many of them out to my games as I can, and I would fly here to see them as much as I could.
Now, I don't have to. They're a phone call away. I can go get some home cooking, I can go see my grandmother, my brother and all my friends from college and high school. I'll even get a chance to go to a Terps game – I haven't been since I graduated. Every time I had a bye, they had a bye, so it's been tough. It's those types of relationships that, as you get older and move away, you lose touch with them. I'm here now, and I'm ready to reconnect.
It will also be great to reconnect with an old friend of mine, Fabian Washington. We met each other our senior years of college, and spent a lot of time getting ready for the Combine together. We performed there together in 2005, and have been close ever since. During the season we would talk only once or twice a year, but when we did it was always a very good conversation. I talked to him this morning, and he was just as excited as I am. He's my new best friend.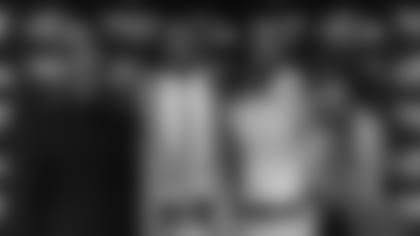 My family was here with me today after I officially became a Raven. My dad: great dude. He's been a role model of mine growing up. My mom was the same, always there for me. My grandma has been great too. This is just as big a day for them as it is for me – if not bigger.
My older brother is here, too. Growing up he would always take me along to play football with the older kids. I got good real quick thanks to them.
My agents were here as well. They got me this deal that allowed me to come home to Baltimore. Good job fellas. They also take on all the stress for me, so I was able to stay pretty relaxed throughout the whole process of coming here to play for this great Ravens defense.
I can't remember a time when the Ravens defense wasn't great, since the history is so short. That's what this city really prides itself on, and to be part of that is pretty special. You go anywhere in the country, people either want to know about the Ravens defense or The Wire. I'm tired of defending this city against that TV show, but I'm always proud to say that I'm from the home of that Ravens defense.
Now I don't want to jump the gun or step on anybody's toes, but it's my understanding that I'll be a starting corner in this defense. I was a starting corner in Atlanta, and I played extremely well. I don't think you go and grab somebody on the first day of free agency just to hang out at the facility.
I'll be doing a lot more than just hanging out, and a lot more than playing in this defense. I have a long history of community service. The last major thing I was able to accomplish was to help build a teen center in memory of Darrent Williams, who I played with on the Broncos and was a close friend of mine that we lost. I've always been extremely committed and dedicated to whatever city I was in. I can only imagine that it will be 10-fold now that I'm back home, and that's what is important.
But obviously, what I'm here first and foremost for is what I do on the field. You fans deserve to know that I am an experienced, smart player who has played a lot, and at a lot of positions. I might not be the most outspoken or flamboyant guy, so the word might not always get out on that, but I feel like I'm a respected talent. Just ask Ozzie. He's the best in the league at talent evaluation. He wanted me here, so I must be doing something right.
That's all for now, Ravens fans. It's good to be back home in Baltimore.