Jim Caldwell is here to stay.
Head Coach John Harbaugh announced Monday that Caldwell will stay on as the team's offensive coordinator next year and for the foreseeable future.
Caldwell was previously operating on an interim basis, but has proven himself with sparkling results.
Since Caldwell took over for Cam Cameron in Week 15, the Ravens offense has averaged nearly 31 points in the four games in which starters played throughout.
The Ravens averaged 417 yards in those games. They were averaging 344 yards per game previous to Caldwell taking over play-calling duties.
Baltimore's offense put up 21 points in the second half of Sunday's AFC championship game in Foxborough, largely due to a mid-game shift of strategy to go to the air and challenge the Patriots linebackers and secondary.
Overall, however, Baltimore didn't make drastic changes to the system in place.
But Caldwell, who is calling plays for the first time in his 11-year NFL career, has shown some wrinkles. The Ravens are taking consistent shots deep down the field, yet feeding running back Ray Rice. They have moved Flacco in and out of the pocket more.
Center Matt Birk said Caldwell has put his "flavor" on the offense.
"It's a tough situation for him, too, coming in his first year here and then in the offense," Birk said. "It's not like we changed everything we were doing. He just kind of took the controls, and obviously, done a nice job."
Caldwell's arrival has also timed up with a string of strong performances from quarterback Joe Flacco. Flacco had a tough outing in Caldwell's first game against Denver, in which he threw a critical interception for a touchdown.
Since then, Flacco has thrown 10 touchdowns and zero interceptions and led the Ravens to wins over future Hall of Fame quarterbacks Peyton Manning and Tom Brady, Super Bowl winner Eli Manning and rookie phenom Andrew Luck.
"I think we had a good relationship before he became coordinator, so I think he has settled in a little bit," Flacco said of Caldwell. "I think he has had the time to really prepare for it now and I think we just continue to grow week-by-week."
Flacco and Caldwell's personalities also seem to mesh well. They're both very laid back, yet competitive to the core. Caldwell has spoken about the input he wants Flacco to have in the offense.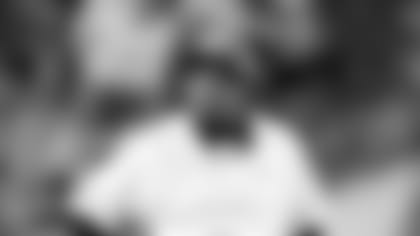 "He's pretty dry," Birk matter-of-factly said of Caldwell.
"Since he's been through this a lot of times and has been a part of a lot of great offenses, he knows what it looks like and what it's supposed to feel like. Obviously, I'm sure he's drawing on his experiences and helping us out and bringing that to our offense."
Harbaugh also announced that he does not expect any other coaches to leave the team. As vacancies from around the league have been filled, that tends to shake up team's staffs. But Harbaugh will maintain his in Baltimore.
He called the continuity on his staff as a whole a "profound positive."
The Ravens did add one piece, Harbaugh announced. They have brought on former Philadelphia Eagles defensive coordinator Juan Castillo as a consultant.
Castillo became the Eagles defensive play caller after 13 seasons as an offensive line coach, a rare move. But the change did not work out as well as Head Coach Andy Reid wanted, leading to Castillo's dismissal on Oct. 16, in his second year on the job. Castillo's talent-rich defense was ranked 13th in points allowed per game in the NFL when he was fired.
Castillo will serve as a consultant for the remainder of this season and as the Ravens' run-game coordinator next year.