Ring of Honor| Legendary 75
The last time Jonathan Ogden ran out of the tunnel at M&T Bank Stadium, he was wearing full pads in the 2007 season finale, a walk-off 27-21 Ravens win to end his illustrious career.
When he does it before the Ravens' Week 8 meeting with the Oakland Raiders, don't expect him to be similarly dressed.
Ogden will be introduced last behind the offense as the newest member of Baltimore's Ring of Honor, presented by Smyth Jewelers, the highest team honor any alumnus can receive.
But, he'll likely don dressier attire this weekend for the ceremony, much to head coach John Harbaugh's chagrin.
"We're going to introduce him [Ogden] with the team, so if he comes out in full gear you'll know he's playing left tackle," he joked Wednesday.
The 11-time Pro Bowler joins former owner Art Modell, running back Ernest Byner, linebacker Peter Boulware and defensive end Michael McCrary, in addition to all eight Hall of Fame Baltimore Colts.
After retiring as one of the greatest offensive linemen in NFL history, Ogden admitted he thought he'd eventually receive a call to the Ring.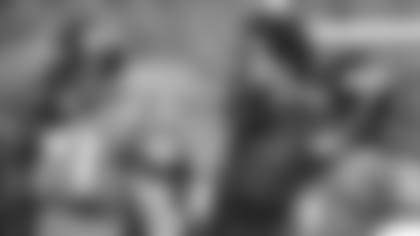 "Just going in there with those guys I played with [and] Mr. Modell, obviously, is one of the best owners in the business," said Ogden, who attended Wednesday's practice. "To know my name is going to be up there for years to come, it's just really an honor. I expected it, but when it came it was still kind of a shock. So it's a really good thing."
As the first-ever draft pick in franchise history, Ogden became one of the most beloved Ravens. His No. 75 jerseys can be seen scattered throughout M&T Bank Stadium every Sunday, and around Baltimore throughout the week.
In today's era of free agency, players rarely stay with the same team for their entire career. Ogden counts himself lucky to have done so in Charm City.
"I got to play 12 good, solid years here and was able to step away from the game and know that this will always be my town, my team, the Ravens," he stated. "I watch all the games still, and I feel like I'm out there. It's a blessing, really, when I look at it, in this day and age, in particular."
A recurring turf toe injury limited Ogden during his last two seasons in purple and black, pushing him to retire when he realized he might be resolved to simply be a regular starter and not the dominating player he always was.
Now, Ogden splits time between his Las Vegas home and the Baltimore community, keeping busy with his charitable endeavors and honing his golf swing.
He has recently launched an eponymous wine from which 100 percent of the proceeds will go to the Jonathan Ogden Foundation.
In addition, his annual charity boxing event, "An Evening Ringside," will be held next Thursday, Oct. 30.
"I'm just trying to stay involved in the community, really," Ogden said. "Nothing too heavy, but just trying to make sure that I still do my charity work and work on my golf swing, do some yoga. That's pretty much my day.
"You know what's funny? It's a little boring being retired, but I'll take it, though. I worked hard enough for 12 years. I'll take a little bit [of a break]. I'll find that 'it' thing within the next couple years, I'm sure. But right now, [I have] plenty on my plate."
Ogden is quick to dismiss a return to the gridiron like many, such as Green Bay Packers legend and current New York Jets quarterback Brett Farve, have done in the past because of the toll football takes on a player's body, especially in the trenches.
But when he walks out of the tunnel with a slight twinge of pain in his still-tender toe, Ogden will likely have the memories of so many Sundays come rushing back to him.
The massive tackle is eager to soak up those memories, if for just one last time.
"To me, I'm just grateful because I want to thank everybody for being my fans for the last 12 years here," Ogden said, remembering that season and career finale last year. "It's probably the last football thing I'll do, really, so I just really want to savor every moment I had.
"Like last year on the field, I took the picture with my son. I'm going to try to do the same thing and enjoy it that way."