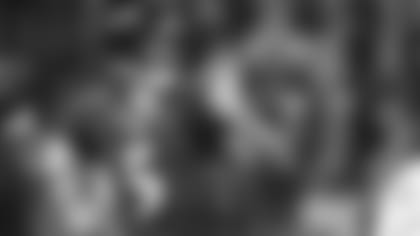 Joe Flacco vs. Tom Brady.
Following last season's AFC title matchup, the two quarterbacks dueled again Sunday night in Baltimore, and this time Joe Flacco came out the victor – both on the stat sheet and the scoreboard.
Flacco completed 28-of-39 passes for 382 yards, three touchdowns and one interception. Brady was 28-of-41 for 335 yards and one touchdown.
But Flacco concerned himself with the victory more than anything.
"It just means we're 2-1 and not 1-2," he said. "It was a good win, and we have to take it for what it is, which is just a win and move on."
Flacco consistently deflected praise, partly because he knows it comes and goes. It had already waxed and waned over the season's first two weeks when Flacco came out on fire against Cincinnati, but had a rough second half in Philadelphia.
On Sunday night, Flacco bounced back.
The Ravens have won 14 straight games following a loss and that in large part has to do with Flacco. He's now completed 64 percent of his passes, thrown for an average of more than 250 yards per game and tossed 22 touchdowns to just four interceptions in the games after defeats.
"He is not going to be perfect – none of us are," Head Coach John Harbaugh said. "But, what you saw out there is Joe Flacco, that's who he is as a football player."
Flacco's 382-yard night is the third-most passing yards he's posted in a single game during his career. His career high was 389 in St. Louis last year.
But it didn't start well. Flacco completed a pass to the New England Patriots before he connected on one to his own team.
He was picked off by Pats safety Steve Gregory trying to thread a bullet into heavy coverage to tight end Dennis Pitta. That was returned to the Ravens' 6-yard line and the Patriots punched it into the end zone three plays later to take a 10-0 lead.
Flacco didn't start connecting until the second quarter, and he was largely held to just check-downs. The Ravens had trouble finding anything deep down the field.
"It was a little up and down there," Flacco said. "We kind of went on some streaks as an offense. We scored here, had a couple lulls. I think we did a good job from the second quarter on. Even in the second half, a couple of possessions we didn't score, we hurt ourselves."
The Ravens figured out how to attack New England's Cover 2 defense that never goes with a single-high safety, and Flacco started to hit more of his wide receivers.
Torrey Smith finished with six grabs for 127 yards and two scores. Jacoby Jones had three grabs for 86 yards. Anquan Boldin had four snags for 48 yards.
Flacco threw for 246 yards and completed 16 passes in the second half alone. He hit his first three passes for 44 yards on the Ravens' final 70-yard drive, putting them in position for the game-winning field goal.
"A lot of people criticize Joe, but he's proving to people over and over that he's an elite quarterback. Me personally, I'm tired of people talking about it," Boldin said.
"We didn't feel like they could stop us. Once we figured out what they were doing defensively, the only people that were going to stop us were ourselves."
In many pundits' eyes, Flacco arrived in the AFC championship last year. He threw for 306 yards that night, completing 22-of-36 passes for two touchdowns and one interception.
On Sunday night, Flacco not only outdid Brady. He also outdid himself.
"It was fantastic, it was elite. I see that one coming," Harbaugh said to reporters with a laugh. "To me, Joe is a great quarterback. This is what we've been saying for five years."