During the first round of the 2018 NFL Draft, Joe Flacco was hanging out with his brother, cousin and Dennis Pitta in the basement of his home. They were playing pop-a-shot basketball as they casually kept one eye on the TV.
Throughout the night, the guys were teasing Flacco about the possibility of the Ravens picking a quarterback.
"We were saying stuff like, 'I wonder which quarterback we're going to take!'" Pitta said. "We were just messing with him. He didn't really care; he was laughing about it too. I was joking about it mainly because I didn't think it was going to happen."
The Ravens traded back once. They traded back again. When Baltimore selected tight end Hayden Hurst at pick No. 25, they all thought Flacco was in the clear. Even better, he had a new weapon.
Then the Ravens traded back into the first round, pick No. 32, and they all immediately knew who it was for. Lamar Jackson, the electric 2016 Heisman Trophy-winning quarterback was coming to Baltimore.
"We all just looked at each other," Flacco said. "They looked at me and I looked at everybody else like, 'Uhhh,' and we kind of raised our eyebrows and laughed."
For the first time since his rookie season, Flacco suddenly had competition – real competition. It was a monumental organizational decision.
Within minutes, Flacco's phone rang. It was Head Coach John Harbaugh calling to check in on his franchise quarterback. Harbaugh was beating around the bush at first until Flacco interjected.
"I told him, 'Alright, that's not why you called me. Let's get to the point,'" Flacco said.
Harbaugh said something along the lines of, "Yeah, I know, you're right," and the two talked about the team's thought process. Flacco doesn't remember much about what was said after that. He didn't make any bold statements. It was just a "feeling-out process," Flacco said.
Minutes after that phone call, when speaking to the media, Harbaugh made the team's outlook clear.
"Joe Flacco is our quarterback – that's the thing we have to remember," Harbaugh said. "Lamar is going to have a great chance to develop."
More than four months later, the Ravens approach the 2018 season with Flacco firmly entrenched as the starter. And by the estimation of many team insiders and media pundits, he looks ready for a resurgent year that makes fans remember his Super Bowl XLVII run.
"I wouldn't say it gives me motivation. And if it did, it would give me motivation for about two hours." Joe Flacco
One big question is still debated, however. How much is Flacco motivated by Jackson's arrival?
"Does them drafting a quarterback give you some sort of feelings? Yeah," Flacco said. "But I wouldn't say it gives me motivation. And if it did, it would give me motivation for about two hours and then you forget about it because you're in the middle of doing what you're doing."
Most people around Flacco aren't buying what he's selling.
"They draft somebody at your position in the first round, it has to light something in you," safety Eric Weddle said.
One of Flacco's best friends, Pitta isn't buying it either.
"Anytime someone is drafted that high at your position, you're certainly motivated by that," Pitta said. "Joe definitely has the mentality like, 'OK, you guys want to draft this guy? Well screw you, I'm going to prove that I'm the best guy. I'm going to make this decision look like a bad decision because of how I'm going to play.'"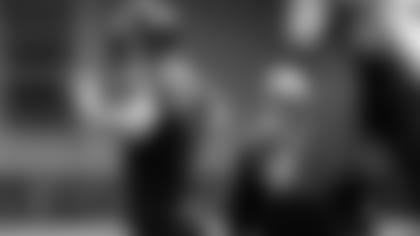 Where Joe Gets His Motivation
Perhaps Flacco is adamant about Jackson's arrival not being a motivating force because, in a way, saying so is kind of insulting.
If Flacco has a great 2018 season, then Jackson's arrival gets the credit? And implying that it took drafting a rookie quarterback to motivate Flacco would mean he wasn't motivated already.
For a quarterback who has often seen his success tagged with, "Well, he has a great defense," and heard plenty of criticism since 2012; for someone as self-assured as Flacco, that just doesn't sit well. A sliver of that attitude was seen earlier this preseason when Flacco was asked whether he expects to get tired of answering questions about Jackson.
"No. I don't," he said. "Because I think we're going to win and we're not going to hear about it."
That side of Flacco tends to get lost behind the ho-hum exterior. He's super competitive and super confident. Just take a look at his history.
When he was Tyler Palko's backup at the University of Pittsburgh, he grew so frustrated that he transferred to Delaware, in the Football Championship Subdivision, so he could start. He set 20 school records and led the Fightin' Blue Hens to the 2007 FCS Championship game.
When Flacco arrived in Baltimore as a first-round pick in 2008, he was competing for the starting job against former first-round pick Kyle Boller and former Heisman Trophy winner Troy Smith. Boller got injured, Smith fell ill and Flacco grabbed the job for good and held it for the past 10 seasons.
In 2011, Flacco turned down a lucrative Ravens contract extension and went into the fifth and final year of his rookie contract with a less certain future. He had an epic playoff run, won the Super Bowl, was named its MVP and paid accordingly. He bet on himself and won.
When Jackson was still playing high school ball in Boynton Beach, Fla., Flacco was proving that he was a player who rises to the occasion. That's just who he's always been.
"My motivation comes from wanting to be the best. No matter what you do, you should strive to be the best in that," Flacco said. "For me, it's always been athletics. At this point in my life, it's playing quarterback. That's what motivates me – winning NFL football games, being the best at what I do."
You don't reach the NFL, become one of the world's best 32 quarterbacks, then become one of the league's top playoff performers, without being inwardly driven – no matter how good an arm you're blessed with.
"You can have little spurts of different things here or there that might get you ticked off, but those things don't sustain," Flacco said. "Once you get out there on the practice field for training camp, you're not thinking about that stuff. You're just thinking about being the best quarterback you can be."
"Not to brag, but I always throw the ball pretty darn well. The ball ain't coming out of my hand any better than it was five years ago." Joe Flacco
When the Ravens drafted Jackson, media and fans became obsessed with getting Flacco's instant reaction. On several occasions, including for this story, Flacco used the same line. It made him feel "a certain way." What, exactly, is that certain way?
"I don't want to elaborate too much because I don't want to get myself in trouble," Flacco said with a grin.
"They obviously aren't happy with how we've been playing the last couple years and I'm a big part of that. They felt like they needed to do something. I obviously didn't agree with it, but what am I going to do about it? Really, it's out of my hands. It's their decision; it's a business and it's their organization. I'm just a piece of it and I try to play my role the best I can. That's all I can do."
For the first time in years, Flacco held a couple days of off-site, offseason workouts with his wide receivers. It was about getting extra familiarity (both on the field and off) with his three new free agent wideouts.
Then Flacco stepped into training camp and once again showed that he is a beautiful thrower. Reporters glowed, writing that Flacco was spinning the ball better than ever. Sports Illustrated's Peter King said after watching one training camp practice that it was the best practice a quarterback could possibly have.
The storyline was born. Flacco was practicing better because Jackson was right behind him.
"Not to brag, but I always throw the ball pretty darn well," Flacco said. "The ball ain't coming out of my hand any better than it was five years ago.
"I think it's a really easy narrative because that's what they want it to be. You're paying more attention to if I'm actually having a good camp. I've always had good camps."
Why Joe Feels He's Playing Better
For the record, some people believe Flacco.
Asked Wednesday how Flacco has handled the "Jackson situation," outspoken linebacker Terrell Suggs – one man who doesn't bite his tongue – said, "What's Joe's nickname again? Joe Cool."
"I don't think us drafting Lamar has made Joe more motivated to be a better quarterback," Suggs said. "I think he had plans on having a big year this year, anyway – especially with the pieces we were able to bring in through our free agency."
The fact of the matter is Flacco is feeling motivated this year for a variety of reasons. Maybe a slice of that pie is because he has two Heisman Trophy winners sitting behind him, but it's not the only piece.
Physically, Flacco's feeling great. In 2016, he was still coming back from a torn ACL. Last year, a back injury knocked him out for all of training camp and the preseason and hampered him for the first half of the regular season. This is the first time he's been totally healthy since 2015.
Now he has weapons around him, too. Flacco has had some excellent veterans (Steve Smith Sr., for example), but never a trio like the one the Ravens aggressively brought in this offseason: wide receivers Michael Crabtree, John Brown and Willie Snead IV and rookie tight ends Hayden Hurst and Mark Andrews. It's led to a different confidence level from Flacco.
"I think he's motivated by the weapons he has around him – me, Crab and John," Snead said. "Now he knows he just has to put it in a spot and we'll go get it."
After going against Flacco and the offense in practice this summer, Weddle confidently said Flacco is going to have a "career year." That didn't surprise Flacco at all.
"Out there on the practice field, we've been a way better offense, so he should feel that," Flacco said. "As a quarterback, when you have guys getting open really quick and you have room in the pocket, you feel that. It's easier to play quarterback when you have a better offense."
Flacco's also comfortable in the Ravens' scheme and approach this year. He's in his third season with Offensive Coordinator Marty Mornhinweg and first with Quarterbacks Coach James Urban. Urban has helped streamline communication, made things more black and white, and hit it off with his signal-callers. Flacco called him a "great asset."
Flacco believes the Ravens will take a more aggressive offensive approach this season. As he mentioned Wednesday, he expects Baltimore to "put an exciting product on the field" for fans. Their previous more cautious approach is one reason Flacco believes he hasn't put up gaudy stats.
"I think a lot of it is the style of football we play," Flacco said. "We've always had really good defenses and we play to win football games. We don't necessarily play to be pretty.
"Listen, winning the game is the most important thing. Me playing well is really important. Me having really good statistics so it looks to everybody else that I play well, that's important to me also. But I'll sacrifice that in order to win games."
That was all fine and good when the Ravens went to the playoffs their first five years, and it all came together when Flacco went on a historic statistical tear in the Super Bowl XLVII run. But after three straight years out of the playoffs, when the wins haven't come often enough, Flacco's sub-par stats make it "hurt even more."
"I believe we've learned some things about ourselves and myself because we haven't made the playoffs," Flacco said. "So hopefully we make the most of that, and it does big things for us this year."
Add all those factors up, and there's good reason to believe that Flacco could, in fact, have a career year. It's just the preseason, but Flacco posted the league's highest quarterback rating (141.4) in his tune-up for the regular season.
"Just talking with him, he's in a really good place right now," Pitta said. "He feels comfortable with the pieces around him, with the offense, with everything they're doing. You just can't help but expect him to play at an elite level again."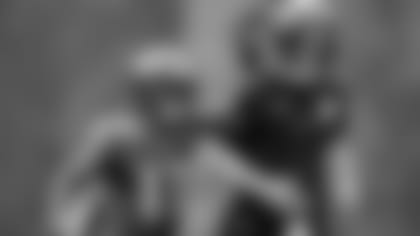 How Lamar Is Helping Joe
Health, weapons and scheme all make a huge difference in the performance, and thus perception, of a quarterback. With that said, Flacco isn't blind to the fact that he also hasn't played as well as he could over the past few seasons.
Flacco believes that the quarterback position is one where a player should be getting better until the day they retire because it's such a mental position where experience makes a massive difference.
Even if a bit slower in those later years, a quarterback can still be better in his 30s (or even 40s) than in his 20s because of what he knows. Mornhinweg agreed, saying Flacco is "right in the middle of his prime; there's no question about that."
Thus, Flacco scoffed at the notion that he's too old to have a career year in his 11th season. He's still learning, still watching his film and finding his flaws. He freely pointed out one.
"There's times when I hang on things," Flacco said. "When I expect something to happen and it doesn't happen, I hang on it. I want to get better at just moving along."
"There still has to be an element of playground football in you. I definitely think having those guys in the room reminds you of that." Joe Flacco
This is where Jackson's presence may tangibly be improving Flacco's performance.
Flacco admits he's relied on check-downs too often. It has helped him and the offense avoid sacks, but it also led to a league-low 5.72 yards per attempt last season and the overall dullness of the Ravens' offense. This offseason, Flacco said there's been a big emphasis for him to make more plays.
"Sometimes things break down and you've got to get out, or step up, or run or create something," Flacco said. "There still has to be an element of playground football in you. I definitely think having those guys in the room reminds you of that."
Former Heisman Trophy winners with dynamic running ability and a knack for making eye-popping plays when all hope seems lost, Jackson and Griffin are two of the masters of "backyard football." Griffin also noticed Flacco feeding off their mobility.
"I think Joe is moving better because we are in the room," Griffin said earlier this preseason. "When you are in the room with different styles of quarterback, you pick up a couple of those tendencies."
How Long Will It Last?
The last three years have been challenging for Flacco – not winning enough games while not performing as well as he'd like to personally. Last year's first half offensive slog was particularly difficult.
But Flacco and Baltimore's offense rallied during the second half, nearly pushing them into the playoffs. And Flacco learned something about himself in the process.
"I've learned that I can come out the other end – sustain who I am, continue to be tough, continue to be a leader, no matter what has happened the week before or the season before," Flacco said. "It wasn't good, but I proved to myself that I can come out the other end of it and still have it."
The question is how much longer will Flacco be in Baltimore to prove that he still has it and that his big contract is worth it?
The Ravens save $10.5 million under the salary cap if they release Flacco next offseason. Jackson is on a much cheaper rookie deal and the Ravens could afford to build more around him to maximize the bang for their buck.
On the other hand, it depends on how long it takes Jackson to be ready to become a full-time starter. And each year Flacco plays (he's under contract through the 2021 season), the Ravens' salary cap penalty if they were to part ways with him decreases.
The financial aspect of the equation could play a role. As Flacco said, it's a business. Many pundits have speculated on how many more years Flacco will be a Raven. Even Pitta had trouble answering whether Flacco will play out his current deal in Baltimore.
"As I'm concerned, I'm going to be here for a long time. Tom Brady's had guys drafted in the second round and he's still there." Joe Flacco
"I'll say this: When you draft a first-round quarterback, you want to see what he's capable of," Pitta said.
"I think all of Joe's potential to play out his contract is going to depend on how he plays. If he lights up the league and plays like he's capable of playing – like he's played in the past – and we make postseason run after postseason run, then he's going to play the remainder of it. There's just no way you can take that out. But if the product on the field isn't as strong as everyone would like, you want to see what your first-round quarterback can do. Joe understands that."
Pitta pointed to the Kansas City Chiefs. They drafted Patrick Mahomes in the first round last year. Veteran Alex Smith had arguably one of the best seasons of his career, but the Chiefs still traded him to the Washington Redskins this offseason.
"They wanted to see what they had in their first-round quarterback. That's just the nature of the business," Pitta said. "I think at some point, people in the Ravens organization don't want to think they wasted a first-round pick. They want to see what Lamar is capable of. Hopefully, that comes later than sooner."
So, how much longer does Flacco think he has in Baltimore?
Just like he's never going to say that Jackson is motivating him this year, Flacco's also not going to put a timer on his job. First, he said he's not looking that far ahead. This season is most important.
"As far as I'm concerned, nothing's changed," Flacco added. "That's out of my hands, but as far as I'm concerned, I'm going to be here for a long time. Tom Brady's had guys drafted in the second round and he's still there."
Indeed, the New England Patriots drafted Jimmy Garoppolo in the second round in 2014. Last year, they traded him to San Francisco and recouped their second-round pick. Baltimore could potentially do the same with Jackson down the road.
Asked if he expects to play out his contract and seek an extension from Baltimore in the 2022 offseason, Flacco leaned forward and spoke with confidence: "No doubt."