The Ravens must have expelled a gasp of fear when tight end **Edgar Jones** hit the turf in Tuesday's practice. His left knee was inadvertently smacked by cornerback **Evan Oglesby's** helmet on a routine passing play, causing Jones to drop and trainers to rush out to him.
Normally, the incident would make for a typical occurrence, considering Oglesby clearly slipped when **Troy Smith** looked for Jones crossing the middle.
That left Jones as the go-to target.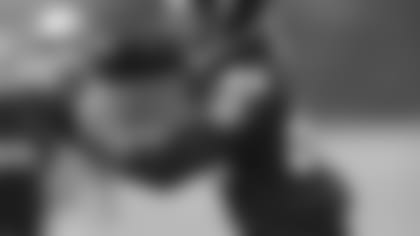 After walking off under his own power and jogging a few yards, Jones went right back in the drill, this time lining up as a defensive end, easily getting off the ball and after the quarterback.
Many spectators thought the injury could have been serious, but Jones had no problems whatsoever.
"I'm fine," the 6-foot-3, 263-pounder simply said.
Tough words from a gritty prospect that could be a key contributor for the Ravens this year. With his recent extended playing time due to the previously-described injuries, Jones is making the Ravens seem prescient by switching him from an outside linebacker/defensive end to tight end last season.
Jones, who played wide receiver and some tight end in high school, has regularly made difficult catches seem fairly easy – at least for a former heavy-handed pass rusher.
As a rookie undrafted free agent in 2008, the Division I-AA Southeast Missouri product totaled six special teams tackles and a half-sack from scrimmage. He also caught one pass for 25 yards after making his mid-season job transition.
"As you watch him, he looks more and more like a tight end, doesn't he?" Harbaugh said with a laugh. "You see him doing those things. But here's a guy that can rush the passer for us or play defense in a pinch. And when you've got the lead in the fourth quarter and you're trying to close somebody out, you've got to be able to rush the passer.
"The more fresh pass-rushers you can put out on the field to go after their pass protection, that's going to help you."
Jones is simply happy to get on the field in whatever capacity. He is flattered by the praise from his coaches, but knows he must be prepared for any situation.
It seems as if Jones is comfortable in both.
"Sitting in the offensive meetings, that's all I'm hearing now, so that's made it more of a focus for me," Jones stated. "I still have the defensive mentality in me, because that's just how I grew up. If you put me down to rush the quarterback, that's second nature. But, I'm feeling a lot more of the offense now."