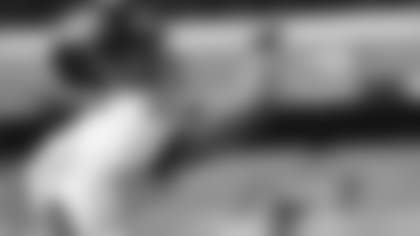 It was all fun and games when Ravens kicker Justin Tucker took a hit while recovering a fumble on his own kickoff in last week's second preseason game in Miami.
This time, it wasn't so amusing.
Tucker went into the concussion protocol after making a tackle during Saturday's third preseason game against the Buffalo Bills. Thankfully, the two-time Pro Bowler was cleared, but it still provided a momentary scare in Baltimore.
"It doesn't matter if it's preseason, you just want to do your job and make a play," Tucker said afterward. "At the exact same time, you want to be available and ready to go Week 1 – and I will be. I'm ready to go right now."
Then, in usual fashion, Tucker joked: "I'm glad to make it out alive."
After nailing a 40-yard field goal, Tucker hit wide receiver/returner Brandon Tate at the end of a 32-yard kickoff return in the first quarter. Tucker went in low, leading with his head, and his head hit Tate's thigh.
"It's my job to make the play or at least force the returner out of bounds," Tucker said. "I was doing my best to get my head across and go low and protect myself, and I just got hit in a specific way."
Tucker came off the field and saw the team's doctors on the sideline. They ultimately took him into the locker room.
While it was the first time in his football career that he's been concerned about getting a concussion, Tucker has never been afraid to stick his nose into the thick of the action. He once took a brutal hit from a linebacker on an onside kick in Pittsburgh.
Tucker admitted that taking a hit like that is a reminder of the appreciation for the collisions his teammates endure. He joked that he could count on two hands how many tackles he's had to make during his six-year NFL career.
"It's admittedly kind of nice about my position," Tucker said. "At the same time ... when we get into the regular season, I'm going in to light somebody up; I'm not just trying to make the tackle."
So Tucker's takeaway isn't that he should avoid contact. It's that he should come harder.
Now that Tucker has been hit in back-to-back preseason games, Head Coach John Harbaugh was asked whether he would discourage Tucker from trying to make tackles.
"I would prefer that the ball not get to him," Harbaugh said. "That's the responsibility of the rest of the guys – to keep the ball away from him."