AFC Championship Predictions: Ravens vs. Patriots
At this point, the Ravens are used to getting overlooked by the pundits – or the "prognosticators" as Head Coach John Harbaugh likes to say.
The Ravens are once again underdogs heading into Sunday's AFC championship rematch with the Patriots, as just 13 of the 53 media members below expect the Ravens to pull off the upset.
Take a look at this week's picks:
Peter Schmuck (Ravens 27, Patriots 24): "The Ravens have already proved the oddsmakers dead wrong once and now they are going to do it again. They're on a mission and they've already proven they can compete with the Patriots in the postseason at Gillette Stadium. Now, it's time to get over the hump."
Jeff Zrebiec (Patriots 27, Ravens 23): "I'm not a big believer in the whole 'Team of Destiny' storyline, but the Ravens are making it hard not to at least contemplate the possibility. However, it's even harder to go against Bill Belichick and Tom Brady in a big game at home."
Aaron Wilson (Patriots 31, Ravens 27): "Despite a game effort that pushes the Patriots to the brink of elimination, the Ravens fall short of an elusive Super Bowl berth as Tom Brady throws a series of darts to Wes Welker. Joe Flacco and the offense are unable to score enough points to make up for several defensive breakdowns."
SI.com (Peter King): Patriots 31, Ravens 26"I wouldn't be at all surprised if Baltimore wins. But I'm going New England. The Ravens have made life hard on Tom Brady in the last three meetings (two touchdown passes, five interceptions), so I don't think he'll hang 40-something on them -- but I do think the chemistry Brady's developed with his backs will neutralize the loss of Rob Gronkowski. And as long as Wes Welker, his third-down crutch, is healthy, Brady will be the most dangerous weapon in this game. This will be a great game, though, the second straight weekend the league will produce an instant classic involving the Ravens."
Pete Prisco (Patriots 31, Ravens 28):"The Patriots don't turn it over much. Tom Brady is so good at finding the mismatches in the secondary that he rarely makes the big mistake. And he's got a great feel for avoiding pressure in the pocket. Brady will get his big plays against a Ravens defense that isn't quite what it has been in the past. I look for New England to spread out Baltimore and attack that way, with both the run and the pass."
FOXSports.com (Peter Schrager) Ravens 34, Patriots 30: "I like the Ravens on Sunday. I've been riding the Ray Lewis Express since it announced it was leaving the station and I'm not getting off of it now. Ray Lewis factor aside (and yes, if you've been in that locker room, you know that's a real thing and not the media creation some have suggested), I also think the Ravens match up better with the Patriots than the Broncos, the Texans or even the 49ers did. Torrey Smith presents the type of deep pass-catching receiver that gives New England's defensive backfield fits."
Mike Florio (Patriots 27, Ravens 24): "In September, I picked the Patriots to make it back to the Super Bowl.  So how can I pick against them in the game that would put them there?  Actually, it's a convenient way to play both sides of the fence, and I'm tempted to pick the Ravens; it just feels like it's time for them to get back to the Super Bowl, and I'd love to see a Harbaugh-vs.-Harbaugh battle for the NFL title.  But it also feels like it's time for the Patriots to get back to the Super Bowl and win it."
Sporting News (Vinnie Iyer)**Ravens 33, Patriots 30**: "Much of the playoff attention on Baltimore has been on the impending retirement of Ray Lewis. But it's been a whole lot of other players, led by Flacco and Rice, paving the way for their surprising run. They have at least one more upset in them."
Could Ed Reed End Up In New England?
Lost somewhere in the excitement of the Lewis hoopla is that Ed Reed could also be playing his final games as a Raven. He's an unrestricted free agent at the end of the season and has said that he'll assess his future sometime during the offseason.
"If Reed leaves the Ravens after this season, my money is going to be for New England," Hensley wrote.
Hensley thinks Reed might go to New England for two reasons: 1. The Patriots need help in the secondary. 2. Bill Belichick loves Reed.
"It's a full-blown man crush," Hensley said about Belichick's admiration for Reed. "A couple of years ago, Tom Brady joked that Belichick wanted to adopt Ed Reed and change his name to 'Ed Belichick.'"
Reed has mutual respect for the Patriots and has always spoken very highly of Belichick and Brady.
"On Sunday, Reed is looking for his first trip to the Super Bowl when the Ravens play at New England," Hensley wrote. "But his destination this offseason will also be a major storyline."[
](https://www.facebook.com/sharer.php?u=http://espn.go.com/blog/afcnorth/post/_/id/63831/could-reed-end-up-with-pats-next-season&t=Could Reed end up with Pats next season?)
Good Luck To Joani Harbaugh
The person who might be the most anxious heading into this championship weekend is Joani Harbaugh Crean, the younger sister of John and Jim.
After watching her two brothers fall just short of the Super Bowl last year, she's knows that she has another nail-biting weekend in store.
Joani, who is married to Indiana basketball Head Coach Tom Crean, is no stranger to the ups and downs of sports. But last year's AFC and NFC championship games were a tough pill to swallow.
"When last year's championship games were over, and both of her brothers had lost in the cruelest ways, Joani Harbaugh Crean flipped off the TV, looked at her husband and said, 'Oh my god. I never want to go through that again,'" Reilly wrote. "This Sunday, she has to go through it again."
Good luck to Joani, and the entire Harbaugh family.
Ravens Assistant Head Coach and Special Teams Coordinator Jerry Rosburg was a candidate for the Chicago Bears head coaching vacancy that was filled yesterday by Marc Trestman. The talks never went beyond preliminary stages and Rosburg never had a formal interview. [The Baltimore Sun]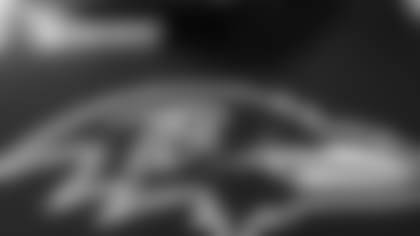 Ravens' savviest offseason signings like Jacoby Jones and Corey Graham came at a small cost. [The Baltimore Sun] * Lewis gets most of the attention at inside linebacker for the Ravens, but Dannell Ellerbe![](/team/roster/dannell-ellerbe/bac3695e-88ed-43ee-bf7e-eb95d7ae4e1b/ "Dannell Ellerbe") is actually having the better postseason, Prisco says. [CBSSports.com] * @AdamSchefter: The Dunkin' Donuts boxes in Baltimore (which I don't believe are for sale in Massachusetts) [Twitter] * Flacco and the Ravens have emerged as the biggest rivals for the Patriots. [NESN.com] * Reilly: Ray Lewis seems to be wearing a face mask fashioned from the grill of a 1987 Buick LeSabre: TRUTH. [ESPN.com] * Skip Bayless isn't expecting Flacco to outplay Brady on Sunday. However, "if he again outplays Tom Brady in the AFC title game at Gillette Stadium, please hide the razor blades for me," Bayless wrote. * Members of the Baltimore Police Department put together this video to wish the Ravens good luck Sunday in New England. There are even a few officers showing off their "Squirrel Dance" moves. Thank you for the video, and for all you do to keep us safe.  * Baltimore Mayor Stephanie Rawlings-Blake talks smack with Boston Mayor Thomas Menino, who once again didn't pronounce his team's players' names right. [ESPN.com]