Should the Ravens Trade for Mark Ingram?
There's been a lot of talk this week about how the Ravens have struggled to run the ball so far this season. Traditionally, the Ravens have done quite well in this area, but the same efficiency hasn't been there so far in 2018. The Ravens rank No. 29 in yards per carry (3.4) and No. 25 in yards per game (94.4).
So, how could this be fixed?
There is a variety of opinions out there, but Ebony Bird's Richard Bradshaw had a unique solution: The Ravens should trade for New Orleans Saints running back Mark Ingram.
"There's no doubt the Ravens would be more successful in 2018 if they had a stable running game to lean on, and Mark Ingram is a perfect fix for this issue," Bradshaw wrote.
This is just Bradshaw's opinion. The Ravens have not given any indication of even remotely considering this or any trade, and have confidence in running backs Alex Collins and Javorius Allen rounding into form.
Still, it's an interesting prospect to consider. Ingram, who has made the Pro Bowl twice, is coming off a four-game suspension for performance enhancing drugs. He did have a bright beginning to his 2018 season on Monday against the Washington Redskins, scoring twice and amassing 73 total yards on 18 touches.
"Ingram's between-the-tackles running style and versatility as a receiver gives Offensive Coordinator Marty Mornhinweg the kind of weapon he's looking for in his backfield," Bradshaw wrote. "Ingram would also be [quarterback] Joe Flacco's new best friend as a dump-off option and a guy to move the chains and break the will of opposing defenses."
Ingram's background would also make him an intriguing player to the Ravens' front office. He played his college football for Alabama, General Manager Ozzie Newsome's alma mater, and a school he loves to get players from. In fact, there are six players currently on Baltimore's 53-man roster that went to Alabama. Ingram was the first Heisman Trophy winner in Alabama's history.
If Ingram is such a talented player though, then why would the Saints be willing to let him go? The emergence of second-year star running back Alvin Kamara.
"Kamara could make Ingram more expendable," Bradshaw wrote. "Ingram will be 29 years old at the end of December and is a free agent following this season. Getting something out of Ingram would be extremely ideal for a Saints team with a pretty wide Super Bowl window. This plays perfectly into Baltimore's hands."
Even though Ingram could sign elsewhere after the 2018 season, Bradshaw still thinks it's an option the Ravens should explore.
"Even as a rental, making a move for Mark Ingram makes a lot of sense for the Ravens," Bradshaw wrote. "Ingram would immediately provide Baltimore with a legitimate ace for their lackluster run-game while also providing the team with a more complete identity as a balanced offense."
Quantity Isn't the Issue With Run Game; It's Quality
A popular conversation topic among pundits and fans is the Ravens' run-pass ratio on offense. Against Cleveland, the Ravens ran the ball 25 times out of 84 plays (29 percent).
Head Coach John Harbaugh doesn't understand the obsession with the topic.
"I don't understand the question, why it's a topic," Harbaugh said on Monday. "You have to do whatever you have to do to move the ball and score points. We've been doing a pretty good job of that up until this last game."
WNST's Luke Jones agrees with Harbaugh. He also noted that, "The Ravens are currently a passing team, and that had worked very well until Sunday."
The Ravens brought in three new free agent wide receivers, and also selected two playmaking tight ends early in the draft. The Ravens are going to be throwing the ball more than last year, when they ran it 43.6 percent of the time.
Those moves were done to keep up with what's happening in the rest of the league, which hasn't had a team run the ball more than pass it since the Buffalo Bills in 2015. Pro Football Talk's Mike Florio noted that the average quarterback passer rating (93.4) in the NFL is way up, average completion percentage (65 percent) has increased, as has yards per passing attempt (7.5).
"Today's NFL is a pass-heavy league and analytics-based principles such as throwing more frequently on first down improve your chances of winning compared to the traditional three yards and a cloud of dust," Jones wrote. "Like it or not, that mindset isn't changing anytime soon."
A team can't just abandon the run, though, or defenses would adjust accordingly. "You can't do it all with the pass," Jones wrote.
It is important to run the ball effectively, too. As stated in the section above, the Ravens rank No. 29 in yards per carry (3.4) and No. 25 in yards per game (94.4).
So, why is the offense struggling to run the ball?
It's a difficult question to answer, especially because of the continuity between this year's group and the 2017 one. Last year, the team finished No. 11 in rushing yards with run game coordinator Greg Roman, the same top two running backs in Collins and Allen, as well as three offensive linemen – left tackle Ronnie Stanley, center Matt Skura, and right tackle James Hurst – that started last season. Having guards Marshal Yanda and Alex Lewis return after injury was seen as an added upgrade for the whole operation despite the loss of center Ryan Jensen in free agency.
For Jones, the interior of the offensive line hasn't excelled in run blocking. Yanda has done well, but Skura and Lewis have been more effective while pass blocking, per Pro Football Focus.
"Most of their rushing success has come on the outside, which makes sense when two of your three interior linemen have been below-average run blockers," Jones wrote.
Jones also noted that the Ravens have operated out of the shotgun 63 percent of the time this season, which is a lot more than they did in 2017 (48 percent). It's possible for teams to run effectively from the shotgun, but it's also a formation that favors passing the ball more.
It's not all on the offensive line. Collins has lost two fumbles, while Allen lost his first of the season against Cleveland.
Getting the run game's swagger back will definitely be a focus of the team this week as it prepares to face a Tennessee defense that has given up the third-fewest average passing yards per game (210), but has conceded the seventh-most average rushing yards per game (123.2). If it doesn't happen this week, the Ravens will need to continue to search to find a solution, despite being a passing team.
"It's difficult envisioning the Ravens getting to where they want to be by season's end without having a better running game in their back pocket when they need it," Jones wrote.
Ravens Take A Small Dip in Power Rankings; Colin Cowherd Remains a Big Believer
The Ravens' loss in Week 5 means they weren't shooting up the power rankings like they had been the previous two weeks, but it wasn't as bad as you may think. Baltimore still sits in the top half of every list we looked at, and remained in the Top 10 of six different rankings.
The Ravens dropped by an average of three spots per ranking.
Though he had the Ravens drop four spots, Fox Sports' Colin Cowherd still has the Ravens at No. 6. He's been a firm believer in Baltimore since the beginning of the season, and the overtime loss in Cleveland hasn't deterred him one bit.
"They lead the NFL in scoring defense, and they also lead the NFL in third-down defense," Cowherd said. "Again, I think this team is going to be better by Thanksgiving. They got two rookie tight ends, three new wide receivers. They had many chances to win that game, and they didn't, but I'm not selling all my stock on Baltimore. I still think they're the best team in that division, best defense in that division."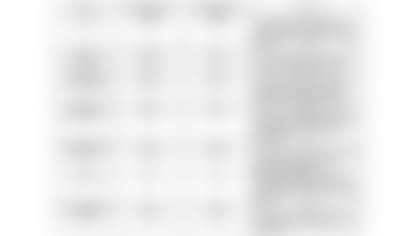 Titans Have Stingiest Red-Zone Defense; Justin Tucker Will Want to Blast Kickoffs
PennLive's Aaron Kasinitz highlighted a few important stats the Tennessee Titans are accruing that could be influential in this Sunday's contest.
Tennessee's defense is allowing touchdowns on just 23.1 percent of red-zone trips.
The Titans' defense, headed by former Ravens Defensive Coordinator Dean Pees, leads the NFL in preventing touchdowns when their opponent reaches the red-zone. The official number is five touchdowns allowed on 13 red zone trips.
After an historic start to their red-zone offense, scoring on their first 13 trips, the Ravens haven't scored a touchdown in their past seven red-zone appearances. As Kasinitz noted, "It won't be easy to for the offense to regain its early-season form against Pees' stingy defense."
Titans quarterback Marcus Mariota's passer rating is 72.3.
Mariota's 72.3 rating is fourth-lowest in the league, and would be the lowest in his career if it stays there for this season.
Despite his rating, there's no doubt that Mariota is talented and will be difficult to contain because of his running ability. Still, he's thrown four interceptions to two touchdowns this season. With Baltimore's defense averaging an interception per game, that could make for a favorable combination.
"Perhaps Mariota's ball security could also dictate how Sunday's game unfolds," Kasinitz wrote. "The Ravens are 3-0 this year when they win the turnover battle and 0-2 when they lose it, so the team's defensive backs will have reason to try to jump a pass or two in Tennessee."
Titans kick returner Darious Williams is averaging 51.3 yards per return.
Though Williams has just three returns this year, none of them have been for less than 27 yards. He also has a 94-yard return for a touchdown this season, too.
It's notable because of the Ravens' struggles on special teams this season. Most of those issues have been in blocking and holding onto punts or kicks, but if the unit starts to struggle with coverage, too, it could cost them.
"A big return might make a difference in what has the makings of a low-scoring game," Kasinitz wrote. "Then again, maybe [kicker] Justin Tucker will blast kicks through the end zone for touchbacks every chance he gets."
Sorry I'm not sorry. Have to plug the release of my Dad's book! Ravens columnist John Eisenberg's new book "The League: How Five Rivals Created the NFL and Launched a Sports Empire" was released yesterday. You can order the book on Amazon. Check out a review of the book in 60 seconds from Words on Words!