Who Is Baltimore's Best Pass Rusher?
After spending their Sunday harassing Tennessee quarterback Marcus Mariota, there's been a lot of talk this week about the Ravens pass rush. Eight different Ravens combined for 11 sacks, which set a franchise mark for most sacks in a game. The team now also leads the NFL with 26 sacks.
Baltimore's depth is clearly its greatest pass rushing strength. Still, rather than focus on that, it's more fun to have this basic debate: who is the Ravens' best pass rusher right now?
The only way to start the discussion is by looking at the best sack artist in the history of the franchise, which is outside linebacker Terrell Suggs. His 130 career sacks are easily the most in team history, with linebacker and Ravens Ring of Honor member Peter Boulware sitting second with 70. Suggs is also 15th for most career sacks in the NFL.
Suggs has also continued to play at a high level despite becoming one of the older players on Baltimore's roster these past two seasons, leading the defense in sacks each year. Despite the impressive resume, WNST's Luke Jones doesn't think Suggs is Baltimore's best pass-rusher at the moment.
"What gives [outside linebacker] Za'Darius Smith a slight edge over Terrell Suggs as the Ravens' best pass rusher?" Jones asked. "His ability to pressure from the inside is so crucial with today's quarterbacks getting the ball out as quickly as possible."
If I were Jones, I wouldn't mention that the next time he's interviewing Suggs.
After his three-sack performance in Tennessee, Smith has the most sacks this season with 5.5. Suggs, who chipped in one sack against the Titans, is second with 4.5.
It was a breakout game for Smith, and the type of performance that could easily springboard him into having a monster season. But to put Smith, who has 15.5 career sacks, ahead of Suggs is quite a statement, especially because Suggs had a good game on Sunday, too.
"Suggs played more than any front-seven defender other than [inside linebacker C.J.] Mosley," McKusick wrote. "He made a number of contributions to sacks."
Indeed, even though Suggs didn't have as many sacks as Smith, he still contributed on plenty of them. As Harbaugh put it, "Sometimes the guy with the best rush doesn't get the sack."
In fact, NFL Network's Brian Baldinger points out that the Ravens' first sack of the game, which was finished by defensive end Chris Wormley, "started with T-Sizzle. In his sixteenth year, still reading plays before they even happen.
"The Ravens are still led by T-Sizzle. He's still getting it done," Baldinger said.
If you haven't already, check out the most recent episode of Ravens Wired to catch an interaction between Suggs and Smith. To see that conversation, jump ahead to the 6:30 mark in the video.
"The rest of the season, we tear it up," Suggs said.
"I got you, appreciate it, bro," Smith said.
Debating which of Smith and Suggs is better is definitely a fun conversation, but both playing well should lead to more than enough sacks to go around. At the end of the day, Ravens fans should just be glad that both are wearing purple and black.
Ravens Rising in Power Rankings Despite 'Not Being Entertaining'
"When you notch 11 sacks in a single game, you're bound to win ... and climb up the power rankings," Toback wrote.
Toback is absolutely correct on that one. Besides Sports Illustrated's, where they finished No. 12, the Ravens landed in the top 10 of every prominent power ranking.
Still, while many pundits are showing faith in them, nobody is buying into the Ravens right now quite like Fox Sports' Colin Cowherd.
Cowherd placed the Ravens higher than any other pundit at No. 3. This isn't surprising considering on Tuesday he said the Ravens were one of nine teams that could win the Super Bowl. Despite ranking the Ravens highly, Cowherd isn't giving Baltimore any style points.
On behalf of the Ravens Flock, we appreciate that you think so highly of the Ravens Mr. Cowherd, but what about 11 sacks in one game do you not find entertaining?
Still, here's a compilation of all those sacks in case you need a second look to decide if they're entertaining or not:
Like Toback and Cowherd, most pundits considered Baltimore's defense when ranking them. "When the defense is dominating against the run and rushing the passer at will, it only takes a few points to win," Sporting News' Vinnie Iyer noted, while Bleacher Report wrote, "The Ravens put forth a defensive effort Sunday that the 1985 Bears would be proud of."
"Think about all the devastating Ravens defenses over the years, from the 2000 group that set records to the 2008 unit that pushed the team and its rookie quarterback to the brink of the Super Bowl," NFL.com's Elliot Harrison wrote. "Neither of those teams ever posted 11 sacks in the game -- nor has any other unit in Ravens franchise history."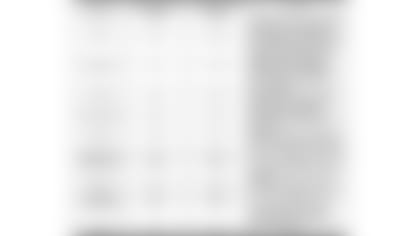 Big Play John Brown Will Be Key Against Saints
Wide receiver John Brown had a really explosive start to his time in Baltimore, scoring a touchdown in three of his first four games. He also eclipsed 80 yards receiving in three games.
If there is such a thing, Brown may have been too effective during those games. The past two contests, teams have upped their coverage on Brown, not allowing him to beat them deep.
"Brown has had back-to-back quiet games as opposing defenses have clearly recognized that he's the Ravens' receiver that they have to focus on stopping," The Athletic's Jeff Zrebiec wrote. "[Wide receivers Michael] Crabtree and [Willie] Snead did well with this Sunday, but the Ravens will have to continually show that they can move the ball through the air with other receivers if the opposing defense is bracketing Brown."
If there was a game where Baltimore could use a big performance from Brown though, this Sunday against New Orleans could be it.
The Saints have the No. 1 run defense in the NFL in yards allowed per game (71.4), and yards per attempt (3.1). Though the Ravens will want to keep running the ball so as not to become one-dimensional, the Saints have struggled in pass defense thus far. In fact, they've given up 9.1 yards per pass attempt, and only the Tampa Bay Buccaneers have a larger average (9.3).
"An injury to slot cornerback Patrick Robinson and an inconsistent pass rush (aside from the steady presence of defensive end Cameron Jordan) has allowed opposing offenses to move the ball through the air against New Orleans," PennLive's Aaron Kasinitz wrote.
It's a strategy that should play to Baltimore's strengths. As Kasinitz noted, "Since the start of the 2017 season, the Ravens are 12-2 when quarterback Joe Flacco averages at least 6.2 yards per pass attempt."
Enter Brown, who, despite having two quiet games in a row, is No. 2 in the NFL in yards per catch (20.2). What better way to up Flacco's yards per pass attempt average than by connecting on a couple deep passes to Brown?
It's what Tampa Bay did when it faced New Orleans back in Week 1. The Buccaneers unleashed multiple big plays with wide receiver DeSean Jackson, the lone receiver in the NFL with a larger yards per reception average than Brown (23.9). Jackson finished with five receptions for 146 yards against New Orleans, scoring on touchdown catches of 58 and 36 yards.
It's a strategy the Ravens would be wise to consider this Sunday.
"Baltimore is tough to beat when Flacco is on, and he's probably eager to face a shaky Saints secondary," Kasinitz wrote. "Sunday's game could develop into a shootout."
Gus Edwards Makes Most of NFL Regular-Season Debut
Running back Gus Edwards flashed some serious potential during his 10 carries against the Tennessee Titans, finishing with 42 yards.
Edwards was Baltimore's leading rusher during the preseason, finishing with 174 yards on 53 attempts.
It's been a long wait for Edwards to make his regular-season debut. After the preseason, he was named to the Ravens' practice squad upon not making the initial 53-man roster. Then, when running back Kenneth Dixon was placed on Injured Reserve, the Ravens opted to promote running back De'Lance Turner from the practice squad instead of Edwards.
With Turner joining Dixon on IR last week, the team activated Edwards, who made the most of his opportunity.
Remember, last season running back Alex Collins started out on Baltimore's practice squad before getting promoted to the 53-man roster, and ultimately becoming the team's starter. It remains to be seen if Edwards can make that big of an impact, but Collins' ascent shows it's certainly possible.
"Good Morning Football's" Nate Burleson highlighted wide receiver Michael Crabtree during his weekly "Toe Drag Swag" segment.
The Athletic's Ted Nguyen named rookie quarterback Lamar Jackson's 22-yard run against Tennessee as one of the most interesting plays from Week 6. "The Ravens took advantage with a sweep to the weak side of the defense with three lead blockers for Jackson," Nguyen wrote. "The key block was made by tight end Nick Boyle, who 'reach' blocked defensive end Harold Landry, which allowed left tackle Ronnie Staley, tight end Maxx Williams, and [running back Javorius] Allen to pull outside of him and clear out an alley for Jackson."