Predictions for Ravens vs. Seahawks
There is no shortage of compelling storylines for Sunday's game between the Ravens and Seattle Seahawks at CenturyLink Field.
There's the return of All-Pro safety Earl Thomas III to Seattle; the first meeting between dynamic, MVP candidate quarterbacks Lamar Jackson and Russell Wilson; the Ravens debut of Pro Bowl cornerback Marcus Peters.
As for the outcome of the game, the pundits are nearly unanimous. Nearly 90 percent (52 of 59) of the pundits we looked at believe the Seahawks (5-1) will beat the Ravens (4-2).
However, the prevailing thought is that the game will be close, as 17 of the 20 pundits who predicted the score had it being decided by five points or less.
Here's a sample of what the pundits are forecasting for the game:
Jackson will be good, but Wilson will be better.
The Baltimore Sun's C.J. Doon: "In the Pete Carroll/Russell Wilson era (since 2012), quarterbacks age 25 or younger are just 2-19 in Seattle. 22-year-old Lamar Jackson will keep the Ravens close, but MVP front-runner Russell Wilson should have no problem dicing up a banged-up Ravens defense relying too much on a crop of recently signed veterans."
CBS Sports' John Breech: "Although these two teams are similar, the Seahawks do have one big advantage in this game and that's Russell Wilson. … As for Jackson, he's been good this season, but Wilson has been great. Oh, and Wilson's also been great against AFC teams at home. Since his rookie year in 2012, the Seahawks have gone 14-1 against AFC teams at CenturyLink Field, which means I can't pick the AFC team to win here."
The game will be a shootout.
NFL.com's Gregg Rosenthal: "It is disarming to see a Ravens-Seahawks game as a matchup of top-five offenses and mediocre defenses. Lamar Jackson and Russell Wilson are the top two fantasy quarterbacks in the land, while Marquise Brown – who missed last week's game but could return from an ankle injury vs. Seattle – and D.K. Metcalf are two of the top three rookie receivers in yardage."
Sporting News' Tadd Haislop: "Neither Baltimore nor Seattle is as great defensively as its brand suggests, especially against the pass, so the team that does a better job hiding its weakness will have the edge."
Thomas' familiarity with Wilson favors the Ravens.
Florio: "I think that adds an element that bears watching very closely when Russell Wilson pops out of the pocket and tries to make something happen, because Earl Thomas is going to be in a better position than most safeties to have an idea of what Russell Wilson's going to do when he squirts away."
TheRavenswill ride their running game to victory.
NFL Network's Bucky Brooks: "I'm going to go with the Baltimore Ravens in this one. When you go back and look at the kryptonite that has typically plagued the Seattle Seahawks in their Superman formula, it is all about the run game and teams that are committed to just running it at them. Well that's how the Baltimore Ravens play. The Baltimore Ravens are going to play smash-mouth, old school ball, and I just don't know if the Seattle Seahawks can stack up. And [Seahawks Head Coach] Pete Carroll has always had problems with mobile quarterbacks."
Haislop: "The Ravens, spearheaded by Lamar Jackson and Mark Ingram, are better equipped to keep the ball moving with a balanced attack to offset the brilliance of Russell Wilson."
Ravens rookie running back Justice Hill will be a factor.
Baltimore Beatdown's Taylor Ciotola: "This is a player that will force himself onto the field and that will continue Sunday against the Seahawks to keep them on edge. Justice Hill has the potential to be a lead back on this team when the time is right. The role that he plays now,[comma] is perfect for Lamar Jackson's development and especially significant to get him into a rhythm when needed. Look for Hill to be used more than any other game this season."
The Ravens will be able to contain the Seahawks' strong running game.
NFL Spin Zone's Samuel Teets: "After starting the season with three mediocre performances, [Seattle running back Chris] Carson has caught fire and posted three straight 100-yard rushing games. ...
However, Carson will be facing a challenge against the Baltimore defense. … Considering how good Baltimore has been against the run this year, Carson will have a hard day breaking loose. Seattle may have to rely more on the passing game as a result."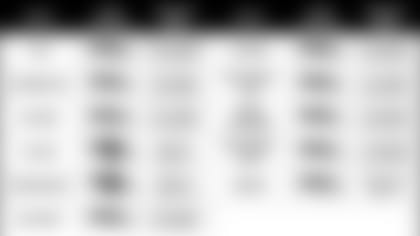 Ravens' Playoff Chances on the Rise
The Ravens had a less than 50-50 chance of making the playoffs before the season began, according to ESPN's Football Power Index, but their odds have increased significantly heading into Week 7.
The FPI now gives the Ravens a 71.5 percent chance of advancing to the postseason, a gain of 25.6 percent, which is the fifth-highest increase.
Not surprisingly, ESPN's Bill Barnwell attributed much of the Ravens' success to the significant strides Jackson has made as a passer. Barnwell also addressed the question of sustainability as it pertains to the frequency of Jackson running the ball, and he concluded that Jackson does not put himself at risk nearly as much as one may think.
"For a quarterback who runs as frequently as Jackson does, though, he has become a wizard at not getting hit," Barnwell wrote. "Take his 69 runs. Ten of them aren't actually running plays at all; they're kneel-downs, bad snaps and bad handoffs, all of which get credited as quarterback runs. Of the other 59 runs, Jackson was brought down by an opposing player only 32 times. He either dove forward, scored a touchdown standing up or ran out of bounds without going down on nearly 46 percent of his runs.
"He is a master at getting out of bounds in perilous situations. About once per week, Jackson will seemingly be heading toward the sideline for a modest gain, come to a complete stop, let an oncoming train of a defender plow into the sideline without ever touching the quarterback, and then sneak forward for a couple of extra yards before going out of bounds. And if anyone ever tells you Jackson is sliding, well, they're not actually paying attention. While he did dive forward on a number of plays, I don't believe I saw even a single traditional quarterback slide from the second-year passer."
Thanks to the Jackson-led offense, Barnwell believes the Ravens are good enough to make the playoffs, but – like a lot of fans and pundits – he has concerns about the defense.
"I'm not skeptical of Jackson, but I'm still questioning whether the defense can live up to lofty expectations," he wrote. "If it doesn't, the Ravens will leave the door cracked open for the Browns and even the Steelers in the division."
Marcus Peters Bring*s* an Edge to Ravens
There's no question the addition of Peters gives the Ravens another playmaker on defense, but the former Los Angeles Ram also has an edge to him that will make him fit right in on the unit, Daniel Jeremiah and Brooks of the "Move the Sticks" podcast said.
"I think that Marcus Peters is a better fit in Baltimore than he is in Los Angeles," Jeremiah said. "There is an edge that that defense has had for 20-plus years now, the way that they go about it. There's an intimidation factor with the Baltimore Ravens defense.
"For lack of a better word, we used to call it in the scouting room kind of like junkyard dogs. You want somebody that has that nastiness to them. … He'll plug in and he'll fit in well there. He'll be in the room with a bunch of guys that see the game the way he does."
Brooks said that he is looking forward to seeing Peters and Thomas playing together.
"I can't wait to see how Earl Thomas challenges Marcus Peters to be a better player," Brooks said. "I think he can challenge Marcus Peters, and I think Marcus Peters will respond in an outstanding way."