Predictions for Ravens vs. Saints
When compiling picks, it usually becomes apparent pretty quickly which team will be favored heading into the game. Then there's this week, where it came down to the wire.
At the end of pooling all the picks (and some double-checking of my basic math abilities), the New Orleans Saints ended up getting the edge with 25 picks. The Ravens? Twenty-four pundits picked them. The official line for the game is -2.5 to the Ravens.
A win against the Saints would give the Ravens a 5-2 mark. It would also give the Saints star quarterback Drew Brees an 0-5 lifetime record against the Ravens. Baltimore is the only team Brees has not beaten in his illustrious 18-year career.
Here are a few predictions that pundits see happening that will lead to a Ravens victory:
1. Yes, the New Orleans offense is a big test for the Ravens. But Baltimore's defense is a big challenge for the Saints, too.
"The Saints seemingly blew out Washington, but a handful of defensive lapses gave New Orleans 21 points. The Ravens won't be nearly as charitable," Pro Football Talk's Mike Florio wrote.
"The Ravens are a great defense, while the Saints have an explosive offense led by Drew Brees. They are also rested coming off a bye, while the Ravens are back home after three straight on the road. I love offensive football, but my pick in that game is the Ravens," CBS Sports Pete Prisco wrote.
2. Home-field advantage plays a big role, especially because the Saints' home venue is a dome.
"Baltimore had 11 sacks last week and blitzed to get 10 of those. They will blitz Drew Brees here as well. Brees and the Saints don't play as well outside on grass. The Ravens will win it behind their defense," Prisco wrote.
"At home the Ravens are tough. They are hardnosed, and they are going to bring a lot of pressure on Drew Brees," ESPN's Darren Woodson said.
3. The Ravens' well-roundedness this season continues against the Saints and proves to be the key. Quarterback Joe Flacco also has a strong game.
"Seeing if the Ravens can corral Brees and keep Alvin Kamara from running wild, while getting production from Joe Flacco and his reinvigorated receiving corps, will be fascinating. The Ravens kept the Steelers in check, so nothing is impossible," Sporting News' David Steele wrote.
"I am so impressed with the defense and Joe Flacco is playing well," Prisco wrote.
Here are a few reasons why other pundits see a Saints victory.
1. The New Orleans offense is simply too high-octane for the Ravens defense to handle. Brees, and the Saints offensive line, does a good job of handling the Ravens' fierce pass rush.
"As well as the Ravens are playing on defense, the Saints present a whole new level of offensive challenge…. It's not clear any defense can stop Drew Brees and Co. over 60 minutes," wrote The Baltimore Sun's Childs Walker.
"Drew Brees is the best quarterback the defense will have faced this season, and he has plenty of weapons at his disposal — unlike what Marcus Mariota had," The Baltimore Sun's Edward Lee wrote.
2. While much of the attention is on Brees, the Saints' running back tandem of Alvin Kamara and Mark Ingram proves to be the difference.
"[New Orleans Head Coach] Sean Payton definitely has his work cut out for him, yet an oversimplified solution would be to use his running backs -- particularly Alvin Kamara -- more than normal. Move those linebackers out of the gaps and force them to play in space. Establishing Mark Ingram on the ground early will also force the pass rushers to hesitate," Harrison wrote.
"In a battle of high-powered passing games played in the elements, New Orleans is better equipped to run the ball with Alvin Kamara and Mark Ingram," Sporting News' Vinnie Iyer wrote.
3. Baltimore's inconsistency on offense shows, as the unit plays more like it did against the Cincinnati Bengals and Cleveland Browns, rather than how it performed versus the Pittsburgh Steelers and Tennessee Titans.
"Can the Saints actually win this one? I think they can. I feel like I never know which Ravens team we're going to see from week to week. That has more to do with their offensive performance than anything else," SB Nation's Ryan Van Bibber wrote.
One theme did pop up, regardless of which team the pundit gave the edge to: this is the best NFL game of the week, and has the makings of becoming an instant classic.
"This is the game of the week, and it has the best unit battle of the week in the Saints offense against the Ravens defense," Prisco wrote.
"Anytime you get a heavyweight title fight like this, it's exciting," Walker wrote.
"The Saints' third-ranked offense against the Ravens' top-ranked defense — what more can you want?" Steele asked.
Not that you need telling twice, but Ravens Flock, you won't want to miss this one.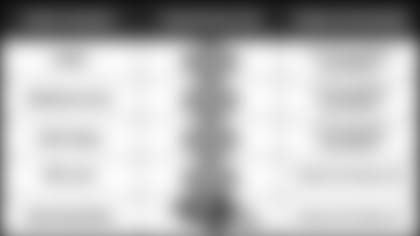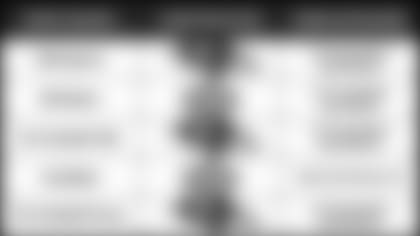 Offensive Line Changes Highlight James Hurst's Value
After he suffered a pinched nerve in his neck against the Titans, it hasn't been announced if left guard Alex Lewis will be able to play on Sunday. Head Coach John Harbaugh referred to it as "day-to-day," and Lewis has not practiced this week.
That means there's a decent chance the offensive line will have a new starter on Sunday. The front runners are center/guard Bradley Bozeman and right tackle Orlando Brown Jr, both of whom are rookies.
The Ravens have not given any indication whether it would be Bozeman or Brown should Lewis be unable to go, which is a nice spot to be in. Being able to withhold that sort of information and keep an air of mystery around the situation is a luxury not every team has. And the reason for the Ravens being able to do that is right tackle James Hurst.
"In his career, he's started 15 games at left guard, 14 at left tackle and seven at right tackle. He's even started twice as an extra tight end in 'jumbo formations,'" The Athletic's Jeff Zrebiec wrote. "For a team that has had extensive injuries woes in recent seasons and has been particularly hit with attrition along the offensive line, his availability week-in and week-out has added to his value."
The Ravens could keep Hurst at right tackle and start Bozeman at left guard. The alternative would be to move Hurst to left guard, where he started all 16 games last season, and start Brown at right tackle.
The second choice has been particularly popular amongst fans and pundits. Brown, a third-round pick, who had an excellent preseason and stands in at 6-foot-8 and 345 pounds, would bring a lot of physicality to the position.
Whichever option the Ravens choose to go with, they have the comfort of knowing that Hurst can play well wherever they line him up.
"The Ravens valued his versatility and durability," Zrebiec wrote. "They also felt like he's gotten stronger and more athletic than he was earlier in his career, when he was overmatched at times."
McKusick gave Hurst an A for his performance, and was particularly impressed by a key block he made during running back Alex Collins' second touchdown, which essentially put the game away for the Ravens.
Hurst credits his stellar play this season with lining up against Baltimore's defense during practice, saying "You come out of camp as a starter and you take a lot of reps in camp with the one's, going against top talent. You've seen our defense. I definitely feel like it's been a good year so far."
As for this Sunday, Zrebiec wrote that Hurst "readily acknowledged how beneficial it is to have a week to prepare for a position switch, if one is indeed upcoming."
Regardless of where the team opts to play Hurst, they can feel assured knowing they should get a strong performance.
"Harbaugh and offensive line coach Joe D'Alessandris have options and that's largely due to Hurst's versatility and his willingness to embrace whatever task that he's given," Zrebiec wrote.
Willie Henry is Crucial to Slowing New Orleans Offense
During his press conference with media yesterday, Defensive Coordinator Wink Martindale was asked about how helpful it's been to have defensive tackle Willie Henry back after he missed the first four games of the season after having hernia surgery.
Martindale responded that the defense is getting back to full strength, and that the unit is living by the three H's: "humble, hungry and healthy."
A reporter then responded that he thought Martindale would include Henry as one of the H's, to which the defensive coordinator replied "He keeps playing the way he is, it could be."
Indeed, though Henry didn't record a sack last week like so many other Baltimore defensive linemen, there's no question his presence has positively impacted the group. As Baltimore Beatdown's Vasilis Lericos noted, "Henry does much of the dirty work inside. It is not a coincidence that the Ravens have recorded 16 sacks, more than 60-percent of their season total, since Henry returned to the rotation in Week 5."
In the two games since returning from his surgery, Henry has two tackles, including one sack.
"His presence as a dangerous inside rusher helped free up teammates and keep Tennessee quarterback Marcus Mariota uncomfortable," PennLive's Aaron Kasinitz wrote. "If he can continue to apply pressure from the defensive tackle spot Sunday, it'll go a long way toward containing Brees."
Lericos agrees with Kasinitz, particularly when Henry is lined up opposite of New Orleans center Max Unger.
"Winning the battle on the interior is the key to disrupting the rhythm of the Saints' third-ranked passing offense," Lericos wrote.
"The third-year man has been a disrupter and could be a key to the Ravens finding a way to throw off the timing of the New Orleans offense," Breer wrote.
Don't Forget About Michael Thomas
Between having one of the best quarterbacks of all-time in Brees and a dynamic running back tandem of Kamara and Ingram, Saints wide receiver Michael Thomas may sometimes get overlooked.
Thankfully, Martindale and the defense aren't doing that.
"He's a problem. I think he has 49 attempts at him, and I think he has 46 catches – it's crazy," Martindale said. "I haven't heard anybody with that stat, and he's that good. So if I was Drew, I would throw it to him a lot as well."
Martindale is correct on Thomas' numbers this year. Of the 49 passes thrown his way, only three haven't been caught. He's accrued 519 yards and caught three touchdowns in five games. Thomas sits at No. 4 in the league with an average of 103.8 yards per game.
Ebony Bird's Chris Schisler believes slowing Thomas without dictating the secondary's entire focus towards him will be crucial to slowing the New Orleans offense.
"Baltimore has two cornerbacks that have shown the ability to slow down Antonio Brown (Jimmy Smith, Marlon Humphrey). This means the Ravens have two cornerbacks that can go up against any wide receiver in the league," Schisler wrote. "If the Ravens cornerbacks can win without rolling coverage to Thomas, this will be huge. Jimmy Smith could be the defensive weapon that turns this game in the Ravens' favor."