Predictions for Ravens vs. Browns
This is it: Baltimore's season comes down to one regular season game. If the Ravens beat the Cleveland Browns on Sunday, they're in the playoffs. No ifs, ands or buts, and certainly no scoreboard watching required.
The majority of pundits believe the Ravens will take care of business against Cleveland, but some believe the Browns will play spoiler. Of the 42 pundits we looked at, 32 picked the Ravens to win.
Not only would the Ravens make the postseason with a win, but they would host their first playoff game since 2012. So, yes, these are some pretty big stakes.
Here are some reasons why pundits believe the Ravens will win:
Baltimore's defense plays a strong game and slows Browns quarterback Baker Mayfield.
"I don't think Baker Mayfield is going to stroll into Baltimore and produce against a top-tier defense gunning for a division title," CBS Sports' Will Brinson wrote.
The Ravens play a strong game in all phases, which gets them past Cleveland.
"The Browns come to town with one of the hottest offenses in the league, and the Ravens will have to muster every bit of their defensive muscle to hold them down. They'll do just enough on both sides of the ball to win a tense game at home," The Baltimore Sun's Childs Walker wrote.
"The Browns' defense is vulnerable against the run, while the Ravens' defense is strong against the pass. Done and done, with the reward of an AFC North title," Sporting News' Vinnie Iyer wrote.
Rookie quarterback Lamar Jackson plays a smart game and gives Cleveland's defense fits.
"Lamar Jackson presents a whole new series of challenges for opposing defenses. Browns defensive ends Myles Garrett and Emmanuel Ogbah must do the same thing as Mayfield: Let the game come to them. If they crash down on running plays, Jackson will pull the football out of his running back's belly and go wild," NFL.com's Elliot Harrison wrote.
"Lamar Jackson just has to hold on to the ball and do what he has done the past five weeks," Schmuck wrote.
Cleveland's woes at M&T Bank Stadium continue.
"This has the feeling of the game in which the records might as well be thrown out. The Ravens are playing for the playoffs. The Browns are playing for a season sweep. Home-field advantage can be decisive in games like these," The Baltimore Sun's Jonas Shaffer wrote.
"The Browns have won just once in Baltimore since 2008 but come to M&T Bank Stadium on Sunday with a three-game winning streak. However, with all the Ravens have riding on this game and the way last season ended, Baltimore will come out on top," The Baltimore Sun's Jen Badie wrote.
Here are some reasons why pundits believe the Browns will win:
Browns interim head coach and defensive coordinator Gregg Williams gets the best out of his defense, which stifles the Ravens.
"The one thing I like about the Browns is that interim coach Gregg Williams is someone who has been devising defensive game plans his entire life and he'll probably spend every minute this week trying to figure out how to stop a Ravens rushing offense that no one in the NFL has been able to figure out how to stop," CBS Sports' John Breech wrote.
"I want to watch Myles Garrett, that defensive end for the Browns, come up big for that defense. You've got to set the edge in that run game because don't think about getting any sacks. Lamar is coming with the quarterback power, the quarterback counter. Stop that, worry about stopping that. I think Gregg Williams will have them right, I'm going Browns," ESPN's Tedy Bruschi said.
Mayfield has already performed well against the Ravens once this year. Why not a second time?
"The Ravens defense will present Baker Mayfield his biggest test since, well, the last time these two teams played, in Cleveland in October. The Browns won that game in overtime; they can do it again," Sporting News' Tadd Haislop wrote.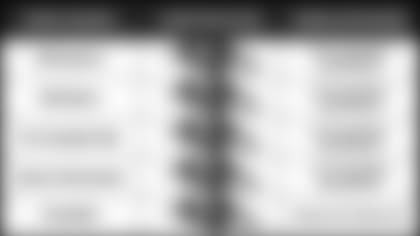 If Ravens Win, Eric Weddle Should Be Able to Buy a Lot of Ice Cream
For a second straight season finale, Weddle has a whole lot of motivation to come away with a win.
Weddle has a clause in his contract that if the Ravens make the playoffs, and is voted to the Pro Bowl, he gets a $1 million bonus. Last week, Weddle made his sixth Pro Bowl, and third with the Ravens.
If this story sounds familiar to you, it's because Weddle came very close to receiving his bonus last year. Had the Ravens not lost on fourth-and-12 to the Cincinnati Bengals last season, Weddle would have claimed that bonus.
As ESPN, which first wrote about Weddle's incentive this year, put it, "After every Baltimore Ravens victory, safety Eric Weddle celebrates by eating about a gallon of ice cream. If the Ravens can beat the Cleveland Browns on Sunday, Weddle will receive a bigger prize."
Imagine how much ice cream Weddle could buy with $1 million.
Still, Weddle says he isn't thinking about how happy his bank account will be if the Ravens emerge victorious on Sunday.
"I want a chance at getting to the Super Bowl. I also want everyone to experience the playoffs," Weddle said. "That's where my focus is. [The money is] just icing on the cake if we get it done."
Who Is Having the More Impressive Rookie Season: Lamar Jackson or Baker Mayfield?
FS1's Jason Whitlock and former Pittsburgh Steelers and Cincinnati Bengals outside linebacker James Harrison both selected Mayfield. It hasn't taken long for Mayfield to adapt to the professional game, having thrown for 3,349 yards and 25 touchdowns. Pro Football Focus has Mayfield rated as the best rookie quarterback this season, and he's many pundits' picks for Offensive Rookie of the Year, including ESPN's Bill Barnwell.
That he is succeeding for the Browns, a team that hasn't had consistent quarterback play in years, also makes what Mayfield has been doing that much more impressive.
Still, FS1's Marcellus Whiley and former Ravens and Bengals wide receiver T.J. Houshmandzadeh (geez, I forgot how hard it is to spell that) thinks an argument can be made for Jackson. It starts with expectations, as Mayfield was drafted first overall this past May, while Jackson was taken at No. 32, the final pick of the first round. Wiley believes Mayfield has lived up to the expectations that come with being drafted first.
"Who has exceeded expectations? Lamar Jackson…," Wiley said. "Some people said Lamar Jackson wouldn't even get to play this year, he was behind a $20 million-dollar franchise quarterback. … There is an argument to be made that Jackson has done more with his opportunity."
Many pundits believed Jackson would have to sit for a full year before starting at the NFL level. Don't forget, too, that some teams in the lead up to the draft wanted Jackson to play wide receiver in the NFL. That Jackson has gone 5-1 as a rookie and has played a big role in the Ravens being on the cusp of winning a division championship is a remarkable feat that certainly exceeds the expectations many had for him.
Houshmandzadeh believes that the focus of the debate shouldn't be on which quarterback has been more impressive, but rather which has had a greater impact for their team. Though the Browns were coming off a winless season, they added a lot of quality pieces this offseason and many pundits, including Wiley, felt they would have their best season in years. Jackson, meanwhile, took over for the Ravens when they were 4-5 and on a three-game losing streak that many analysts believed could derail their season.
"They were out of the playoff picture, and they've gone 5-1 since. Baker Mayfield, the statistics show, more impressive by far, but Lamar Jackson, his impact on the Baltimore Ravens is far and away, for me, a better thing than what Baker is doing…," Houshmandzadeh said. "Jackson has this impact with the Ravens where the defense knows 'if we can keep a team down, Lamar Jackson will find a way to get the W for us,' and he has done that so far."
Baltimore Considered an Excellent Fit for Kyler Murray
Between developing a high-profile talent in Jackson, possibly moving on from veteran Joe Flacco, and what Robert Griffin III's future will hold, there should be a lot of attention on Baltimore's quarterback situation this offseason.
How could you possibly shine more of a light on Baltimore's quarterback room? By drafting this year's Heisman Trophy winner, Oklahoma's Kyler Murray, of course. It seems crazy considering the Ravens just drafted Jackson earlier this year, but ESPN's Matt Bowen listed Baltimore as one of the best landing spots for Murray.
"The game plan has been molded to fit Jackson's strengths with more designed runs, play-action, movement throws, run-pass options (RPOs) and inside verticals," Bowen wrote. "That's a perfect fit for Murray, who has shown the ability to run the rock at Oklahoma, rushing for 892 yards on 123 carries this season."
It's all well and good that Murray would fit Baltimore's system, but why would the front office use a high draft pick to select a quarterback for the second year in a row, when Jackson has done well? Surely, the Ravens should use it towards a greater area of need?
Bowen doesn't think so, and views drafting Murray as a nice insurance policy.
"It gives John Harbaugh and his staff an opportunity to build up their depth and develop another player in the system," Bowen wrote. "And it gives the Ravens some insurance with the number of runs -- and hits -- Jackson has already taken."
This is all assuming Murray is playing in the NFL next year. A talented centerfielder, Murray was selected with the ninth-overall pick in the 2018 Major League Baseball amateur draft by the Oakland Athletics. Murray has signed a contract with the Athletics, though he recently said he's open to playing in the NFL, too.
Some players have played both football and baseball professionally such as Deion Sanders and Bo Jackson, but how would playing in the NFL and MLB on complete opposite sides of the country work?
Drafting Murray is an interesting theory, but it seems as if there are too many obstacles to consider this realistic for Baltimore. Still, you never know, and Bowen is confident Murray would do well in purple and black.
"I expect the Ravens' system to expand with Jackson in 2019. They have an entire offseason to build the passing game to facilitate more development," Bowen wrote. "But the QB runs will always be a weapon for the Ravens, and that makes them a tough offense to plan against. Adding another quarterback who displays the upper-tier speed and open-field ability of Murray fits the offensive system in Baltimore."
USA Today's Jarrett Bell handed out superlatives for the NFL during the 2018 calendar year, and the Ravens won "Best Identity Makeover" for the schematic switch the team made midway through the season when Jackson became the starting quarterback. "Is this the same Jackson that Hall of Fame GM Bill Polian declared before the draft should switch to receiver or running back? It looks like, in directing his final draft, outgoing Ravens GM Ozzie Newsome knew better," Bell wrote.
Former Jacksonville Jaguars running back Maurice Jones-Drew gave his top five rankings for best rushing tandems in the NFL, and Jackson and Edwards came in at No. 2. "These two complement each other well, with Jackson having great speed and vision and Edwards being a physical, downhill runner," Jones-Drew wrote.
The complicated football history between Baltimore and Cleveland is common knowledge to most football fans, but apparently not every player. Landry was not aware of the history between the two cities, until he was recently informed by a member of the Cleveland media. After learning the Browns left in 1995, and won the Super Bowl as the Ravens just five years later, Landry responded "That hurt, didn't it?" As ESPN's Pat McManamon put it simply, "It did indeed hurt."