Predictions for Ravens vs. Bills
Before the season started, would anyone have predicted that a Week 14 matchup between the Ravens and Bills would have No. 1 seed implications for both teams?
That's what the stakes will be when Baltimore travels to Buffalo Sunday, as the Ravens play in one of the biggest games of the week for the sixth time in their past seven games.
The Ravens (10-2) hold the top seed in the AFC by virtue of their head-to-head win over the New England Patriots (10-2). The Bills (9-3) trail the Patriots by a game in the AFC East and hold the top wild-card spot.
The Bills, winners of three straight and four of their past five, haven't been 9-3 since 1996, the Ravens' inaugural season. The Ravens, who are riding a franchise-best eight-game winning streak, haven't been 10-2 ever.
Of the 58 pundits we looked at, 52 believe the Ravens will extend their winning streak to nine.
Sunday's game marks the first meeting between 2018 first-round quarterbacks Lamar Jackson (selected 32nd overall) of the Ravens and Josh Allen (selected seventh) of the Bills.
Both teams have top-5 rushing offenses (Ravens are No. 1, Bills are No. 5) and top-7 defenses (Bills are No. 3, Ravens are No. 7).
Here's a sample of what pundits are forecasting for the game:
The Ravens' running attack will once again propel them to victory.
Pro Football Talk's Chris Simms: "When [the Bills defense] has shown a little issue here and there, it's been against teams who are big and can just run the ball right at them. … I just think Baltimore is just too big up front to stop them. … The Ravens are the best team in football right now. They're rolling, and they're a bully that's rolling. When there's a bully and they feel like they're the biggest, baddest dudes on the planet, they feed off it, and that's where they're at right now."
CBS Sports' John Breech: "The Bills are giving up 4.5 yards per carry this season, which isn't ideal when you're about to play the team that leads the NFL in rushing. The Ravens are averaging 207.8 yards per game on the ground this season, which is an absurd number when you consider that no other NFL team is even averaging above 150 yards. I think what I'm trying to say here is that the Ravens might be able to win this game without throwing a forward pass."
ESPN's Rob Ninkovich: "The one thing that weather does not affect is the running game, so I think that the Ravens' ability to run the football is going to set them apart in Buffalo."
The Bills defense will not be able to derail Jackson.
Pro Football Talk's Michael David Smith: "The Bills could make a huge statement in the AFC playoff race with a win over the Ravens, but I don't see it happening. Lamar Jackson is just too good for the Bills' defense to stop."
The Ravens are ripe for an upset and the Bills are just the team to pull it off.
NFL Network's Daniel Jeremiah: "This is a perfect storm for a Baltimore Ravens loss. [Last week's win over the 49ers] took a lot out of that Baltimore team, came down to the very end. A lot of these guys haven't played into the fourth quarter [because] they've been blowing the doors off everybody. So a taxing, physical football game against the 49ers, and then you add into that, Buffalo played on Thanksgiving, so they get a little extra rest. So a little mini-bye there for the Buffalo Bills to get prepared not only physically, but mentally for the unique challenges this Ravens offense presents. … I think the Baltimore Ravens are a better football team. If these two teams see each other in the postseason, I think the Baltimore Ravens will win … but I think the Buffalo Bills pull off a little bit of a surprise here and they beat the Baltimore Ravens."
The Baltimore Sun's C.J. Doon: "The Ravens aren't going to take the Bills lightly, but this feels like it could be a letdown coming off a grueling stretch."
The Bills could try to replicate the success the 49ers had running outside the tackles against the Ravens.
Penn Live's Aaron Kasinitz: "It seems [Ravens Head Coach John] Harbaugh and the Ravens expect the Bills to test them on runs outside the tackles. Baltimore's success defending those plays could play a large role in deciding how Sunday's game shakes out."
The Ravens defense will be able to slow the Bills offense.
Sporting News' Vinnie Iyer: "Baltimore can take [wide receivers] John Brown and Cole Beasley away from Josh Allen, who won't have the same success as Jackson will taking off and rushing. Both second-year first-round QBs are using their arm and legs well, but the Ravens will find more holes in the Bills' defense than the Bills will in theirs."
The Ravens will win the turnover battle.
Ebony Bird's Chris Schisler: "Allen is an impressive young quarterback, but he has to put the Bills on his back to win this game. He'll try to do too much and it will lead to the turnover that starts a purple avalanche. The Ravens will keep on rolling by keeping the football for huge chunks of the game and getting a couple of important turnovers."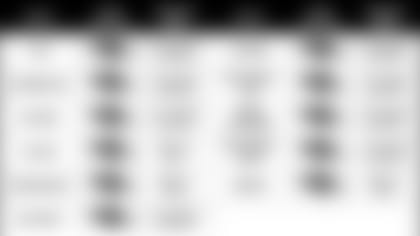 How the Ravens Built the NFL's Scariest Offense
The Athletic's Sheil Kapadia took an in-depth look at how the Ravens have "built the NFL's scariest offense."
Obviously, it all starts with the play of Jackson, who is the front-runner for league MVP in his second season, and Offensive Coordinator Greg Roman's scheme.
"Good coaching means maximizing the players' talents," Kapadia wrote. "And with the Ravens' diverse run game, they are clearly doing that."
As Harbaugh said back in July, "There's nothing we're doing that hasn't been done before. We're not inventing offense. We're just probably re-inventing a little bit of how it's put together."
Kapadia noted that Roman, who was an offensive line assistant in with the Ravens in 2006 and 2007, took notice of what was happening on the other side of the ball during that time.
"Our run defense was really good," Roman told The Athletic. "And we'd play great running teams and completely shut 'em down. And I said to myself, 'Geez, a lot of these teams did one or two things, but we had the answers for them.' And then you see them kind of get shut down, their bread and butter. Now what do they do? And I never want to be in a situation where I go, 'Oh my God, now what do I do?' So I want clubs in the bag."
Running back Mark Ingram II said: "It just puts stress on a defense. They have to prepare for multiple looks, multiple schemes, multiple ways we can attack you out of different formations, out of different personnel groups. So I think just the variety and being able to switch up our looks, it just makes it strenuous on the defense to prepare for."
While Jackson's video game-esque moves are what gets everyone's attention, his decision-making has also played a large role in his success.
"Lamar is special," right tackle Orlando Brown Jr. said. "He makes it all happen with his legs and with his arm and with his brain."
Assistant Coach David Culley Is an Unsung Hero
David Culley doesn't make many headlines, but the Ravens wide receivers coach/assistant head coach and passing game coordinator is among the key figures in the NFL's highest-scoring offense.
"Culley's influence on the Ravens' surprising vault toward the top of the AFC standings isn't easy to define and hasn't been widely discussed," Penn Live's Kasinitz wrote. "But when Baltimore plays at the Buffalo Bills on Sunday, both teams will know all about the man with more than four decades of coaching experience who's been one of the unsung facilitators to the Ravens' success."
Culley joined the Ravens' staff after spending the past two seasons as Buffalo's quarterbacks coach. He was the wide receivers coach for the Philadelphia Eagles when Harbaugh was special teams coordinator there.
"Ravens Offensive Coordinator Greg Roman, who owns a reputation as a running game guru, built a playbook from scratch this offseason around quarterback Lamar Jackson's running ability," Kasinitz wrote. "During that process, Culley offered expertise in the passing game and used his experience working with the West Coast offense to add elements to Baltimore's system."
Harbaugh praised Culley for his ability to get players to do things that aren't necessarily their favorite things, such as blocking.
"The wide receivers are playing really well," Harbaugh said. "They're doing things that a lot of wide receivers don't do well, in terms of the unselfish stuff. One of the measurements of a great coach is the ability to get guys to do the things that it's not normal that players would want to do. The hard things, that's what the great coaches probably do the best."
"He can get on you, but he's a good enough man that he gets the point across that, 'Hey, I'm trying to help you here,'" Snead said. "His ability to relate to players is great. Twenty-five years in this game, he's coached a lot of players with their attitudes and personalities. He's making our room better. I just want to gain knowledge and he has it. He's an awesome guy to be around. Really glad he's here."
Ronnie Stanley, Mark Andrews Among League's Most Underrated Players
Ravens offensive tackle Ronnie Stanley and tight end Mark Andrews made NFL.com's Gil Brandt's list of the most underrated players in the league, with Stanley coming in at No. 2 and Andrews at No. 5.
"Baltimore raised a few eyebrows by drafting Stanley sixth overall in 2016 ahead of the more highly touted Laremy Tunsil, but nobody is second-guessing the pick now," Brandt wrote. "By protecting Lamar Jackson's blind side and taking care of business as a run-blocker, Stanley has helped shape one of the best offenses in the NFL. It should eventually pay off in a lucrative extension, with Stanley heading into the final year of his rookie deal in 2020."
Andrews has formed a strong connection with Jackson. The 2018 third-round pick leads the Ravens in receptions (53), receiving yards (693) and touchdown catches (seven, which is tied for the league lead among tight ends).
"Andrews is one of those guys who plays faster than his time," Brandt said. "Making his accomplishments even more impressive is the fact that he has Type-1 diabetes, which requires him to check his blood sugar during games."