Would Paying Flacco $20 Million Hinder The Ravens?
Quarterback Joe Flacco might end up getting the biggest contract in NFL history this offseason, with an annual salary upwards of $20 million. That kind of deal would pay Flacco the kind of money Drew Brees got last year, and some have questioned whether the Ravens would be better off to use that money on other players and then bring in a veteran like 49ers quarterback Alex Smith at a discounted rate.
"You get what you pay for in this league, so I don't like that idea," Clayton wrote. "Flacco has the respect of his teammates along with having a big-time arm. Smith did a great job with San Francisco, but he doesn't have Flacco's arm strength and his track record for winning playoff games."
Pundits have questioned whether Flacco deserves to sit atop the quarterback pay scale, considering that his career statistics don't match the gaudy numbers put up by Brees, Peyton Manning, Tom Brady or Aaron Rodgers. 
"Stats are one thing. Wins are another," Clayton wrote. "Flacco, who has a career 59.7 percent completion percentage, will only get better in time. The stats could improve. He turned down the last offer from the Ravens (before the 2012 season) to go for the gold. He won that gamble. Now he needs to get paid."
Flacco is coming off a remarkable playoff run where he led the Ravens to a Super Bowl XLVII title, won Super Bowl MVP, and tied Joe Montana's record of throwing the most postseason touchdowns (11) without an interception.
That kind of performance from a 28-year-old quarterback is too good to walk away from, even if the contract demands are high.
"Sure, the savings of such a deal would allow the Ravens to do more in re-signing players, but it moves them backward at the league's most important position," Clayton wrote. "Pay Flacco and work out the rest."
Ravens, Linta Exchange Phone Calls
The process of working out those contract details is starting this week, according to ESPN's Adam Schefter.
This week's meeting will be the first since the two sides put negotiations on hold back in August.
Tough Decisions On Supporting Cast
Flacco, Ed Reed, Paul Kruger, Dannell Ellerbe and Cary Williams are the unrestricted free agents generating the most attention and discussion in the early part of the offseason.
But they aren't the only players who have the potential to go elsewhere, as some key pieces of the team's supporting cast are also free agents. CSNBaltimore's J. Michael looked at some of the lesser-heralded players who are also set to hit the open market.
Topping the list is veteran safety James Ihedigbo.
"Ihedigbo was a key special-teams player and had 25 tackles and one sack as he played with an incredible mean streak," J. Michael wrote. "The presence of the sixth-year player, who played a pivotal role on the Patriots' Super Bowl team, was crucial at the end of the season when he started three games in place of Bernard Pollard who had broken ribs."
Another player set to become a free agent is defensive tackle Ma'ake Kemoeatu. He returned to the Ravens this year after being out of football in 2011, and he beat out former second-round pick Terrence Cody for a starting job at nose tackle.  
Improving the middle of the defense is a priority for the Ravens, and they could try to keep Kemoeatu on the roster to provide some depth in the heart of the line.
Steelers Safety Says Ravens Are Flacco's Team
Pittsburgh Steelers safety Ryan Clark made an appearance on "NFL Total Access" to discuss some of the hot topics of the offseason and also preview the 2013 season in the AFC North.
The division rival had some high praise for the Ravens, specifically Flacco.
"This is Joe Flacco's team," Clark said. "I think he took that step to show that, 'I can lead this team. I can be the leader.' It may not be with the 'rah-rah' and the speeches, but it will be with his play."
Clark also gave credit to General Manager Ozzie Newsome for consistently building a winning roster, even when the Ravens lose critical pieces. Clark expects the Ravens to once again be back in the championship hunt next season.
"I think if you can keep Anquan Boldin and deal with Flacco's situation as far as his contract, I think they'll have the opportunity to be good again," he said.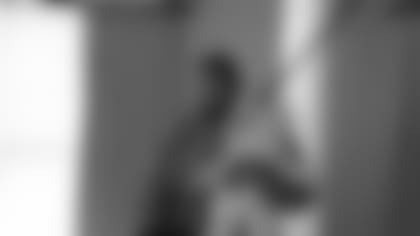 Ravens offensive lineman Michael Oher is enjoying his downtime in the offseason, and yesterday he posted a number of photos posing with his own stuffed animal version of Ted, from the movie that came out last year.
Could the next Flacco be in this year's draft? Bucky Brooks of NFL.com says that former NC State quarterback Mike Glennon reminds him of Flacco because of his big arm and stature. [NFL.com]
Note Dame linebacker Manti Te'o talked with USA Today ahead of this week's combine and said that the "Catfishing" scandal that became a national storyline will not affect his draft stock. [USA Today]
@TorreySmithWR: "After watching 3 straight episodes of Catfish...I do not feel sorry for any of them..it seems so obvious and dumb every time." [Twitter]
Jacoby Jones has added some new ink to his back. He already had an outline of his hometown New Orleans skyline, and he just added the Lombardi Trophy and Ravens logo on top of the Superdome.