Have Ravens Already Targeted Their 'Splash' Free Agent? Who Could It Be?
When it comes to beefing up the Ravens roster this offseason, Owner Steve Bisciotti's comments Friday were like music to Baltimore fans' collective ears.
"We need an exciting brand of football."
"There's a really good chance we won't take a defensive tackle in the first round."
"You can be assured that the majority of our attention will be on offense this year."
"I think that we can make a splash and help us on the way to getting our offense clicking better."
Translation? The Ravens' mission this offseason is to pump up the offense with some legit playmakers. Even with what appears to be a limited salary-cap situation, Bisciotti said he's not worried about money being a limitation. Ravens brass will make room, he said.
Then came the quote that really got people buzzing …
"One of my notes was, 'Do not tamper,' from [Ravens PR guru] Kevin [Byrne], because I'm not allowed to talk about people who are still under contract, even if the season is over," Bisciotti said. "We will be exploring all options in free agency and in the draft for targets for Joe [Flacco]."
You could read this comment a couple of ways. One way is that Byrne was giving Bisciotti a general reminder about the tampering rule.
Another way to read it is maybe Bisciotti has a couple of pending free agents in mind, but can't reveal them. That wouldn't be surprising since he recently returned from Jupiter, Fla., where he met with his top officials to map out their offseason plan, and potential free-agent targets surely came up in conversation.
Fans started speculating about who it could be, including some of the top pending free-agent wide receivers such as the Miami Dolphins' Jarvis Landry.
Before I move on from Bisciotti's news conference, I didn't get a chance to give media reaction because the 1:30 p.m. press conference was quickly followed this weekend by Ray Lewis' Hall of Fame induction announcement and Super Bowl LII.
A good comprehensive analysis comes from The Sun's Childs Walker, who wrote about the five things he learned from the presser. His five points are summed up below, and you can read more about each here.
1) Eric DeCosta taking over for Ozzie Newsome as general manager next year was big news, but is still "a sign of continuity more than change."
2) The Ravens owner's "tone regarding John Harbaugh was notably different."
3) The confidence in Joe Flacco's long-term ability is intact, as the Ravens still see him "as their answer at quarterback for years to come."
4) Get ready for the Ravens to draft "skill players galore."
5) Ravens players kneeling during the national anthem in London was a polarizing event for the fanbase, but "Bisciotti identifies with both sides."
Did Nick Foles Have the Best QB Postseason Ever? Nope, Joe Flacco Did
If it weren't for Philadelphia Eagles quarterback Nick Foles, there's a good chance that New England Patriots quarterback Tom Brady would be celebrating his sixth Super Bowl win right now.
You have to hand it to Foles, who led the Eagles to a phenomenal postseason run so good that his finale even overcame Brady's Super Bowl-record 505 passing yards. In Week 13, Foles couldn't have even dreamed of the opportunity as he was the backup to second-year quarterback Carson Wentz.
After Wentz's season-ending knee injury, Foles got the job and went on to set the record for the highest completion rate (72.6 percent) among quarterbacks who attempted at least 100 passes in a single postseason.
"But despite Foles's heroics leading up to and during the Super Bowl, he cannot claim the distinction of owning the best postseason ever for a quarterback," wrote The Washington Post's Neil Greenberg. "That honor belongs to Joe Flacco of the Baltimore Ravens."
Greenberg points out that in Flacco's Super Bowl XLVII run, he completed 73 of 126 passes for 1,140 yards, 11 touchdowns and no interceptions, producing an 117.2 passer rating. That's the highest ever in a postseason since the AFL and NFL merger in 1970.
Following Flacco is Drew Brees' 2010 postseason performance (117.0), Foles (115.7) and Kurt Warner's 2009 playoff run (112.2).
Greenburg says a modern version of passer rating, like the one below that gives a bonus for touchdowns thrown and penalties for interceptions, shows "an even bigger disparity between Flacco and the field."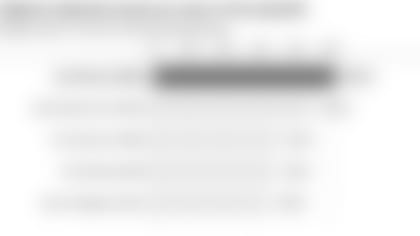 HOF Voter Says Ray Lewis 'Debate' Was the Shortest of Any Candidate
It didn't take long for the Hall of Fame selection committee to decide that linebacker Ray Lewis would be inducted into Canton.
The "debate" lasted a whole six minutes, one second.
Sports Illustrated's Peter King recorded in his notes how long the 47 voters discussed each of the 18 candidates during the eight-hour, 18-minute Saturday meeting. He said Lewis was "a given."
Below is a breakdown of how long each candidate was debated, from longest to shortest (bolded names made the final cut):
Terrell Owens, 45:18
Randy Moss, 34:45
Kevin Mawae, 31:42
Jerry Kramer, 23:36
Brian Dawkins, 23:14
Bobby Beathard, 21:51
Everson Walls, 21:01
Tony Boselli, 20:19
John Lynch, 17:28
Ty Law, 16:15
Brian Urlacher, 14:23
Joe Jacoby, 13:57
Isaac Bruce, 13:23
Steve Hutchinson, 12:10
Edgerrin James, 11:39
Alan Faneca, 8:44
Robert Brazile, 6:02
Ray Lewis 6:01