What's Next For Flacco, Ravens?
Step one is out of the way.
The top priority for the Ravens heading into this offseason was to re-sign quarterback Joe Flacco to a long-term and salary-cap friendly contract. That's exactly what they'll do later today when Flacco comes to the Under Armour Performance Center to sign his six-year, $120.6 million contract, the biggest deal in NFL history.
The deal, which according to The Baltimore Sun's Aaron Wilson includes a $29 million signing bonus and $52 million in guaranteed money, also works to the Ravens' favor because the salary cap hit this season is a relatively low number, allowing them to make a run at some of their other prized free agents.
Flacco's cap hit will be just $6.8 million this year, leaving the Ravens $11.263 million under the $123 million salary cap, according to Wilson.
"With $11.263 million in cap space after Flacco deal, team has a good shot at retaining [Dannell] Ellerbe, [restricted free agents Dennis] Pitta, [Ed] Dickson, Art Jones," Wilson tweeted.
The Ravens also have safety Ed Reed, outside linebacker Paul Kruger, cornerback Cary Williams and left tackle Bryant McKinnie as unrestricted free agents. Having Flacco signed to a long-term deal, rather than the pricy one-year franchise tag, gives the Ravens a better shot at retaining at least one of those free-agents.
The Ravens have until March 12 to re-sign or tender their free agents before they hit the open market.
"We get a deal done with Joe, we will not franchise another player," Newsome said. "We will not do that."
With just over a week before free agency opens, expect the Ravens front office to stay busy the next few days.
Focus Should Now Turn To Ellerbe
With the centerpiece of their offense locked up for the long haul, the Ravens should now shift their attention to the middle of the defense, writes CSN's Bo Smolka.
"The top priority now should become re-signing inside linebacker Dannell Ellerbe," Smolka wrote.
Ellerbe was arguably the top defender last season, and now the departure of veteran Ray Lewis has left a big hole at middle linebacker. Keeping Ellerbe in Baltimore would go a long way to softening the blow of losing a future Hall of Famer.
Outside of Ellerbe, the other current options for the Ravens at linebacker are Jameel McClain, Josh Bynes and Albert McClellan. McClain is coming off a serious neck injury, McClellan has primarily played outside linebacker in recent years and Bynes is a former practice squad player with limited NFL action.
Ellerbe is a proven starter, who showed his value during the run to the Super Bowl.
"Ellerbe won't be cheap, but he is the best option if the Ravens truly are committed to strengthening the middle of the defense," Smolka wrote.
Is Flacco Worth The Money?
Flacco has been one of the most debated and criticized quarterbacks during his five seasons in the NFL, so it's only natural that pundits are questioning whether he's deserving of his huge new contract.
"Based on his overall past performance, it seems clear that Flacco is being vastly overpaid and that his new contract is out of balance with the NFL's QB pay scale," wrote ESPN's Khaled Elsayed.
By leading the Ravens to the Super Bowl, Flacco has the hardware and wins to justify the deal. But he doesn't have the same gaudy regular-season statistics as Tom Brady, Drew Brees, Aaron Rodgers, or even quarterbacks like Matthew Stafford and Philip Rivers.
Flacco, however, has won at historic levels during his time in Baltimore. He's the only quarterback in NFL history to go to the postseason and win at least one playoff game in each of his first five seasons. His 63 total wins since 2008 are the most in the NFL during that stretch.
"Since 2010, Flacco is 6-2 in the postseason with 18 touchdowns and two interceptions," wrote ESPN AFC North blogger Jamison Hensley. "He would've guided the Ravens to consecutive Super Bowls if Lee Evans had held onto the ball in the end zone in the AFC Championship Game [in 2011]. Plus, Baltimore sees this as an investment in a 28-year-old quarterback who is entering his prime."
Flacco has also stepped up his play in big-game situations, especially in this year's postseason where he tied Joe Montana's mark of throwing 11 playoff touchdowns without an interception.
"The reason his contract tops all others is because he not only won a Super Bowl with the Ravens but played brilliantly in doing so," Elsayed said.
In debating Flacco's worth, ESPN used information from the statistical analysis website Pro Football Focus to determine the value of each player relative to his hit against the salary cap. Based on that analysis, Flacco was the 19th ranked quarterback in the NFL.
But if Flacco could translate his performance from this year's playoffs over the course of an entire regular season, then he would rank second best in the league using the same analysis.  
"He said he was an elite quarterback, and he played like one for a four-game stretch and now will be paid like one," Elsayed wrote. "Now he has to perform as such from opening kickoff in 2013 through a 16-game regular season and beyond. That's what the best quarterbacks do … and it's something the Ravens QB has never done. In an increasingly competitive AFC North, and with the Ravens undergoing a heavy transition on defense, Flacco has to be that guy."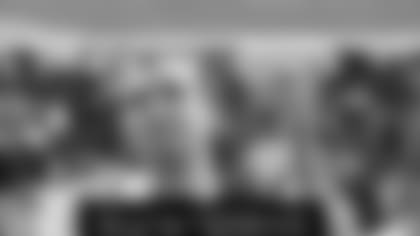 Torrey Smith had some fun on Instagram celebrating his teammate's big payday [Instagram/picture to right] * Smith is staying busy this offseason and is actually starting an internship today. [Twitter] * Count Ravens Head Coach John Harbaugh among those who think Flacco is deserving of his big payday. "Just very happy for Joe, his family and also for Ravens fans," Harbaugh told The Sun. "He has always been our QB. So, to me, this is very fitting." [The  Baltimore Sun] * Running back Ray Rice is looking forward to Flacco being part of the offseason workouts now that the negotiations are done. "I'm glad he's done so he can be there in the offseason," Rice told the Sun. "Me and him will be there to lead this offense again." [The Baltimore Sun] * Aaron Rodgers' brother Luke shared his feelings on Twitter about Flacco's new deal. "Joe Flacco is getting 20 million a season. Wow. Can't wait to see Ryan Fitzpatrick's new deal…." [FOXSports.com]