If Flacco Wins a Second Super Bowl, He's in HOF Conversation
There are 31 quarterbacks who have won a Super Bowl.
There are 12 who have won multiple Super Bowls.
Of those 12, only two that have finished playing are not in the Hall of Fame – Jim Plunkett and Peyton Manning. Manning will get in soon.
The Patriots' Tom Brady (five), Steelers' Ben Roethlisberger (two) and Giants' Eli Manning (two) are the only active players with multiple Super Bowls.
So, if the Ravens' Joe Flacco wins a second Super Bowl, will he get a gold jacket?
Hey, it has yet to be done, but it's fun to think about.
"If Joe Flacco wins a second ring, you can make the argument," Peter Schrager said on Good Morning Football.
The NFL Network morning talk show broke down who the 2017 player to watch is for the Ravens, and former NFL wide receiver Nate Burleson pointed to Flacco. And in talking about Flacco, Burleson immediately brought up the Super Bowl, which led to a conversation about his Hall of Fame chances.
Burleson held up a sign saying "Joe Flacco HOF?"
"I think most of us would say, 'Hmmm, no," he said. "But you have to think about it because he has the jewelry in the jewelry box. … If he can get back to the Super Bowl and get another ring, this could mean that this young man is clearly in the conversation once he gets toward the end of his career."
Heading into his 10th season, Flacco already has an impressive resume.
Flacco's 10 postseason wins since entering the league in 2008 are the second-most, only trailing Brady. Flacco's seven career road postseason wins are the most by a quarterback in NFL history. He's the only quarterback since the 1970 merger to win a playoff game in each of his first five seasons.
Everybody knows about Flacco's dominant 2012 postseason run en route to the Super Bowl XLVII MVP, in which he became the second quarterback in NFL postseason history (Joe Montana, 1989) to throw 11 touchdowns and zero interceptions.
But Burleson wants to see Flacco take it to the next level in 2017.
"When I look at the Baltimore Ravens and I saw how strong they were in the past, it was about them making plays and being opportunistic on the defensive side of the ball and then Joe Flacco cutting up everybody," Burleson said.
"I'm not talking about November, December when we say Joe Flacco comes alive. I'm talking about September all the way through the rest of the season. Watching him from Week 1 all the way until Week 16 and then taking his team into the postseason."
Flacco is coming off an up-and-down year after returning from a torn ACL, in which he threw for a career-high 4,317 yards, but also attempted a career-high 672 passes and tossed 20 touchdowns to 15 interceptions. His quarterback rating of 83.5 ranked 24th in the NFL and fell below his career average.
Now he's without one of his top receiving weapons in Steve Smith Sr., and lost fullback Kyle Juszczyk and right tackle Rick Wagner in free agency.
The Ravens have invested a lot in their defense this offseason, and they expect it to be dominant. But there's still no doubt that if Baltimore is going to get in the postseason again, Flacco is going to have to play a big part in leading the Ravens back.
"Now he's going to have to come up big," Burleson said.
Patriots Use Rare Move, May Take Blount Off Ravens' Radar
We don't even know that running back LeGarrette Blount was a player the Ravens were interested in, but, as outlined in Tuesday's Late For Work, local media members were definitely making a strong connection.
Well, it looks like everyone may want to pump the brakes on that possibility.
That gives the Patriots two key rights. First, if Blount doesn't sign elsewhere before July 22, he can only sign with the Patriots unless he sits out until after Week 10. Second, if another team signs Blount, it will count toward the compensatory draft pick formula for 2018.
According to PFT, it's a "rarely-used device" that has only come into play a handful of times.
"Any interest that the Baltimore Ravens had in free-agent running back LeGarrette Blount was likely squashed because of a move made this week by the Super Bowl champions," ESPN's Jamison Hensley wrote.
If the Ravens were to sign Blount, they would be risking their projected third-round compensatory pick in next year's draft. Baltimore is currently plus-two in the formula (lost five unrestricted free agents and signed three). So, the addition of Blount would still leave them on the right side of the ledger to get one pick.
However, if one of the players that signed elsewhere didn't end up making their team, Baltimore would be even and lose the third-round pick. The player most in jeopardy of not making the team is Vladimir Ducasse, who signed with the Buffalo Bills. The Bills can gain a third-round pick by releasing Ducasse, Hensley reports, so it's "a possibility."
If you're bummed about this Blount development, The Baltimore Sun's Jeff Zrebiec may help cheer you up. Well, at least at first.
"Don't misunderstand: I think [Blount and Anquan Boldin] would strengthen the overall roster, but I don't know how either would result in the Ravens offense being that much more dynamic. At this point, though, that's going to be hard to do, given what's available."
Patriots' Super Bowl Odds Improve After Draft, Ravens' Drop
Here's another reason to snarl at the Patriots this morning (you're welcome!).
The Patriots didn't make a first- or second-round pick in this year's draft (they traded their first rounder to the Saints for wide receiver Brandin Cooks), yet came out of the draft with improved odds to repeat as Super Bowl champions.
According to the most recent odds from Westgate Las Vegas Superbook, the Patriots' odds of winning Super Bowl LII increased from 6-1 on Jan. 10 to 3-1 on May 8.
"The Patriots may not have made a big splash at the draft, but they did add dynamic receiver Brandin Cooks, corner Stephon Gilmore, tight end Dwayne Allen, and defensive end Kony Ealy to their ranks this offseason," The Score wrote.
Meanwhile, the Ravens' odds of winning this year's Super Bowl after a defense-heavy draft have dropped from 25-1 to 30-1. Do people forget how the Ravens won Super Bowl XXXV?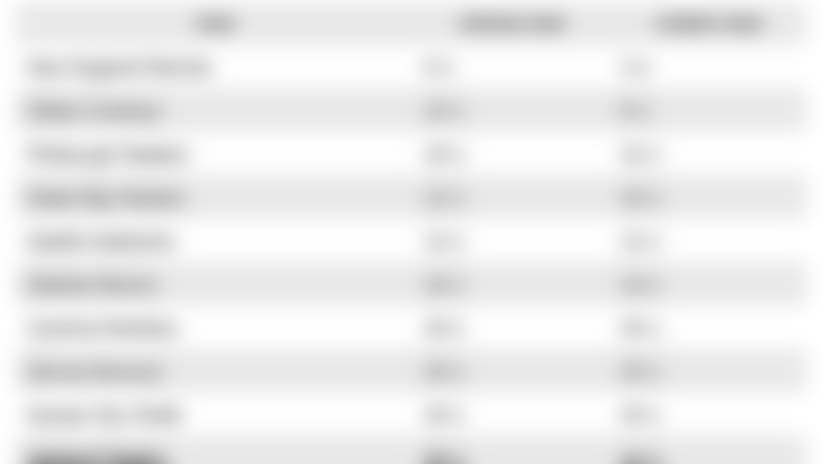 Humphrey Named to All-Rookie Team
After months of trying to predict which teams this year's prospects would land with, NFL Media analyst Bucky Brooks is now trying to forecast which rookies will excel in their first year.
Brooks put together his All-Rookie Team, and Ravens first-round cornerback Marlon Humphrey made the list.
"This rock-solid cover corner should thrive as the CB2 opposite ," Brooks wrote. "Humphrey not only possesses the length and athleticism to challenge receivers at the line, but he is a tough tackler willing to thump runners on the perimeter."
The other cornerback on the list is the Buffalo Bills' Tre'Davious White.
Let's hope there are many more celebrations and awards.
Two More Undrafted Rookies To Watch
"Smoke" is the nickname given to Virginia running back Taquan Mizzell, who got the name when he was younger because "would-be tacklers said it was like trying to grab smoke," ESPN's Jamison Hensley wrote. That's cool.
Kiper had Mizzell ranked No. 275 on his final Big Board. That means he still had an undrafted grade on him, but it was a high one.
"Virginia's 33-year streak of having a player picked in the draft ended, but Mizzell was its best shot," Kiper wrote. "He rushed for 2,075 yards and 12 touchdowns in his career but didn't earn a combine invite. The Ravens were one of the worst rushing teams in the league a year ago."
That's not even doing Mizzell's college stats justice. He was the only player in ACC history to produce 1,500 yards rushing and receiving. In his last two seasons, he had 127 receptions and scored 15 touchdowns. He had the fourth-most catches among running backs in the FBS last season.
Mizzell's first impression in Baltimore during rookie minicamp was an impressive one. He made an acrobatic one-handed catch along the sideline on one play, and often found the ball thrown his way.
"It will be tough for Mizzell to crack the Ravens' roster this year, especially with a pass-catching back like Danny Woodhead on the team," Hensley wrote. "But Mizzell could serve as a developmental back on the practice squad if he continues to make plays."
The other undrafted rookie is Maine defensive lineman Pat Ricard. In four years at Maine, Ricard had 208 tackles and 18 sacks, which is a ton of production for a lineman.
"Former Delaware offensive lineman and Severn native Connor Bozick singled out Ricard as the toughest player he's ever faced," Zrebiec wrote.
"The Ravens are deep along the defensive line, so Ricard will have an uphill battle to make the team. However, the Ravens usually find ways to keep talented and hard-working defensive linemen, even if it's on the practice squad."