Matt Judon Wants to Lead the League in Sacks. How Realistic Is His Goal?
After an impressive breakout campaign last season, outside linebacker Matt Judon was asked last week what he wants his encore to be in 2018.
"Lead the league in sacks," the third-year veteran boldly stated.
It's May – about four months before regular-season games are played. That means every team's goal is to win the Super Bowl, every receiver wants to lead the league in receiving yards, every defensive back wants to lead the NFL in interceptions, every pass rusher wants to notch the most sacks, etc.
As such, Judon has the exact right attitude, but how realistic is his goal?
Last year's sack leader was the Arizona Cardinals' Chandler Jones with 17. Meanwhile, Judon notched eight sacks last year, which was double what he tallied the prior year. He essentially needs double his output again, and then some, to be in the conversation next season.
"While Judon's total count of eight sacks was only good for 30th-best in the league last season, he was remarkably efficient in getting to the quarterback. …  Assuming Judon receives more snaps going forward — he only started in 12 games last season — he very well could climb up the sack board in a big way this year."
With the league's fourth-highest sack/pressure percentage (27.3), Judon is in good company with the likes of the Carolina Panthers' Julius Peppers, Detroit Lions' Ziggy Ansah, Washington Redskins' Ryan Kerrigan and Green Bay Packers' Clay Matthews. It's also reason to believe Judon can build upon his eight sacks with more pressure opportunities.
There are only so many snaps to go around, however, so new Defensive Coordinator Wink Martindale will have to decide how to divvy them out, with the goal of getting the most team sacks. Here was the outside linebacker snap-count breakdown last year, per PFF.
Terrell Suggs: 845 total defensive snaps/526 pass-rush snaps
Matt Judon: 787/338
Za'Darius Smith: 533/349
Tyus Bowser: 161/96
Tim Williams: 125/68
Terrell Suggs Among Top 10 NFL Players Older Than 35 in 2018
There are only a handful of NFL players that continue playing at the age of 35 or above, let alone still dominate. Terrell Suggs is one of them.
PFF examined 10 of the players who will continue to defy Father Time and wreak havoc in 2018, including Suggs, who will turn 36 in October. He joins New England Patriots quarterback Tom Brady, New Orleans Saints quarterback Drew Brees and Philadelphia Eagles offensive tackle Jason Peters as some of the "old guys" of the league.
"Returning from a torn Achilles in 2016, Suggs earned an unconventional 77.7 overall grade across 697 defensive snaps, pushing some to believe his best days were behind him," wrote PFF's Austin Gayle. "Of course, Suggs proved his doubters wrong in 2017.
"The 35-year-old Suggs earned an 87.0 overall grade this past season, his highest mark since 2011. He also recorded 79 total pressures and 33 defensive stops, which ranked fourth and 15th among edge defenders in 2017, respectively. Suggs' production speaks for itself. He can still get after the quarterback and his play against the run hasn't wavered in the slightest."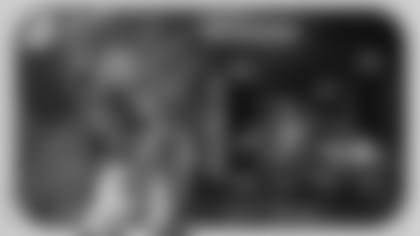 Jamal Lewis Fighting Suicidal Thoughts in Post-NFL Life
Former Ravens running back Jamal Lewis, 38, gave a raw interview to Bleacher Report, discussing his post-NFL struggles over the last decade, including headaches, memory lapses, bankruptcy and jail time.
Health struggles that other former Ravens have endured have impacted Lewis' outlook on death, both positively and negatively. He saw Orlando Bobo pass away from heart and liver failure, Orlando Brown from diabetic ketoacidosis and Damion Cook from a heart attack. As a result, Lewis considered taking matters into his own hands.
"You think about death," Lewis told Tyler Dunne. "I've thought about suicide. I've thought about ending it all.
" … You just have those thoughts about should you end it? I can only imagine with sleep apnea and heart attacks and heart disease. Who wants to go out like that? Especially when you have people upset with you – your wife upset with you, pissed off, you have to file bankruptcy, made bad decisions …"
Another former teammate, O.J. Brigance, has inspired Lewis to keep looking forward and to fight negative thoughts. Brigance has been battling ALS for 11 years, and continues to do so from a wheelchair while delivering messages of hope through a DynaVox computer with eye-recognition software that chooses a letter when he blinks at it.
"I have things to look forward to," Lewis said. "You know what I mean?"
"Whatever happens, happens. I won't be sitting on my ass. If that does happen, then it's time for me to sit on my ass. Seeing his fight, and everything he's going through, his wife is right there with him. Seeing a guy like that … you talk to him and he talks through the device he has. He feels everything, but he just can't push it out."
Lewis has found hope in new business ventures and his family, and refuses to give up his fight.
"It's not over," he said. "I have to keep moving.
Brandon Marshall May Have Set the Market for Receivers Once Connected to the Ravens
We might start to see a domino effect in the wide receiver market now that Brandon Marshall has signed with the Seattle Seahawks.
That domino effect could impact former Raven Jeremy Maclin, who still sits on the open market after Baltimore cut him in March. It could also impact two other veteran receivers, who the Ravens were reportedly interested in earlier in free agency, but to varying degrees.
The Ravens reportedly offered former Dallas Cowboys receiver Dez Bryant a contract in the neighborhood of three years for $21 million. Per ESPN's Adam Schefter, his market, along with the others', may now be closer to one year for $2 million.