Suggs Softening Stance On Tom Brady?
Suggs still doesn't say the quarterback up north's name, but on Tuesday, the Ravens' veteran pass rusher passed up a golden opportunity to bash Brady.
Suggs was asked whether Brady's four-game suspension in the wake of Deflategate and the Ted Wells report would tarnish the four-time Super Bowl winner's legacy.
"That's a good bait question. I like it, I like it," Suggs said with a laugh.
"But I don't think it can. The guy is a winner. He has won with whatever kind of personnel he has had, so I don't think it really tarnishes [his legacy]."
Suggs went on to smile and wag his finger at the media – not Brady.
"[The media needs] something to write about," he said. "I guess this is that. Ours was the deer antler, so it's always something. … I'm not stepping into that puddle, OK? I'm leaving it alone."
"Maybe his comments are a sign that the 32-year-old linebacker will take it easy on the Patriots and four-time Super Bowl champion Brady if the two teams square up in the playoffs," wrote NESN's David Cunningham.
Strange thing is, this isn't the first sign that Suggs' distaste for Brady may be softening.
Following the Ravens' divisional playoff loss in New England, in which Brady threw for 368 yards and three touchdowns, Suggs admitted Brady is a "pretty good quarterback."
When a TMZ reporter asked Suggs earlier this offseason how he would have punished the Patriots and Brady after Deflategate, Suggs dodged the question and chose to take a jab at Head Coach Bill Belichick instead of Brady.
"I don't know. That's not my job. I'm glad I don't got it," Suggs said. "But the last coach that got caught cheating got suspended for a whole year."
Wilson: Yanda Deal Not 'Imminent'
No surprise here. Ravens guard Marshal Yanda is more concerned with smacking defensive linemen than his contract.
Ravens Owner Steve Bisciotti has expressed a desire to sign Yanda to a contract extension before his current deal expires following the 2015 season.
"We'll worry about that when the time comes," Yanda said. "But right now, I'm focused on getting better as a football player and stuff like that. I'm not too worried about it. We'll get it done when we get it done."
As The Baltimore Sun's Aaron Wilson pointed out, the Ravens have negotiated four contracts with the four-time Pro Bowler since drafting him in the third round eight years ago. So there's a familiarity when it comes to these matters.
Wilson said "no deal is imminent," according to sources, and that it's unlikely the Ravens can afford to keep both Yanda and left guard Kelechi Osemele, who is also heading into the final year of his contract.
"The guess here is that the Ravens will offer the more lucrative deal to Yanda, who is entering his ninth season compared to the fourth for Osemele," he wrote.
"Yanda is a more consistent, better all-around player, but Osemele isn't that far behind. Both run well and can work into the second level. Yanda is more powerful, especially at the point of attack, but Osemele is strong at finishing blocks. Both have had their share of injuries, but Osemele has had back problems, and that's a major concern for any offensive lineman and team."
Ravens To Have Problems In Crunch Time?
Ravens quarterback Joe Flacco is known for his playoff and clutch performances, but one NFL Media scribe is concerned about the cast around him rising to the occasion.
But NFL Media's Elliot Harrison put the Ravens in the second-tier of AFC Super Bowl contenders – behind the Patriots, Colts and Broncos and even the Steelers and Bengals – because he's worried about Baltimore's performance in crunch time.
"Joe Flacco is better than people realize, but I didn't include him when listing the top 10 quarterbacks for 2015, mostly due to his supporting cast. The Ravens will be starting a 36-year old wideout in Steve Smith and, potentially, two rookies in receiver Breshad Perriman and tight end Maxx Williams. This could be problematic, given that Flacco's middle-of-the-pack passer rating (91.0) last season was the second-highest of his career.
"Of course, passer rating is merely one facet of the game; another is two-minute offense, where, unfortunately for the Ravens, they were terrible last season (ranking 28th in two-minute scoring). Baltimore is destined to play tight contests in the AFC North, so relying on young receivers -- who might not know what they're doing, pre-snap -- in crunch time could spell trouble."
Chris McAlister Working For The Bills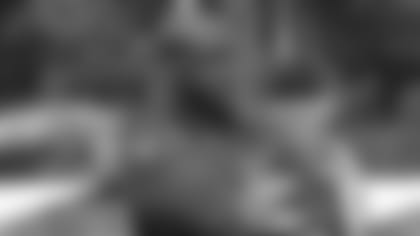 Former Ravens three-time Pro Bowl cornerback and 2000 Super Bowl champion Chris McAlister is working for the Buffalo Bills for the second consecutive year as part of the Bill Walsh Minority Coaching Fellowship program, reports The Baltimore Sun.
Why the Bills you ask? McAlister is learning under Bills Secondary Coach Donnie Henderson, who was his position coach with the Ravens. His former defensive coordinator in Baltimore, Rex Ryan, is also the head coach in Buffalo.
McAlister played for a decade in Baltimore before being cut following the 2008 season. He briefly caught on with the New Orleans Saints before retiring due to a knee injury.
"It's been amazing," McAlister told BuffaloBills.com last year. "Learning how to coach, it was a lot different than I thought it would be. I have a lot of knowledge in my head about how to play the game, but then coming here with Coach Henderson, he showed me how to get what I have in my head and relate that to the players."
Former wide receiver Andre Rison is among the Bills' other coaching interns.