Tyus Bowser Making a Matt Judon-Like Leap Would Do Wonders for Defense
The Ravens hit the jackpot when it came to replacing Hall of Fame linebacker Ray Lewis. It hasn't been as easy replacing potential future Hall of Fame safety Ed Reed.
How smooth will the transition away from Terrell Suggs be when the time comes? The Ravens hope the process has already begun with young players on the roster.
"The Ravens won't easily replace what [Suggs has] brought to the table for so many years," wrote WNST's Luke Jones.
The good news is that Bowser, a 2017 second-round draft selection, has already taken the first steps in progressing as quickly as Judon did in his second year. Linebackers Coach Mike Macdonald said last week that Bowser was probably the most productive linebacker in terms of sacks and interceptions this offseason and his confidence is "skyrocketing."
"You can see it in how fast he's playing," Macdonald said. "Shoot, he's got three interceptions out there. He can pluck it for being a guy on the edge. In the meeting room, he really attacks it."
In terms of a Lewis replacement, you couldn't ask for much better than C.J. Mosley, who was a first-round selection in 2014, a little more than year after Lewis retired. Since that time, Mosley has been to three of a possible four Pro Bowls and is one of only two NFL defenders to notch more than 450 tackles, five interceptions and five sacks.
The Ravens tried to draft Reed's replacement the same year he left Baltimore with first-rounder Matt Elam, but that didn't pan out. Three years after Reed's departure, the Ravens used big money in free agency for Eric Weddle to stabilize the position.
Suggs has a chance to groom his own replacement with Bowser (and fellow 2017 draft pick Tim Williams) in the same outside linebacker room for however much longer Suggs plans to continue playing.
It's not fair to compare anyone to a potential Hall of Famer, but Bowser has the skills to be an all-around linebacker like Suggs, who can do more than just get after the quarterback.
"Bowser is considered a 'complete linebacker' with the ability to set the edge, rush the passer, and drop in coverage," wrote Baltimore Beatdown's Dustin Cox.
"Despite the Ravens' defense having 41 sacks for the season, the pass rush was a major problem in some big-time moments [last year]. Outside of Suggs and Judon, Baltimore failed to generate much pressure on opposing quarterbacks. Bowser could play a huge role in improving the Ravens defense."
Judon doubled his sack total from four his 2016 rookie year to eight last season. He added three passes defensed and two forced fumbles. If Bowser can have a similar uptick after recording three sacks and an interception last year, it could do wonders for the Ravens defense.
"I don't want to overshadow [Bowser and Williams], but I hope they take the step that I took," Judon said during the offseason program. "[I want them to] come in here and be players that we can count on week-in and week-out."
Can the Ravens Become a 'New Playoff' Team, and Which Team Would They Replace?
Since 1990, when the 12 team-playoff format was implemented, at least four teams have advanced to the playoffs after missing the previous season.
That puts them behind the Houston Texans (21 votes), Green Bay Packers (20) and Los Angeles Chargers (19).
"The biggest reason for optimism is the health of Joe Flacco and his revamped wide receiver group," the website wrote. "Flacco had his best offseason in recent memory, and many believe it's the result of him not having to deal with knee and back injuries. The last time Flacco was this healthy was 2014, which was also the last time Baltimore reached the postseason.
"Another factor is the Ravens' overhaul of Flacco's targets. Baltimore upgraded by adding Michael Crabtree, John Brown and Willie Snead. This offseason, Crabtree has looked like a No. 1 receiver, Brown has repeatedly made big plays downfield and Snead has consistently gotten open over the middle."
The Ravens have missed the playoffs in three consecutive seasons, but they've been in the hunt each time. In Week 17 last year, they were stunned by a haunting fourth-and-12, fourth-quarter play on which the Cincinnati Bengals scored a 49-yard touchdown to knock the Ravens out of contention. They finished 9-7 and missed the postseason due to tiebreakers.
Baltimore hasn't missed the playoffs four years in a row since the franchise first came to town in 1996 to 1999.
ESPN voted on five teams that could miss the playoffs after advancing last year, including three AFC teams in the Tennessee Titans (9-7 record, lost to New England Patriots in the divisional round), Buffalo Bills (9-7, lost to Jacksonville Jaguars in wild-card round) and Kansas City Chiefs (9-7, lost to the Titans in the wild-card round).
Ravens Boast PFF's Fifth-Ranked Offensive Line Despite Significant Injuries
The Ravens offensive line took a punch to the gut last year when they lost starter Alex Lewis to a shoulder injury that required surgery and forced him to miss all 16 games. The unit seemed doomed when All-Pro guard Marshal Yanda went down with a season-ending ankle injury in Week 2.
But somehow the unit persevered under the leadership of new Offensive Line Coach Joe D'Alessandris, and Pro Football Focus (PFF) graded the Ravens' unit as the fifth-most efficient blocking group in the league last year.
"All told, they allowed the league's fifth-fewest pressures (138) and averaged 18.1 pass-block snaps per sack or hit surrendered, which tied for the league's second-best mark," wrote PFF's Mark Chichester.
"Guard James Hurst had a great season as he finished ninth among guards in pass-blocking efficiency and allowed just one sack, one hit and 14 hurries all season. With the return of star guard and pass-blocking ace Marshal Yanda, who has averaged 1313 pass block snaps per sack allowed since 2015, the Ravens are in good shape heading into the new league year."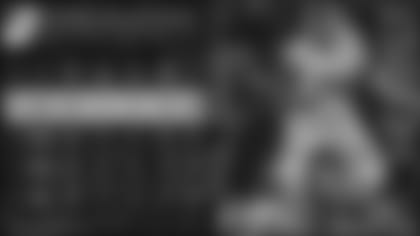 DJ Moore Signs Rookie Contract, Leaping Hayden Hurst and Several Other First-Rounders
Marylanders will keep an eye on Moore's NFL career after he earned Big Ten Receiver of the Year honors in 2017 while setting a single-season school record for receptions (80). Despite playing with four different quarterbacks last year, Moore posted 1,033 receiving yards and eight touchdowns.
Interestingly, Moore will compete with another Terps alum, Torrey Smith, for the starting spot opposite No. 1 receiver Devin Funchess in the Panthers offense.
Moore was selected by Carolina with the 24th overall pick, just one spot ahead of Ravens rookie tight end Hayden Hurst. Often times, but not always, rookies will sign their contracts in reverse draft order.
Moore signed before several first-round draft picks behind him, including Hurst (No. 25 overall), and Atlanta Falcons' Calvin Ridley (No. 26), Pittsburgh Steelers' Terrell Edmunds (No. 28), Jacksonville Jaguars' Taven Bryan (No. 29), Minnesota Vikings' Mike Hughes (No. 30) and New England Patriots' Sony Michel (No. 31).
RGIII Trying to Help Nurture Lamar Jackson
Even though the addition of quarterback Lamar Jackson hurts Robert Griffin III's chances of making the roster, the veteran signal caller doesn't see himself in a competition with the rookie.
Jackson is assured a spot on the roster, so Griffin's approach is to help a young player that reminds him of himself when he came into the league six years ago. Griffin likened the process to nurturing, mentoring and caring for a baby bird.
"I'm trying to help nurture him as much as I possibly can, so that when he flies away, he is ready to fly away," Griffin told SI.com's Ben Baskin. "Because when you watch it fly away, at that point it's up to that bird.
"I try to take that and look at it in a positive way to try to help Lamar navigate a lot of the things that I had to navigate on my own. I feel like he really trusts me and believes what I'm telling him and I think that's made him a better player already in a short amount of time."
Biggest roster decision facing the Ravens right now: Will C.J. Mosley get his money? "[He's] has been about as good as the Ravens could have hoped for, as he entered the league in 2014 as a first-round pick and has gone on to record 474 tackles and eight interceptions," wrote Field Yates. "For perspective, there is just one linebacker (Luke Kuechly) who has both more tackles and picks than Mosley over the past four seasons. Mosley is slated to play on the fifth-year option of his rookie contract, though talk of an extension already has been an offseason storyline that could eventually result in a new deal." [ESPN]
Who is the best kicker in the NFL? Duh, Justin Tucker. Gary Davenport name the best player at every position in the NFL and said of Tucker, "Tucker is as close to automatic as kickers get in the NFL. Over the last two seasons, he has missed only four of his 76 field-goal attempts. In each of those seasons, the 28-year-old booted a 57-yarder. And the next time Tucker misses an extra point will be the first. If he takes the field with the game on the line, turn out the lights. The...party...is...over." [Bleacher Report]