Zachary Orr Exploring an NFL Comeback … as a Free Agent
Zachary Orr announced his retirement from the NFL on Jan. 20, a little more than five months ago.
At 24 years old, Orr's football career was over. Or so he thought.
Orr joined NFL Network's "Good Morning Football" Wednesday and said he's exploring the possibility of coming out of retirement after receiving more encouraging diagnoses about the spinal condition.
According to Mike Garafolo, Orr has received additional opinions from doctors about his spinal condition over the past few months and those opinions have been "optimistic and countered those offered by doctors who advised Orr to retire at age 24 when they discovered one of his vertebrae wasn't fully formed."
Per the report, doctors initially told Orr he was at risk of death or paralysis with the condition, which less than 1 percent of people are born with. But former Baylor quarterback Seth Russell told Orr he should visit Sanford Emery, a West Virginia spine specialist who treated Russell when he suffered a neck injury in 2015, Garafolo reported.
Russell's brought on another round of medical evaluations, and "Orr said several doctors have told him he's at no more risk of serious injury than a player with a fully formed spine," Garafolo wrote.
"I had my mind made up. I was like man, the doctors told me I was done," Orr said. "This is a serious issue. So I'm going to leave it alone. But I just kept hearing that from multiple people and some were telling me to just go check out and seek out some more opinions and things like that and come to find out my condition, it is rare -- .01 percent of the people have what I have -- but there's no actual evidence or facts that I'm at a higher risk than any other player. And it's actually been documented that a college player who had the exact same thing that I have that returned to play with no problems."
Doctors told Orr their only concern would be if he played with herniated discs, but the herniated discs he suffered last season (which triggered the head-to-toe CAT scan that revealed the condition) have subsided, per Garafolo.
When Orr announced his retirement, he left the door open to returning if something changed.
"If there's some miracle way where I can play the game, I promise I'd be the first one to grab my cleats again, start back training and try to find a way to get back out there," he said.
Now the question is, if he does return, whose cleats and jersey will he be wearing?
Orr would return a free agent because the Ravens reportedly did not offer him a restricted free agent tender since he was, you know, retired.
According to Garafolo, Orr didn't file retirement papers in January and the Ravens didn't place him on their reserve/retired list because no one expected him to play again. The period to extend tenders to restricted free agents has passed.
Orr was the Ravens' leading tackler last year (132 tackles, three interceptions) and a second-team All Pro. Per Pro Football Talk, the Ravens were talking to him about a contract extension before the spinal condition arose.
"I really don't know [where I'll play] yet," Orr said. "I'm eager to see.
"I just want to play football. I just want to play ball. I mean perfect situation, perfect scenario, of course Baltimore I have a great relationship with everybody in that organization, teammates that I've got to know really well that I'll talk to for the rest of my life and then obviously with C.J. Mosley, we came into the league the same year and I felt like we had a chance to be one of the best tandems in the National Football League, we're working toward that."
Orr said the Ravens, who have been pleased with the progress of second-year inside linebacker Kamalei Correa this summer, are aware of the situation.
"They've seen how I've been talking, how I've been working and just kind of my focus in the offseason," he said. "I haven't really been talking or working out like a retired player. So now I'll probably get a lot of messages from a lot of people. A lot of people didn't really know because I kind of just wanted to keep it under wraps and not jump to quick decisions or anything like that."
Don't fret, Ravens fans, safety Tony Jefferson is already on the recruiting trail, and I have a feeling a bunch of Ravens will be reaching out to Orr …
Ravens' Roster Ranked in Bottom Half of the League
It's June, and we still have a long way to go before actual football is played. As of now, teams are being ranked based solely on how they look on paper.
That's why Pro Football Focus (PFF) put together the projected starting lineups of all 2017 teams and ranked them in order of their 2016 grades.
Biggest strength: "Marshal Yanda is the league's best guard and might be the best overall offensive lineman. He switched from right to left guard [due to injury] midway through last season and didn't skip a beat, allowing just six total pressures."
Biggest weakness: "The Ravens' top weakness might be the player lining up next to Yanda -- right tackle James Hurst. Though he didn't give up a sack in 305 snaps last season, he allowed 14 total pressures and has consistently graded poorly as both a run- and pass-blocker."
By the numbers: "Quarterback Joe Flacco's 71.4 PFF grade ranked 25th in the league last season. It marked the second consecutive season he posted a career-low grade. Though Jeremy Maclin helps, the Ravens' offense still lacks weapons. Flacco needs to reverse this decline if Baltimore hopes to contend in the AFC North."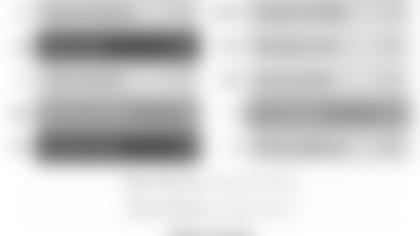 It seems that PFF's biggest concern with the Ravens is the offensive line. The analytical website also ranked all 32 offensive lines and has the Ravens at No. 23.
"The Ravens are rock solid at left tackle (Ronnie Stanley) and right guard (Marshal Yanda), but every other position is a big question mark," PFF's Michael Renner wrote. "Left guard Alex Lewis and center John Urschel have flashed potential in the past and could push this ranking higher. The same cannot be said for James Hurst."
Let me get this straight.
Hurst didn't give up a sack in 305 snaps and allowed pressure 4.5 percent of the time and he's graded that low? Huh?
For comparison's sake, Ricky Wagner, who just signed a big contract this offseason, played 568 snaps as the Ravens' starting right tackle last year. According to PFF, he gave up 32 total pressures. That's a pressure rate of 5.6 percent.
Other than the projected starting offensive line, some interesting notes are that Kenneth Dixon is listed as the starting running back and Crockett Gillmore and Maxx Williams are the top two tight ends. PFF also envisions Albert McClellan and Za'Darius Smith as starting linebackers. Not sure if they'll end up being right on all those, but we'll see.
First of all, I would contend the Ravens roster is better than what these rankings show. Second, the game of football isn't played on paper.
PFF says the Atlanta Falcons have the NFL's best roster, followed by the New England Patriots and Tennessee Titans. The rival Steelers come in at No. 5, the Bengals are at No. 23 and the Browns are at No. 29.
A Peek Inside Steve Smith's Retirement Life
So, what's former Ravens wide receiver Steve Smith Sr. been up to since retiring?
Well, we all know he joined the NFL Network. And we know he helped the Ravens recruit wide receiver Jeremy Maclin.
But what about in his spare non-football time?
Smith joined the Rich Eisen Show yesterday and shed a little light on that.
First of all, he's trying not to get fat. He has a friendly wager with fellow NFL Network analyst and former Steelers cornerback Ike Taylor that he won't chunk up by Christmas now that he's not playing anymore. There were no specifics on weight allowances.
"He thinks I'm going to get stung by multiple bees and blow up and get fat," Smith joked.
Smith said that he's lost 10 pounds of muscle already. When he first hung up his cleats and stopped training, he got up to 205 pounds. His playing weight was 195 pounds.
"I really took the first 30 days off. I went, as the young guys say, YOLO," Smith said.
"I was eating all kinds of stuff. I got out of the shower and I was like, 'Hmm.' And my wife got out of the shower, she walked past and I was like, 'Oh!' So I was like, 'Man, I need to get my life together.'"
Then there's the vacations. Smith said he wants to do the running of the bulls in Pamplona, Spain. The festival runs every year from July 6-14, so if he's going to do it this year, he better make those plans fast.
A dubious Eisen asked Smith if he'd at least get through one NFL Network contract before putting his life at risk in front of some bulls.
"I want to observe it and watch it. You don't have to be full in front of the bull. You can kind of be off to the side," Smith said. "I'm going to be smart; I don't want to get [gored] or trampled. I'm going to kind of double-dutch it. 'Do I want to get in?'"
Smith also said he wants to go skiing in the Swiss Alps. He's an avid skier dating back to his college days at Utah. He has no interest, however, in snorkeling.
"Running with the bulls, I feel confident. I can get out, I can maneuver, I can hop over something," Smith said. "Snorkeling, you run up on a shark, what do you do? I can't outrun it, can't outswim it. Eel. There are certain things out there I'm not dealing with."