In-Depth Statistical Projections for Ravens' 2017 Season
There's been a lot written already about how NFL teams are shaping up and their chances of success this season.
For those who aren't mathematically inclined (like me), the FPI rating "combines its efficiency ratings on offense, defense and special teams – based on each unit's expected points added per play – with the sum of all three squad ratings."
Not sure how each unit's expected points added per play is calculated, but alas …
The FPI ratings were then used to simulate the NFL season 10,000 times to calculate a team's chances to win its division, make the playoffs, win the Super Bowl, etc.
Below is what ESPN came up with for the Ravens. This was calculated before Baltimore released tight end Dennis Pitta yesterday.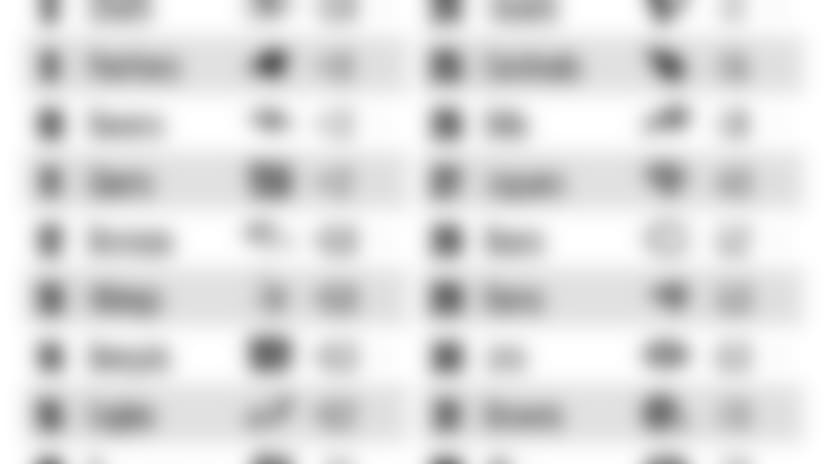 If rounding numbers, the Ravens are projected to go 9-7, which would be a one-win improvement on last year's record. That gives them a 25 percent chance of winning the division.
ESPN's Hank Gargiulo: "The AFC North is once again set to be a tough division, with only the Browns not projected to finish .500 or better. The Steelers are the preseason favorite to take the division for a second straight year, with the Ravens and Bengals fighting for second place. If the division title race comes down to the final week of the season, take note that Pittsburgh faces Cleveland for the third consecutive season, while the Ravens will host the Bengals in what our projections suggest could determine a wild-card berth."
What's notable here is that ESPN gives the Ravens a 48.6 percent chance of reaching the playoffs. That's the sum of their 25 percent chance of winning the AFC North and 23.6 percent chance of claiming a wild-card spot.
Of the non-playoff teams from last year, the Ravens are given the best shot at making the postseason.
Gargiulo: "The Patriots, as the No. 1 team in FPI and an overwhelming favorite to capture their division (92.3 percent), are also the most likely team to make the playoffs in the AFC. They are also a slight majority favorite to earn the top seed in the conference, and home-field advantage throughout the conference portion of the playoffs. The Steelers are the second-most likely playoff participant, as either a division winner or wild card. The two most likely AFC wild-card teams also come out of the North, with the Ravens (23.6 percent) and Bengals (20.6) projected to break through. Rounding out the top five are the Chiefs (20.1) and Raiders (19) -- whoever misses out on the division title there is a strong contender for a wild card."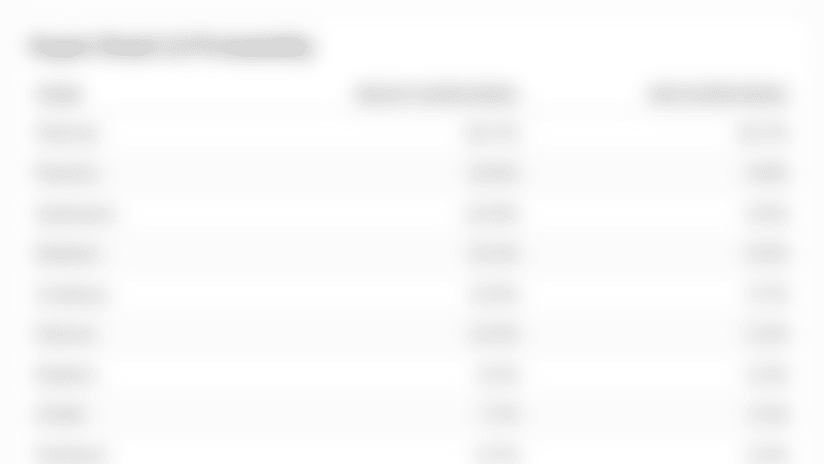 The Ravens are given a 2 percent chance of winning Super Bowl LI. While that may seem extremely low, it's the 10th-best odds in the NFL and only one team (the Patriots at 34.7 percent) is over 10 percent. Baltimore has a 4.3 percent chance of reaching the big game.
Gargiulo: "With a clear lead atop the team rankings, it should be no surprise that the Patriots are also FPI's early favorite to both reach and win Super Bowl LII in Minnesota. New England is a slight majority favorite (50.7 percent) to represent the AFC in the Super Bowl, and a 34.7 percent favorite to win it. The only other team in the AFC with a greater than 10 percent chance of reaching the Super Bowl is the Steelers at 15.2 percent (FPI says the Steelers have an 8.5 percent chance to win it)."
Maclin Joined Ravens to Watch NBA Finals; Visit Continues Today
Free agent wide receiver Jeremy Maclin left Buffalo without a contract yesterday, and flew south to Baltimore for a visit.
But before arriving at the Under Armour Performance Center, he first met up with several Ravens players to watch Game 3 of the NBA Finals, according to The Baltimore Sun's Jeff Zrebiec.
The watch party was hosted by Tony Jefferson and, by the looks of it, also included Eric "The Recruiter" Weddle, Danny Woodhead, Michael Campanaro, Anthony Levine and Tavon Young.
Maclin's visit will reportedly move to the Ravens' training facility Thursday, at the same time Organized Team Activities (OTAs) are going on.
And, according to Zrebiec and ESPN's Jamison Hensley, it will be tough for him to leave.
"The Ravens, who have among the least salary cap space in the NFL and far less financial flexibility than the Bills, have some significant work to do to reach a deal with Maclin," Zrebiec wrote. "In recent years though, they have been successful closing deals with free agents they covet once they get into the building."
"When Jeremy Maclin takes his visit with the Baltimore Ravens on Thursday, he'll chat with persuasive team officials and get a tour of the team's impressive, castle-like facility," Hensley wrote. "If it's like past visits by free-agent wide receivers, Maclin will have a difficult time leaving the building without a contract."
As Hensley stated, the Ravens "pride themselves on being among the best when it comes to sealing the deal on coveted players."
Over the past three offseasons, they persuaded Steve Smith Sr. not to go on his next visit to the New England Patriots and essentially didn't let Mike Wallace leave the building.
As crazy as it sounds, Smith is back at the Under Armour Performance Center Thursday with the NFL Network. And he just happened to bump into Maclin outside the cafeteria.
So why didn't Maclin sign with Buffalo? NFL Media's Mike Garafolo doesn't know, but theorized that it could have come down to money or winning.
"[Bills running back LeSean] McCoy was telling people earlier this morning that everything was looking really good. He thought that it was going to get done," Garafolo said. "But something didn't get completed, and it's possible that it has a lot to do with the financial here and the Ravens and their significant interest.
"Now, in Jeremy Maclin's mind, we don't quite know this yet, but maybe he's looking at the Bills and saying, 'This isn't quite a playoff team, but Baltimore might be.' The Bills are kind of restarting things there with a new head coach and new general manager whereas the Ravens, they've got to make a push here to be successful under John Harbaugh."
---
A Shred of Good News on Pitta's Hip Injury
News of Pitta's release yesterday was tough to swallow.
It marks the end of his seven years in Baltimore, just a couple weeks after Pitta said he felt totally healthy and that his hip injury was behind him.
"He's free to sign with anybody else, but all expectations are that this is going to be the end of Dennis Pitta's career after his third dislocated hip," Garafolo reports.
However, Garafolo does have some good news.
He reports that doctors were able to get Pitta's dislocated hip back into place without surgery. That's a great development after Pitta had two major surgeries following the two previous injuries.
"Obviously, you don't want to suffer another injury and you don't want to have a hip replacement surgery earlier than you should," Pitta said then. "But we understand that, as athletes, those are the long-term consequences of playing football."
Then there's the money. The Ravens gained $2.5 million in salary-cap space with Pitta's release. It wouldn't have been different had he retired, except for this detail.
"By getting released, that's technically a good thing for Dennis Pitta because he doesn't have to worry about potentially paying back a signing bonus like Calvin Johnson just had to do with the Detroit Lions," Garafolo said. "So the Ravens sort of did him a favor here."
Why Wright Took a $932 Uber Ride to Bills OTAs
What's the most expensive Uber/Lyft ride you've ever taken?
I bet it was nowhere near the one former Ravens cornerback Shareece Wright paid to get to Organized Team Activities with the Buffalo Bills.
As first reported by SB Nation's Jeanna Thomas, Wright spent $932.08 to go from Chicago's O'Hare Airport to the team's training facility in Orchard Park, N.Y. for the voluntary workouts.
That's a $632.08 fare and $300 tip.
It was about a 550-mile, eight-hour trek through the night, which started at 11 p.m. Sunday. Props to the driver!
Luckily, the Buffalo Bills' Kelly Baker got the full story on why Wright took the Uber. He missed his connecting flight and no other flight would get him to OTAs in time. A friend and former teammate living in Chicago couldn't drive him.
He didn't rent a car because he wanted to be well-rested upon arrival. So Wright got to know his very interesting driver (you should read the story), and then zzzzzzzzzzzzzzzzz. When he woke up, he was arriving with just a couple minutes to spare.
After two seasons in Baltimore, Wright was released by the Ravens in March and signed with the Bills a couple months later. He's expected to compete for a role behind projected starters Ronald Darby and 2017 first-round pick Tre'Davious White.