Seven Ravens News, Notes and Opinions You May Have Missed Over the Break
We took a week-long hiatus while the Ravens' offices were closed before the craziness of training camp ensues. Yes, camp is already upon us with rookies scheduled to report Wednesday, followed by the veterans on July 18.
Here's what you may have missed while LFW was away …
1) Lamar Jackson Gets Last Piece of College Hardware: ACC Male Athlete of the Year
Ravens rookie quarterback Lamar Jackson needs to find some space on the mantle for what might be his final college trophy after being named the 2017-18 ACC Male Athlete of the Year.
One might think Jackson's 2017 wasn't as good as his 2016, when he won the Heisman Trophy, but his numbers last year were actually better.
The No. 32 overall pick accounted for an ACC-record 5,261 total yards (147 more than his Heisman-winning year) with 45 touchdowns. He became the first player in FBS history to rush for at least 1,500 yards and pass for at least 3,500 yards in a single season – in consecutive years.
Jackson edged out other big-name ACC athletes for the award. He got 19 votes from the media, while Georgia Tech catcher Joey Bart, who was drafted No. 2 overall by the San Francisco Giants, got 17 votes. North Carolina State defensive end Bradley Chubb, who was drafted 27 spots ahead of Jackson by the Denver Broncos at No. 5 overall, received 17 votes.
2) Jackson Officially Becomes the Fastest QB in Madden 19
Here's more good news for Jackson from last week … He's now the fastest quarterback in Madden 19, which means a great deal to him.
The popular video game released its official rookie ratings, and Jackson's 91 speed is not only the fastest of any quarterback in the game, but the only one that breaks 90 in the category. He's also the second-highest rated rookie quarterback overall (72), following first-overall pick Baker Mayfield (81).
"Lamar Jackson could be the most interesting QB to play in Madden 19," wrote EA Sports' Daniel Williams. "If you sim a lot of games in Franchise, he's likely not the best pick at the moment. But holy hell, his base ratings make him fun.
"He also sports a 93 ball carrier vision, an 86 spin, 89 juke, and 94 throw power. His accuracy scores (83 short, 80 mid, 74 deep) can lead to some wild throws, but his running scores can also lead to several easy first downs after escaping the pocket. Watch out for this one."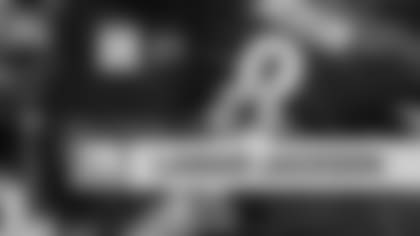 Jackson received better ratings than Michael Vick did as a rookie (72 overall with 89 speed). But the comparisons to the 2004 Vick, when he graced the cover, might be premature. That year, Vick boasted a 95 overall rating with 95 speed, 54 carrying, 49 break tackle, 95 agility and 94 acceleration.
"Even though he did not rank 99 overall, the 2004 version of Vick was the most dominant player in the history of Madden," wrote Ebony Bird's Jake McDonnell. "The rating categories have changed, and it's much harder to run as a quarterback in the current version of Madden [as] opposed to 2004's game. Despite being drafted at a lower pick than Vick, Madden gave Jackson higher marks than Vick as a rookie.
"Time will tell where Jackson's career as a dual-threat quarterback goes, but comparatively speaking with Vick, it's off to a solid start, at least in Madden's eyes."
3) Ravens' Season Rests on Five Vital Players
Football is the ultimate team sport, but if you had to rest the Ravens' playoff chances on the shoulders of five key players, who would they be?
ESPN believes that for Baltimore to advance to the postseason for the first time in four years, it will come down to quarterback Joe Flacco, cornerback Jimmy Smith, wide receiver Michael Crabtree, defensive tackle Brandon Williams and kicker Justin Tucker.
QB Joe Flacco
Quote: "No one has been a bigger barometer of the Ravens' success than Flacco."
Key stat(s): The Ravens are .841 when Flacco produces a 94 or higher pass rating.
* CB Jimmy Smith *Quote: "Baltimore's path to the AFC North runs through Pittsburgh, and there is no one better at slowing down Steelers wide receiver Antonio Brown than Smith."
Key stat(s): Brown has averaged 60.1 yards vs. the Ravens with Smith in the lineup, and 151 yards with Smith absent.
*WR Michael Crabtree *Quote: "Much of the responsibility for turning around the NFL's No. 27 passing game will fall to Crabtree."
Key stat(s): Crabtree has caught more career passes (579) than the rest of the Ravens' receiving corps combined (390).
*DT Brandon Williams *Quote: "How important is run defense in what has become a pass-happy NFL? The best four teams at stopping the run – Philadelphia, Minnesota, Carolina and Tennessee – all made the playoffs."
Key stat(s): Baltimore allowed 169.5 rushing yards per game with Williams sidelined last year, and 91.8 with him active.
K Justin Tucker
Quote: "He's the most dependable offensive weapon for [the Ravens]."
Key stat(s): Tucker has been the most accurate kicker (90.2 percent) and has converted the most field goals (202) since entering the league in 2012.
4) Schmuck: Perfect Year for Ravens Training Camp to Start Early
It's only July 9, and we're already two days away from the rookies reporting to training camp.
The entire schedule was moved up by one week because the Ravens were selected to participate in the Hall of Fame game this year with Ray Lewis being inducted, giving Baltimore five preseason games.
If you ask The Baltimore Sun's Peter Schmuck, the earlier start couldn't have come in a better year. A change of pace could help Baltimore fans overcome the Orioles' 24-65 record so far this season.
"Training camp] [couldn't come soon enough for sports fans who love both of Baltimore's major professional teams — one of which is currently breaking their hearts," Schmuck wrote. " … There should be better days ahead for both teams, but you have to believe that this year — more than any other — Baltimore fans are ready for some football.
He added, "The Ravens need a fresh start just like the fans and they've been working very hard over the offseason to create a new bond with their fan base. With the completion of the latest improvements at the Under Armour Performance Center, the training camp experience should be easier to access and available to more fans than at any time since the Ravens moved training camp to Owings Mills."
5) AFC North Ranked Worst Quarterback Division
The folks at NFL Media don't think much of the quarterbacks from the AFC North, even with three Super Bowl wins between Flacco and the Pittsburgh Steelers' Ben Roethlisberger. The division also has former Ravens backup quarterback Tyrod Taylor starting in Cleveland and Andy Dalton in Cincinnati.
"Big Ben is a future Hall of Famer – and he's still playing great in the present," Schein wrote.
"I am a big Tyrod Taylor fan, too – the 28-year-old never gets the credit he deserves as an efficient playmaker from the pocket. But Flacco is on the way out. And somehow, against all rational judgment, The Marv and Andy Show got picked up for another season."
6) Big Sophomore Campaigns Needed from Tyus Bowser, Chuck Clark and Tim White
Players often take their biggest step forward in their second year.
Most rookies' heads are spinning, preventing them from showcasing their talent. But after a year of professional football life with their heads in the playbook, they can start to shine in Year 2.
Press Box's Bo Smolka thinks three specific second-year players – outside linebacker Tyus Bowser, safety Chuck Clark and returner/receiver Tim White – could be heard from more in 2018.
"The Ravens drafted Bowser and Tim Williams last year with the idea of getting faster and younger on the edge, and their emergence could help prevent 35-year-old Terrell Suggs from wearing down over the grind of a 16-game season," Smolka wrote.
"If spring workouts are any indication, Clark, a sixth-round pick in 2017, could figure significantly on defense this year, particularly in the dime package. … Granted, White hasn't even made the team yet, and the battle for the final roster spot or two at receiver figures to be ferocious. But White has looked good again this spring, and his ability as a return man helps his stock." 
7) How Ravens Can Win 10 Games
NFL Network's James Jones and Maurice Jones-Drew came up with an intriguing scenario in which the Ravens win 10 games and advance to the playoffs.
Jones predicts Baltimore will lose its first three games with Flacco under center, and then Jackson will be inserted into the lineup and win 10 of the next 13.
This would be a dream scenario for Jackson, and Baltimore wouldn't hate it either, but it's rather unrealistic. If the Ravens make the playoffs, the more likely scenario is Flacco carrying the team (as ESPN discussed above).