Only a Few Pundits Picking Ravens to Beat Chiefs
If there's one thing the pundits can agree on, it's that Sunday's Week 3 game at Arrowhead Stadium is going to be a good one.
"It's not hyperbole to say this is the best Week 3 quarterback matchup of all time," NFL.com's Gregg Rosenthal wrote, though he predicted the Chiefs win a shootout, 33-30.
"These are two of the most modern offenses in the league going at it with quarterbacks that could not be playing any better than they are right now," said The Ringer's Kevin Clark. "I'm not sure what else you would want to watch at this point."
The Ravens were the overwhelming choice of pundits to win their first two games, but Baltimore is on the other end of that equation this week. Only four of 60 pundits we looked at picked the Ravens to defeat the Kansas City Chiefs in Sunday's battle of 2-0 teams.
Last week, the Ravens were the unanimous pick to beat the Arizona Cardinals, and just two analysts had the Ravens losing to the Miami Dolphins in Week 1.
Unlike those matchups, in which the majority of prognosticators believed the Ravens were significantly better than their opponents, the game between the Chiefs and Ravens is expected to be highly competitive.
All 20 pundits who predicted the score for Sunday's game had the Chiefs winning, but the average margin of victory was just five points. None of them had the Chiefs winning by more than nine, and more than half had the game being decided by four points or less. Last season, the Chiefs beat the Ravens in overtime, 27-24, after a fourth-and-9 heave late in the fourth quarter gave them life.
There are some Ravens believers out there, however. NFL Network's Bucky Brooks and Daniel Jeremiah both picked Baltimore to win.
NFL Network's Bucky Brooks: "The Ravens have to control the clock. They have to keep Pat Mahomes and those guys on the side. We saw this work for them last year. … They were able to control the clock. I'm going to say that they're able to do it again. I'm going to go with the Baltimore Ravens in this. I think the physical running game the Baltimore Ravens present gives the Kansas City Chiefs problems, and I think they limit the possessions, and that gives them an opportunity to get a big win on the road.
NFL Network's Daniel Jeremiah: "I think this Ravens team is built to play the Kansas City Chiefs maybe more so than any team in the league. Tyreek Hill not playing, now that's the difference. If Tyreek Hill's out there, I'll go with the Chiefs to get this done. Obviously, you remember the huge play late in the game last year. He's not there this week. I think the Baltimore Ravens keep this going. … I think they answer the challenge. The Baltimore Ravens go on the road and win over the Kansas City Chiefs."
Here's a sample of what pundits are forecasting for the game:
Chiefs quarterback Patrick Mahomes will exploit the Ravens' issues in the secondary.
Not surprisingly, this game is being billed as a duel between two of the best young quarterbacks in the league in Mahomes, the reigning MVP, and Lamar Jackson, who leads the NFL with a 145.2 passer rating.
Most pundits give the edge to Mahomes, in part due to concerns about the Ravens secondary. Arizona Cardinals rookie Kyler Murray threw for 349 yards against the Ravens and completed seven passes that went for 20-plus yards.
CBS Sports' John Breech: "[The Ravens] defense actually struggled some against the Cardinals, which isn't great news for Baltimore, because the Chiefs' offense is basically the Cardinals' offense, but with roughly 45 times more talent. I see this game turning into a shootout, but I'm not sure the Ravens are going to be able to keep up with Patrick Mahomes and a Chiefs offense that seems to break five new records every week."
The Baltimore Sun's Daniel Oyefusi: "This might be the first time in a while I can recall the lead-up to a big Ravens game and wonder whether the defense will hold up its end of the bargain, not the offense. The Ravens look as if they can go head-to-head with Patrick Mahomes and the Chiefs offense for 60 minutes, but the secondary's breakdowns and bad ball skills are a major question in this matchup."
The Baltimore Sun's Childs Walker: "With the Ravens sorting through communication lapses in the secondary, this isn't an ideal time to face the most dynamic passer in the NFL in Patrick Mahomes."
Kansas City's home-field advantage will come into play.
After two weeks on the road, the Chiefs will play their home opener Sunday. They've gone 31-9 (.775) at Arrowhead Stadium over the past five seasons, including 7-1 last year.
ESPN's Rob Ninkovich: "Arrowhead Stadium is going to be electric. That stadium's a hard place to play. Baltimore -- I think it's going to be tough for them to go in there and be able to function and do well on offense, so I definitely have K.C. winning."
The Chiefs defense will not be able to stop Jackson.
Just because most pundits believe the Chiefs will prevail and Mahomes will thrive, doesn't mean they aren't expecting Jackson to be a nightmare for the Chiefs defense. Some believe Jackson will have a better game than Mahomes.
NFL Network's James Jones: "Defensive coordinators cannot sleep at night when you have to face a quarterback like Lamar Jackson. The Kansas City Chiefs will not be able to slow him down. If you account for his legs, he's going to beat you with his arm. The best thing about him is they're so scared of him beating you with his legs, he gets one-on-one coverage out there with his wide receivers and tight ends and backs, and he can throw anybody open on one-on-one coverage, especially with that speed on the outside in Hollywood [Brown]."
Good Morning Football's Nate Burleson: "Lamar has looked flawless. So comfortable in the pocket. And then when things break down, he effortlessly just scoots out to the side and picks up a 15-, 16-, 20-yard run. My football logic says nobody can stop Pat Mahomes. … But my gut says Lamar Jackson is going to send a message not only to the entire league, but across that field to Pat Mahomes: 'You're not the only unstoppable force at the quarterback position.'"
Ravens outside linebacker Matthew Judon will have a big game.
Baltimore Beatdown's Taylor Ciotola: "Based on the production of Matthew Judon so far this year, he appears primed for a huge game this week. Eric Fisher being out of the game is almost a ticket to the backfield for not only Judon, but all Ravens pass-rushers. … Look for Matt Judon to disrupt Mahomes rhythm and be a force in the backfield facing Cameron Erving and company."
The Ringer's Robert Mays: "Patrick Mahomes is going to be under fire from this defense. The Ravens do a lot of interesting things. I think tape Twitter is showing you all the time how many interesting things [Wink] Martindale does with that defense. I'm really, really intrigued to see Patrick Mahomes at his best against this defense. I think it's one of the matchups of the year."
The Ravens will control the clock with their running game.
Ciotola: "The Chiefs are giving up six yards per carry on the ground. This gives the Ravens an opportunity to control the clock and make Kansas City's high-octane offense sit on the sidelines and watch the show. … Look for the running game to help control the speed of the game."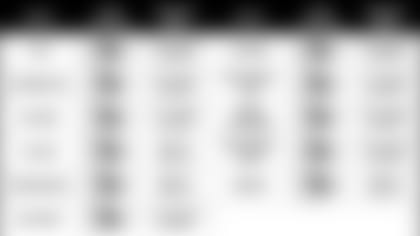 Report: Ravens Make Inquiry About Trade for Ramsey
The Ravens are among six teams who have made "substantive inquiries" regarding a trade for Jacksonville Jaguars cornerback Jalen Ramsey, according to a report by ESPN's Josina Anderson.
Meanwhile, NBC Sports' Peter King listed the Ravens as one of four teams he has a "gut feeling" Ramsey -- who has asked for a trade -- could end up with.
Sports Illustrated's Albert Breer reported the Jaguars' asking price for the All-Pro is two first-round draft picks.
That's a steep price, and it's well known that Ravens General Manager Eric DeCosta does not like to give up draft picks.
However, Ebony Bird's Richard Bradshaw thinks Ramsey would be worth it. He proposed the Ravens trade a first-round and fifth-round pick next year, along with tight end Hayden Hurst, to the Jaguars in exchange for Ramsey.
"To use that [first-round] pick on a guaranteed stud is worth the move, and Baltimore would be getting just that in Ramsey," Bradshaw wrote. "Having two of the top-five cornerbacks in the NFL in Ramsey and Marlon Humprey would make the team almost impossible to throw on. We saw last week versus. the Arizona Cardinals that some top-level depth could be needed after two key injuries."
Patrick Ricard Is NFL's 'Most Legitimate Two-Way Player'
The Athletic's Jeff Zrebiec wrote a profile piece on the Ravens' Patrick Ricard and how he has become the NFL's "most legitimate two-way player."
"Ricard, a third-year former undrafted free agent out of the University of Maine, is hardly a novelty act," Zrebiec wrote. "A bruising 6-foot-3, 303-pound fullback in a run-based offense, one of four in a thin game day defensive line rotation and a special teams contributor as well, Ricard has become a crucial component of everything the 2-0 Ravens do.
"He played 39 total snaps in their Week 1 victory against the Miami Dolphins and caught one of Lamar Jackson's five touchdown passes. He was on the field for 46 snaps in last Sunday's win against the Arizona Cardinals and contributed a reception, a half-sack and two tackles."
Ricard, who had over 200 tackles, 47½ tackles for loss, 18 sacks and two blocked kicks at Maine, told Zrebiec he thought he had a good shot at making the team when the Ravens signed him as an undrafted free agent in 2017, but he didn't expect it'd be as a fullback.
"It was my idea, and that's the absolute truth," Ravens Head Coach John Harbaugh said. "I just thought that he was a weapon. That's a dominant-type of guy. He looked like a really good athlete. Then I asked him, and he said he played it in high school. And the rest is history, as they say."