Ravens vs. Steelers Predictions
For the first time this season, the majority of pundits are not predicting a Ravens win this week.
Of the 49 analysts listed below, just 14 think the Ravens will leave Pittsburgh with a victory this weekend.
A win against Pittsburgh would be the Ravens' first in four attempts. It would be Baltimore's first victory at Heinz Field since 2015.
Below, there will be reasons laid out for why pundits believe both teams will win. However, there's one prediction a lot of pundits are buying into that doesn't have to do with the winner – this is going to be a shootout.
"This classic AFC North tilt might not be the defensive battle it was in years gone by," NFL.com's Elliot Harrison wrote. "It might not even be in that area code."
Here are a few reasons why pundits see a Steelers victory.
1-     Baltimore's defense struggles while missing a few key pieces (though it should be noted that inside linebacker C.J. Mosley has practiced the last two days, and has not been ruled out of Sunday's game). 
"Pittsburgh has averaged 31.7 points in its past three games against the Ravens, all wins. C.J. Mosley was healthy in every one of them. With cornerback Jimmy Smith out and the Steelers back home after a big win Monday, it's hard to bet against their track record," The Baltimore Sun's Jonas Shaffer wrote.
"Baltimore's secondary has its own share of problems sans Jimmy Smith, some of which have been obscured by playing the Bills' and Broncos' underinflated air attacks," Harrison wrote.
2-     Steelers quarterback Ben Roethlisberger wins the battle with quarterback Joe Flacco.
3-     The Steelers blow out the Ravens because of obvious superiority. OK, of all the various predictions we looked at, only one pundit actually seemed to believe that: Sports Illustrated's Michael Beller. Pretty much every other analyst predicted it'll be a tightly contested ballgame.
"The Ravens have scored more points than the Steelers, but 47 of their 97 points came in the win over the Bills. The Steelers, on the other hand, are one of six teams with at least two 30-point games this year. The other five are the Chiefs, Rams, Saints, Falcons and Bengals. These are evenly matched teams? Hardly," Beller wrote.
Here are a few reasons why other pundits see a Ravens victory.
1-      Steelers struggle to keep up with new-look Ravens offense, which has a huge day.
"The Steelers got back on track against the Bucs in the win column, but they still look to have issues on defense. The Ravens have come alive on offense this season, and I think that will carry over here. There should be a lot of points in this one, but Baltimore will pull it out late," CBS Sports' Pete Prisco wrote.
"Joe Flacco is benefiting from his new group of receivers and his sturdy running game. The Steelers' defense has been the most consistent part of the team so far: consistently vulnerable," Sporting News' David Steele wrote.
"If there were ever a time for Joe Flacco to push the ball vertically and complete more intermediate throws, it's this Sunday night," Harrison wrote.
2-     Baltimore's pass defense sticks with Pittsburgh's explosive weapons.
"The lingering question is whether the Baltimore secondary, without Jimmy Smith, can handle Pittsburgh's all-star crew of receivers. The Ravens will cover just well enough to hold on in a thriller," The Baltimore Sun's Childs Walker wrote.
3-     The matchup is good timing for Ravens, especially because the Steelers won't have running back Le'Veon Bell.
"The Ravens seem to be catching the Steelers at the right moment, with their pass offense humming and the Pittsburgh defense struggling to find its way. Not to mention the absence of Bell, a unique offensive force," Walker wrote.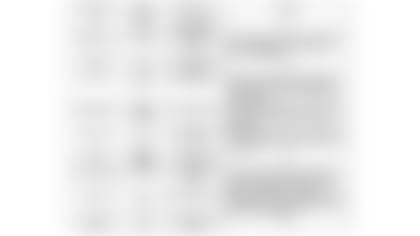 Ed Reed Weighs in on Lamar Jackson, Wants to Become a Head Coach
The Ringer's Kevin Clark conducted a Q&A with former Ravens safety Ed Reed, who shed some light on what he's been up to since retiring, and what his future plans are.
He also spoke about rookie quarterback Lamar Jackson, and when he'd like to see him on the field.
"I'm sure you can work Lamar in there," Reed said. "You can run plays because you can cause problems that weaker teams hadn't prepared for. If I'm a coach, I'm doing that."
Reed has to be pleased then with how the Ravens have utilized Jackson thus far. The Ravens have put Jackson on the field at quarterback, running back and wide receiver. He's also run with and thrown the ball, as well as acted as a decoy. He even had a pass thrown to him by Flacco, and yes, Jackson is a receiving option when he's on the field.
That said, Reed still thinks there are areas where the rookie can improve in order to become a starting quarterback in the NFL.
"[Lamar has to] develop little things like sliding," Reed said. "Yeah, you can make those plays, but you're a quarterback, and you're more important on the field than off the field."
Reed also gave a vote of confidence to Flacco, who has gotten off to a strong start this season with six touchdowns and two interceptions. His 63.3 QBR ranks No. 9 in the NFL.
"Joe is my quarterback," Reed said. "Not just because I won a Super Bowl with Joe and that's my quarterback, but Joe is the quarterback of the Ravens right now and he's healthy."
As for what Reed has been up to since retiring, he said, "I'm working on a lot of investments—business stuff. My job is my foundation." The organization's main focus currently is on raising money to build a new park in Reed's hometown of St. Rose, Louisiana. To learn more about the project, or to donate, click here.
Though his foundation is his current focus, Reed would like to get involved in football again. Reed was an assistant defensive backs coach with the Buffalo Bills in 2016 under former Ravens defensive coordinator Rex Ryan. He's hoping that isn't his final chance to be on the sidelines as a coach.
"I do aspire to be a head coach, have my staff, and go win some championships," Reed said.
Though he doesn't watch film like he did as a player, Reed still finds himself getting opinionated during games he watches on TV, saying, "I still see myself calling plays out when there's run-pass. What pass it is, what people should do."
For now, Reed said he'd like to aim for a job as a consultant for a football organization. He wants to get in a situation where he could learn from quality coaches. While he did name New England Patriots Head Coach Bill Belichick as someone he wouldn't mind working with (let's hope not), Reed also didn't rule out a return to Baltimore.
"I would love to just be around and hear how they talk football," Reed said. "The Ravens, if ever, because I know how that organization works, and I know what that organization has done for me."
Ravens Will Need Big Game from Tony Jefferson
A big talking point surrounding the Ravens' upcoming game against the Steelers is if Baltimore's cornerbacks will be able to slow down Pittsburgh wide receivers Antonio Brown and JuJu Smith-Schuster.
This isn't surprising considering how explosive both Brown and Smith-Schuster are, but a lot of pundits have highlighted a couple other key playmakers the Ravens will need to shut down, including playmaking tight ends Vance McDonald and Jesse James, both of whom have already had 100-yard games this season.
James was a force against the Ravens last year at Heinz Field, as he finished the game with 10 catches for 97 yards. McDonald had a huge performance against the Tampa Bay Buccaneers on Monday night with four catches for 112 yards, which included a 75-yard touchdown reception that featured one of the most vicious stiff arms you'll see in the NFL this year.
Many analysts are predicting it'll be safety Tony Jefferson who will spend the bulk of the game matching up with either McDonald or James.
"Until the Ravens show they can stop it, and particularly with starting inside linebacker C.J. Mosley sidelined or limited by a bone bruise in his knee, expect teams to attack the Ravens in the middle of the field," PressBox's Bo Smolka wrote. "Jefferson will be tasked with controlling the Steelers' tight ends."
The status of Mosley will definitely affect how much Jefferson will match up with McDonald and James. Mosley has practiced two straight days, though it hasn't been made clear if he'll be able to play on Sunday.
Jefferson usually performs a variety of jobs for the defense, with covering tight ends being among them.
With the plethora of big-play weapons the Steelers have in their passing game, limiting their ability to pick up short-yardage gains through their tight ends cannot go overlooked.
Risky Young Quarterback Strategy Proposed
ESPN's Bill Barnwell proposed an unorthodox strategy that he believes NFL franchises should consider: trade young, talented quarterbacks before their first contract is up rather than pay him big money.
"The cheat code to unlock a Super Bowl-caliber team in the modern NFL is to find a useful quarterback on a rookie deal," Barnwell wrote.
Barnwell's theory, which he admitted is risky, is that once organizations have a big quarterback contract on their books, it makes it tougher to build a team. He pointed to the Super Bowl champion Philadelphia Eagles, which "built a team around [quarterback] Carson Wentz talented enough to win even after Wentz went down because of a torn ACL."
"The best-case scenario is that you get four seasons of excellent play at a below-market rate before locking up your franchise passer and hoping to find arbitrage opportunities elsewhere," Barnwell wrote.
Barnwell brought up a couple contracts as examples of how tough it can be for an organization to win after paying its quarterback, and included Flacco's.
Since signing Flacco to a six-year, $120 million deal, the Ravens have made the playoffs once. That said, Barnwell doesn't blame the Ravens for sticking with Flacco.
"There was arguably no way the Ravens could have moved on from Flacco after he produced one of the best postseasons in league history during the 2012 playoffs," Barnwell wrote.
Also, it should be noted that the Ravens won the Super Bowl in the fifth year of Flacco's rookie deal. Had they traded him after his fourth year, like Barnwell is suggesting, Flacco would've been playing somewhere else that season.