Mike Duffy's Live from the NFL Combine Blog:  DAY 1  |  DAY 2  |  DAY 3  |  DAY 4 5:30 p.m.
Here's the last blog entry of the day from me.  Stay tuned all weekend for a ton more coverage from the 2009 Combine.
I talked with Ravens defensive coordinator Greg Mattison earlier this week, and I asked him if there were and Florida guys I should keep an eye on. Remember, Matty was a defensive coach at UF for a long time.
He didn't have any names on his side of the ball to offer, mainly because Florida is so young over there. But, he did tell me to follow tight end Cornelius Ingram. So I did.
Ingram is a stacked 6-foot-4, 245 pounds with all the tools to be successful at the next level. At least as of 2007. After ripping up his ACL last August, Ingram didn't see any playing time last season.
On the Combine's first day, which focuses on physicals with each team's medical staff, Ingram knew he was going to be in for a long one, as he was poked and prodded by just about every trainer in the league.
"I stopped counting. I think most of the teams have three or four guys," he said with a laugh.
"It wasn't that bad, though. I had my mind already set on what would happen."
No hard feelings, however. Ingram, who actually entered Florida at the heir apparent to then-departing quarterback Chris Leak, is just happy to be able to run the 40 this weekend.
"I consider this a blessing for me, coming off the injury and being able to be here," he stated.
3:33 p.m.
James Casey is one of the few sophomores to declare for the draft - in fact, I'm not quite sure if he's the only one. But, he's definitely not as young as a typical soph.
Casey was drafted by the Chicago White Sox out of high school and played three years in their farm system as a fastball pitcher. He said he could get it up to 95 mph, but control was an issue. So, he signed with Rice.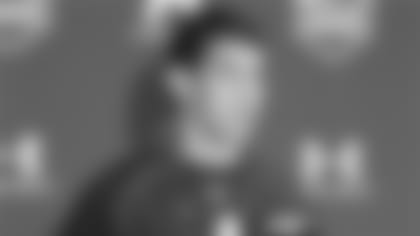 As a linebacker. Then, he was moved to defensive end. Then, he was moved to quarterback. Then… well, I'll just let him tell it.
"I started playing some quarterback in kind of a Wildcat, but that progressed to wide receiver," he said. "I played some H-back, played some slot receiver and some traditional quarterback. I even got the chance get back in an play some defensive end against Southern Miss one game my freshman year."
"Special teams-wise, I was the guard on our punt team, this year I was the punt returner. I had 12 punt returns this year, I recovered two onside kicks and I was also the backup deep snapper."
"I just felt blessed to be on the field wherever coach asked me to be," Casey admitted. "I'm glad I'm versatile like that to play a bunch of positions."
At the Combine as a tight end designee, Casey has the chops to be a tight end or a wideout in the NFL. In 2008, he finished second in the country with 111 receptions for 1,329 yards and 13 touchdowns.
According to Casey, nicknamed Thor for the Wildcat package he played in, he is 24 years old, married and in academically a senior in need of only 29 credits to graduate. Really an impressive and well-spoken guy that addressed everyone as "yes sir" and "yes ma'am" as reporters hurled questions in his direction.
2:55 p.m.
Guys are really streaming in now. It seems that the physicals are going quickly.
But we're talking about the prospects, and there is no shortage of good stories and quotes. One of those comes from Oregon center Max Unger (great name). The Hawaii native name-dropped former teammate Haloti Ngata when he was speaking to the media.
When asked about if going against the 340-pound Ngata in practice his first two seasons there, Unger was effusive in his praise.
"You can learn a lot about the game when you're going against guys like that early in your career," the center said with a laugh. "Haloti's just a beast."
But has Unger spoken with Ngata about the Combine process?
"I haven't talked to him, but I can recall the nightmares of trying to block him my freshman and sophomore year," he continued. "I can't believe he wasn't a starter for the Pro Bowl this year."
For Unger's part, he is a highly-regarded center.  He started 51 consecutive games for the Ducks and earned all-conference honors in every season, including being named first-team All-Pac-10 the past two years.
Even more impressive is that he earned those accolades at two positions: left tackle in 2005 and 2006 and center in 2007 and 2008. 
Even though center isn't one of those positions that is typically a high draft pick, Unger could get some first-day looks.
1:37 p.m.
Edwin Williams is expected to be one of the first centers taken in the draft, and the Maryland Terrapin doesn't want to finish behind anyone.  From listening to this guy talk, he's crazy competitive.
"I sprint through everything," Williams said.  "That goes for running on the field to getting on a bus.  I'm going to be first."
Williams says this with a big grin on his face.  Throughout his press conference, he's constantly laughing and joking around.  Seems like he's having fun.
1:10 p.m.
Ole Miss offensive tackle Michael Oher (pronounced oar) is an interesting character, so interesting, in fact, that he was the feature of a book that was a best-seller titled Blindside by Michael Lewis, who wrote Moneyball.
Oher was in and out of homelessness as a kid, as his father was out of his life and mother ws a drug addict. But after skipping around to various schools and foster homes, he was taken in by a well-to-do family as a youngster.
Oher has since developed into one of the top left tackles in the draft. Through Oher, Lewis traces how important the position has become and the money involved in the guy protecting the quarterback.
"The guy and I talked a lot about what was in it," Oher conceded. "And from what people tell me, it's pretty accurate."
No matter who's reading, Oher is projected to be off the board in the first round. He's got prototypical size (6-5, 309) and long arms and the technique of a great tackle, so maybe the story of great left tackles will continue when he gets to the league.
11:46 a.m.
Just attended a presser from Steelers director of football operations Kevin Colbert, who offered some insight into the way his team does business regarding the draft. Basically, there are a lot of similarities in the way the Ravens do things.
"Those guys that we draft - whether it's from a playing standpoint or a personality standpoint - usually they separate themselves," Colbert said. "That's because of our team, that philosophy of being elite has been passed on from team to team. This year's team, we had a number of guys that were left over from the previous Super Bowl champion, and they helped bring those young kids into that part of the organization that they may not have understood."
But while the Ravens got high returns on 2008 draft picks like Joe Flacco, Ray Rice and Tom Zbikowski, Pittsburgh didn't have as much success. Consider their top three picks: Running back Rashard Mendenhall was knocked out in Week 4 when Ray Lewis broke his shoulder. Wideout Limas Sweed couldn't get consistent time on the field.
"We look at it like they all redshirted," he said. "Rashard would have helped us had he not gotten injured. Limas played behind three pretty good wide receivers, but he made some contributions. Bruce Davis actually had two free agents that got activated before he did, but that's a testament to those kids, but it's also a challenge to Bruce."
11:32 a.m.
Players are slowly starting to trickle in, which is later than it has been in past years. Don't know why, but maybe it's taking longer to get around the cavernous Lucas Oil Field.
Anyway, at about 10:45, the first player to hit the podium was Ohio State offensive tackle Alex Boone.
Boone's hot topic during his interviews is going to be a few brushes with the law regarding drinking. He got pinched for drunken driving in 2006, and then earlier this month, he was arrested in California for jumping on the hood of cars, yanking on a tow truck cable and trying to break a window. The 330-pounder had a blood alcohol level of more than three times the legal limit. Whoa.
All this info comes courtesy of **this story**, from the Associated Press. 
Boone was very apologetic when he spoke to the media, even saying that he was going to get treatment for his issues, **according to this story** from rises of The Cleveland Plain Dealer, which references his mother often.
*"Amy Boone said Alex won't be entering a treatment facility but, with the help of his agent, plans to regularly meet with counselors in Los Angeles while continuing to work out for the NFL Combine, which begins in 15 days." *
Good luck to you, Alex. He seems like a good kid, regardless.  And, he's pretty good.  Boone earned All-Big Ten status his last year there, was a four-year starter and is a monster, at 6-foot-8.
10:50 a.m.
Atlanta Falcons head coach Mike Smith is holding court at the moment, and he opened his statements by saying how proud he was of this team to get to where it was last year, but he's leaving that in the past.
First question was regarding adding pieces on defense through the draft this year after taking Matt Ryan and left tackle Sam Baker in the first round last year. Smith said that he's not going to pin himself down to a certain side of the ball this early, but I think it would be logical to think the Falcons would go defense early and often.
10:01 a.m.
Well, here we are, finally having hunkered down in the bunker inside Indianapolis' Lucas Oil Field that is formally called the Media Center. And by center, I mean the center of all player and coach and general manager interviews for the next four days that you'll see on ESPN, NFL Network, and most importantly, BaltimoreRavens.com.
While we'll basically be covering the Combine from a Ravens perspective in articles and video pieces, the daily Combine blogs are great ways to keep up with any random news, notes and observations from around the room.
Let me first set the stage for you.
After walking about a mile and a half from the posh Indianapolis Conrad Hotel to Lucas Oil in snowy below-zero temperatures, we came around the back of the brick stadium to check in. Once inside, there is a big walled-in concourse area that is serving as the media bullpen. In the middle of that room, there is a set of risers with about 20 tripods set up that will swivel to one of three podiums set up around the space.
Between the podiums, there are other small round tables that players will also sit at throughout the day.
Now, this is a willy-nilly process, for the most part. Coaches and GMs from some teams will come to be interviewed following a schedule, but there is no telling exactly when the players will come in except by their position. For example, today, offensive linemen, tight ends and specialists will be talking, but you just have to keep your ears sand eyes open as to who is coming through the door throughout the day.
The first coach to be thrown to the wolves was Buffalo Bills head man Dick Jauron, and now we have Baltimore native and new Detroit Lions head coach Jim Schwartz. FYI, Ozzie Newsome will talk Saturday morning at 11:30.
More to come in this space all day long, so keep it locked. It's going to be a fun one.
Mike Duffy's Live from the NFL Combine Blog:  DAY 1  |  DAY 2  |  DAY 3  |  DAY 4