Mike Duffy's Live from the NFL Combine Blog:  DAY 1  |  DAY 2  |  DAY 3  |  DAY 4 3:37 p.m.
OK, this has to be my last entry for the day, as things have officially wound down in the Media Center (I capitalize that because it's the center of my universe for the Combine) with a sudden influx of running backs coming to do interviews.
One of the most sought-after backs in the draft is Ohio State's Chris "**Beanie**" Wells, who is coming off a season where he was severely limited because of a foot injury. He's also dealt with and wrist injuries through his career in Columbus, in addition to leaving the Fiesta Bowl with a concussion.
As such, reporters shot question after question about his health to him, and Wells answered them all with confidence, even honestly.
"I feel as if I had played the entire season injury free, it would have been an easier decision for a lot of other people, including myself, easier to come out, it wouldn't have been as hard," Wells said. "I feel as if I would have accomplished some of the things I set ahead of myself, I would have accomplished my goals."
Did the injuries make him tentative?
"I guess you can say I was a little tentative," he continued. "With that injury you're always going to be thinking about it. Fresh off an injury trying to get back in there in the swing of things."
That's why Beanie knows the Combine is incredibly important. He's going to have to blaze a 40 and hold up in the drills to show he's ready for the next level.
"I want to do everything here just to prove to everybody I'm a competitor," Wells said. "I can go out there, 235 and I can run with the little guys, I can run with the best of them."
That's it for Friday. Thanks again for reading the blog. Keep it locked for another exclusive interview with Eric DeCosta and a look at the receivers and how big wideouts with ball skills are the rage this year.
1:26 p.m.
It's kind of slow here in the Media Center for some reason. We've heard from the top QBs and some wideouts, although I still want to talk with UNC's Hakeem Nicks and Texas Tech's Michael Crabtree. There has not been a running back in sight.
Of course, they're probably going to start coming in fast and furious just as I'm ready to post this. Anyway, I'll clean out the notebook with some thoughts on our own **Maryland Terrapin Darrius Heyward-Bey**.
The speedster is expected to run a blazing 40 this weekend, possibly in the 4.2 range. He said that he would probably run a 4.4-4.3, but don't be surprised if he smokes that. The former track star is an inconsistent receiver and even had the worst statistical season of his career in 2008, but many draft experts have him going in the first round.
According to Heyward-Bey, that tough year was in part because opposing defenses were keen to keep a close eye on him in games, and in part because Maryland couldn't get their rushing attack going, which led to defenses not playing honest.
Heyward-Bey still thinks he brings a lot to the table with his receiving and return skills.
"I think I'll bring a playmaker, somebody who can stretch the field," he said. "Being able to have somebody on the field that can run deep during cover-2, that can get other people open, that can open up the running game. When you have somebody who makes play, you're always a threat on the football field."
The former Terp was quick with an answer to those that might question his production in 2008, however.
"Just check the Virginia Tech game," he flatly stated.
That day, against the Hokies' talented defense, Heyward-Bey caught five balls for 92 yards and a 63-yard touchdown, averaging a whopping 18.4 yards per reception.
12:40 p.m.
It's good to see some light-hearted ribbing going on between the two top quarterback prospects here. Matthew Stafford and Mark Sanchez both seem to be having fun with the media, but I would say that Stafford is definitely more guarded.
Both guys are dealing with the fact that they don't have a ton of experience, even if Stafford, who turned 21 this month, started for three seasons at Georgia.
Stafford combats that argument by saying that he's played in the SEC, one of the best conferences in the land, and has more starts than two-year starters and has played in 39 games.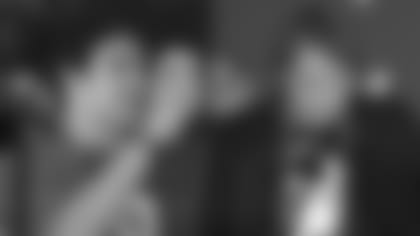 Sanchez, who only started for just one season, says that he was in a pro-style offense and has elite coaching.
As far as the Combine goes, both guys say they're big-time competitors, but I don't understand why Stafford is not going to throw here in Indy. He's going to wait for his pro day.
"I talked it over with my agent, and I'm going to have a pro day in Athens where I'll throw 50-55 balls, so I'll take care of it then," he said.
But then when asked about if he would want to go to the lowly Detroit Lions with the No. 1 pick, he offered a rote answer.
"I'm a competitive person, and I love challenges, and I want to show that I can get the job done no matter where it is."
So why aren't you throwing here?!
Sanchez, on the other hand, is.
"I'm a competitive person," Sanchez stated when he affirmed that he was going to throw. "I want to win and that's what I'm about. It will be fun."
During Stafford's press conference, Sanchez snuck behind the media surge and was filming the Georgia gunslinger with a Flip cam for some YouTube-ready video. When Stafford saw him, he shooed Sanchez away. Funny moment for those that were watching.
The biggest laughs for Sanchez came when he was asked about the nightly interviews he is scheduled for with teams. They follow a strict time limit.
"It's like speed dating," Sanchez said. "They have a bell, and you have to move on to the next interview."
Does he know about speed dating first-hand?
"No," he laughed. "A friend told me about it."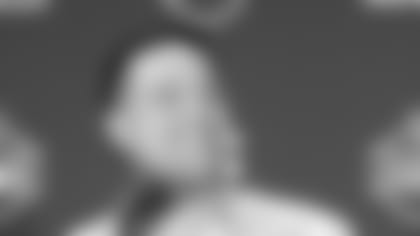 12:11 p.m.
It was a Ravens reunion in the Media Center, as former Ravens director of pro personnel and current Cleveland Browns GM George Kokinis stepped up to meet the media.
Kokinis hasn't really spoken to a large group of reporters since his introductory presser when he first got his job in Cleveland, but you can tell he's comfortable. He is still getting the hang of handling the rapid-fire questions, but he is good at keeping things close to the vest while still being honest and offering some insight.
Here's some insight into how he's going to evaluate players that fit Rex Ryan's defense in Baltimore to Eric Mangini's system in Cleveland.
"I think there are some similarities in that they want some big, physical guys," George said. "Eric's scheme as compared to Rex's scheme, there are different values. Similarly, they like that size, but Eric's a true two-gap guy and Rex's has more moving parts to it. Every scheme has its nuances, but every team wants tough guys who make plays."
11:28 a.m.
Former Ravens defensive coordinator and current **New York Jets head coach Rex Ryan** took the podium right around lunchtime. And he was exactly the same as he's always been. Taking the podium, Rex offered a few one-liners and joked with reporters, all while giving off an air of confidence, as if to say, "I got this, guys."
Another thing that was the same was his ensemble, which consisted of black wind pants, a black short-sleeved wind shell and a white undershirt. The biggest difference was the Jets logo on his chest.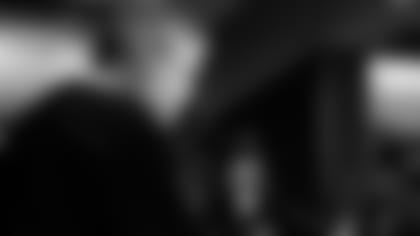 So, Rex was obviously asked about going after Ray Lewis and many other of his former players. Here's a short snippet of the interview:
Q: Are you going to pursue Ray Lewis in free agency?
A: "Right now, I'd rather just add our draft picks and not talk about any free agents that are out there, with the whole tampering rules the way they are. I'll avoid that question."
Have you put any thought into bringing in Jim Leonhard?
"[laughs] Alright, let me hit the rewind button right there if you don't mind."
Is there another Ray Lewis in the draft?
Then, the talk shifted to how he's assembled his coaching staff, which is a pretty good one, judging by past credentials and current promise.
What has been one of the challenges you've faced as a new head coach?
"You take a job, and on paper you have a staff that if you ever were fortunate enough to get a head coaching position, that this would be the staff you'd feel confident in. When I got there, I started interviewing guys that were on the previous staff that would have an interest in [staying with the Jets]. You start that way, but then other coaches become available.
"I wanted to surround myself with the best possible coaches that I can - just like your players. There was no way I could have envisioned putting together this All-Star staff. I'm fortunate to have it. I think this staff can match up with any staff in the National Football League, and I know that's a big statement."
Brian Schottenheimer, a young and respected offensive mind, remained on as offensive coordinator. Ryan brought Mike Pettine from Baltimore to be defensive coordinator. Bill Callahan, a former head coach in Oakland and at Nebraska is the offensive line coach. Mike Westhoff is coaching special teams, and Ravens head coach John Harbaugh, a longtime special teams coordinator, told Rex to "keep him!"
Ryan went through nearly his entire list of coaches and was effusive in his praise for each one, much like Harbaugh was when he assembled his talented staff one year ago.
"I'm confident in my abilities, but I'm a lot more confident in the abilities of each of these men," Ryan said. "It's not so much that these guys are working for me. They're working with me. Our collective efforts are going to lead this football team. I think we've put together a group of great teachers. That was Phase 1 of my new job, and it took longer than I thought it would."
When Ryan then was asked about the mentality of his defense and its pass rushers, he harkened back to his Baltimore roots in talking about the players he wanted.
"I had a guy like Michael McCrary in Baltimore," Ryan said. "He only weighed 230 or so, he had a bunch of injuries, his feet went sideways. But, I know one thing, he found a way to get to the quarterback. If he had to dig a trench to get there, he was going to do it."
10:45 a.m.
The Michael Vick-to-San Francisco rumors may have been put to bed after an official statement from a 49ers PR official, but 49ers head coach Mike Singletary continues to field questions regarding the troubled quarterback.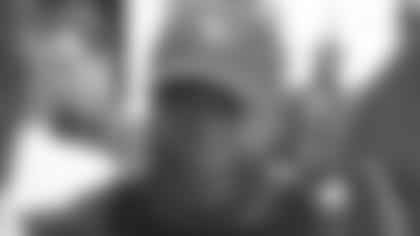 "Sing" was the first coach to speak Friday morning, and he obviously went through his thoughts on the team and the draft - with a lot of questions regarding linebackers, since he is a Hall of Fame 'backer himself.
But, I stuck around for a side session with a smaller group of reporters, who asked him about the possibility of rehabbing Vick. You see, Singletary is known as an inspirational leader around the league, a great public speaker and motivator.
Some people think that the former Ravens coach would be the best person to get through to the quarterback that is serving a jail sentence for illegal dog fighting, amongst other charges.
Regarding Vick, Singletary had this to say:
"If you were to embrace someone like Michael Vick, someone that you would say for some reason, he had this problem or issue, that team has to decide if they have the right infrastructure strong enough to bring him in and handle him. You have to have strong leadership before you can make a move like that.
About his coaching style:
"In all honesty, it is all-inclusive in terms of what I feel my responsibilities are as a coach. If I'm not making and investment into the lives of players, I'm not coaching. If I'm just teaching them Xs and Os, I'm not doing my job as a coach. I think every player that we have, it is vitally important that we give that kid something more than just winning games."
9:35 a.m.
Eric put aside some time for me while watching tape in the team hotel here in Indy.
Now, I'm set up at the same seat I was in at Lucas Oil Field, warming up after another **freezing walk from our hotel to the stadium**&iwstate1=dir:from&geocode=CSf0oGnJH8hyFar0XgIdrRTe-g&iwloc=1&dq=indianapolis circle center mall&cid=14166333509527469970&ei=ZMOeSamSH4iKiAOSh4HoDw). Interestingly enough, I figured out a route that probably makes the trip a little longer distance-wise, but you can walk about half of it indoors on the skyways that connect nearly every building in downtown Indy.
Anyway, the morning is kicked off by NFL Network draft guru Mike Mayock. Ravens fans may remember Mike when he used to do shows for RaveTV years ago. Mayock is first off, a great guy, but second, he's an absolute encyclopedia when it comes to draft knowledge.
I asked him about one of the Ravens' concerns for the No. 26 spot where they're drafting - cornerback. He said that it's a tough class to figure out. According to Mayock, Ohio State's Malcolm Jenkins is probably the top prospect, but some teams see him as a free safety. UConn's Darius Butler is intriguing, because Mayock likes his feet in and out of his breaks.
And then there's D.J. Moore of Vanderbilt (a good friend of my brother, Vanderbilt **basketball player Joe Duffy**), Vontae Davis of Illinois and Wake Forest's Alphonso Smith are all late-first round to second round guys. Mayock said they all could really help themselves by running great in the 40, because they're undersized and as Mike said, "Short and slow are not good for cornerbacks."
Also, Mayock warned against teams trying to catch lightning in a bottle again with a rookie quarterback, like the Ravens and Falcons did with Joe Flacco and Matt Ryan, respectively, last year.
Matt Stafford and Mark Sanchez are the two top signal callers as of this point, but can they cut it like Flacco and Ryan did?
"That Matt Ryan - Joe Flacco thing is an anomaly," Mayock said. "You haven't seen that thing maybe ever in the NFL, two rookie quarterbacks like that. They were both fifth-year players. There was a track record on tape, and there was a track record on the field. You could track it better and more accurately.
"Matthew Stafford just turned 21 last week. He's got three years as a starter in the SEC, which is impressive, but still, you don't have the same tracking mechanism that you did with the others."
More to come all day long.
Mike Duffy's Live from the NFL Combine Blog:  DAY 1  |  DAY 2  |  DAY 3  |  DAY 4