Mike Duffy's Live from the NFL Combine Blog:  DAY 1  |  DAY 2  |  DAY 3  |  DAY 4 2:49 p.m.
We're wrapping it up from the 2009 NFL Scouting Combine with a quick note from cornerback Sherrod Martin, a product of Troy that is hoping to follow in the footsteps of Leodis McKelvin and DeMarcus Ware as Troy defenders that make an impact at the NFL level. We're wrapping it up from the 2009 NFL Scouting Combine with a quick note from cornerback Sherrod Martin, a product of Troy that is hoping to follow in the footsteps of Leodis McKelvin and DeMarcus Ware as Troy defenders that make an impact at the NFL level.
Martin, 6-foot1, 197 pounds, intercepted four passes and had 90 tackles in 2008.
He was asked about who he looks up to in the pros.
"Ed Reed is a guy that makes plays all over the field and can play any position in the secondary," he replied.
As Ravens fans know, Reed could probably play a few on offense, as well.
OK, so have to head out and catch a plane back to sunny Baltimore.  Maybe not sunny, but it's got to be better weather than the freezing Indianapolis snow.  Thanks again for sticking with the blog all Combine long.  We'll have a few more articles to post upon landing, along with another Combine video with some exclusive interviews with three top cornerbacks. 
*....After four days of this, all of us reporters find hilarity in the little things.
*
2:11 p.m.
The top-rated cornerback here in Indy, Ohio State's Malcolm Jenkins, entered the Media Center and was peppered with questions regarding his position.
He was a three-time All-Big 10 honoree and two-time All American at cornerback, but oddly enough is projected by many to convert to safety.
While Jenkins said he'll do whatever it takes to get on the field, he wants to play corner.
"I've been more comfortable at corner," he said. "That's where I've been playing my last four years. I'm confident I can make some plays there.
"If you look at my film, I might not look as fast as some other guys. Wherever that came from, it's definitely snow-balled. I have no control over where it's come from. I can only control what I do and how I perform.
So what's with all the safety talk?
"I'm a big corner," the 6-foot, 200-pound Jenkins said. "Whenever you have a guy as big as I am the question is always, 'Is he going to move up (to safety) at the next level? It's a question that I've been prepared to get and I am prepared to answer it."
1:35 p.m.
The results from the Combine drills **can be found here**.  Also, check out the NFL Network for live Combine coverage from Lucas Oil Field.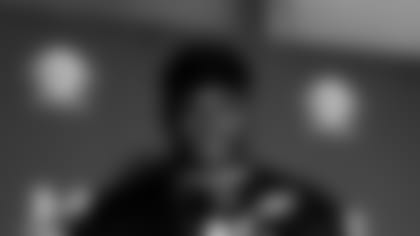 Also also, in cleaning out the notebook, I came across this picture of B.J. Raji, the Boston College defensive tackle that is one of the heaviest players here at a whoppping 337 pounds. 
Raji emerged as arguably the most dominant defensive lineman in the country in 2008, totaling 42 tackles, 16 tackles for loss and eight sacks.  He was almost unblockable at times.  But his weight had fluctuated over the years, and he missed 2007 because of academic reasons - what he now claims was an administrative error. 
His weight is now stabilized, and he returned to football with a vengeance last year,  But even if his 337 pounds might be considered slim for Raji, he still looked a little doughy on the podium, breaking a sweat in front of the cameras and breathing heavily at times.
1:26 p.m.
I didn't get a chance to touch on this yesterday, but I'll mention West Virginia quarterback Pat White now.  The former Mountaineer was a late addition to the Saturday Media Center.  
He may be a little undersized at 6-feet, 190 pounds, but he gets the job done. 
White is a playmaker in the style of Cleveland's Josh Cribbs, or perhaps even the Ravens' Troy Smith. 
He threw for 1,842 yards last year, completing 65.7 percent of his passes for 21 touchdowns and only seven interceptions.  White also set the NCAA record **for rushing for a quarterback**. 
His versatility has many people thinking he can play multiple positions, especially with the proliferation of the Wildcat offense lately.  White said he was open to the notion.
"I would love to be a quarterback, but I also want to help in any way I can," he said.  "Whether it's wide receiver, punt return, whatever. I just want to get on the field somehow," White said.
12:49 p.m.
A rush of about 12 DBs just flooded the Media Center, with some of the top names coming in.
D.J. Moore of Vanderbilt was on hand. He's expected to be one of those guys in the late first round/early second round, along with Davis, and Butler and Wake Forest's Alphonso Smith.
I got a chance to talk with both Moore and Smith for exclusive one-on-ones, so stay tuned for those interviews.
One of the more intriguing prospects is Victor "Macho" Harris of Virginia Tech, who is a versatile, playmaking cornerback that has seen time at running back, wideout, safety and even returner.
With a name like Macho, he's got to be able to deliver the goods, and Harris did that last year, earning a first-team All-ACC honor and intercepting six passes, two of which went back for touchdowns.
He got the nickname as a child
"That was from my dad," Harris said. "He said when I was 2 years old, I was very challenging around the house, running my tricycle into people's feet and stuff like that. He didn't to give me a regular name, so he gave me the name 'Macho.'"
But Harris may have saved his most macho play for off-the-field heroics. When he was 18, he saved his two younger siblings from a house fire when he hear their screams in the kitchen right when he was about to step into the shower.
Noticing a grease fire on the stove, he risked severe injury to throw the flaming pot outside as his kitchen burned.
"Amid the flames, he grabbed the pot and rushed 15 feet to the back door. As he threw the burning grease into the backyard, it scalded both of his arms, but his house and family were saved.
"His courageous act was not the reason he earned the nickname Macho - no one calls him Victor - but it certainly validated the moniker his father gave him as an impish toddler."
11:45 a.m.
Texas Tech wideout Michael Crabtree just took the stage to give a brief statement regarding his foot injury.  NFL PR staffers reminded the reporters that he wouldn't answer any questions about three or four times.  No questions!
Anyway, Crabtree was short and sweet. 
"It's been an injury I've had for a long time," he said.  "I'm going to have surgery, and after that, I'm looking forward to going to the next level."
That's it.  Someone who many consider to be the top player in the draft is looking forward to the next level.  OK.
"The fracture was discovered during a bone scan conducted Friday during the NFL Combine in Indianapolis. The scan revealed a slight crack in the fifth metatarsal bone in his left foot.
Anyway, he's going to run the 40 in March regardless.  He needs to prove that he has some great straight line speed for scouts unless he wants to sacrifice millions of dollars. 
10:30 a.m.
It's kind of a late last day to the Combine, as no coaches or personnel people are scheduled to hit the Media Center until about 11:00 when Patriots head coach Bill Belichick hit the podium.
While he was speaking, however, I made it a point to speak with Illinois cornerback Vontae Davis and Connecticut corner Darius Butler.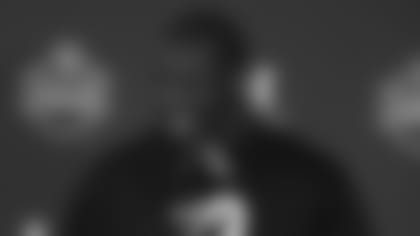 Davis you might know from his brother, Vernon, the former Maryland tight end.
The younger Davis wants to separate himself from Vernon, and he should be able to do it. Not to many people have his blend of size (6-foot, 204 pounds) and athleticism. He's a cover corner that can make the tackle in the open field.
Davis is a two-time first-team All-Big Ten selection and led all Big Ten cornerbacks with 78 tackles in 2008.
"Long story short, I didn't go to Maryland because I didn't want to follow my brother," he said.
"I don't want to be known as Vernon Davis' little brother. I just want to be known more as Vernon's brother."
Davis' personality definitely shone through, as well. He always had a smile on his face and was cracking jokes throughout the interview. Nothing groundbreaking, but still, he was fun.
And, he rocked a mustache, which is a bold statement nowadays.
When asked about Vernon's very public benching in a game this year by 49ers head coach Mike Singletary, Vontae said he was surprised.
"I was like, 'Wow,' when I saw that. It made me a better person because I got to learn from his mistakes."
Butler, by the same token, was very interesting. He just dropped the nugget that he was Willis McGahee's cousin. Huh? True.
Yeah, he's from Florida and said he wanted to go to Miami because of Willis, but didn't get any looks because he didn't start playing football until he was a junior in high school and he went to a small school.
I had a chance to chat with Butler one-on-one, and he was definitely gracious of his talks with Willis. The cousins talk about once a week, according to Butler.
NFL Network draft guru Mike Mayock praised Butler's footwork, which he said he got from his days playing basketball. We'll see if that translates to the next level.
Stay tuned for an exclusive with Butler on BR.com a little later.
It's all defensive backs today in the Media Center, so we're hitting that hard before we have to jet to the airport to head back to Baltimore.
Mike Duffy's Live from the NFL Combine Blog:  DAY 1  |  DAY 2  |  DAY 3  |  DAY 4