In the first round of the 2009 NFL Draft, the Baltimore Ravens moved up three spots – from 26 to 23 – to select a highly-touted and athletic talent by the name of Michael Oher.
In the eyes of Ravens brass, Oher's conceivable ability was strong enough to make future draft picks expendable, so they surrendered a fifth-round selection in order to tab their tackle out of Mississippi.
Oher joined the Ravens with the normal expectations connected to that of a first-round draft pick: Make an immediate impact, be a young leader, and quite possibly, become the team's left tackle of the future.
Fast-forward seven months: Warner Bros. released "The Blind Side," a sports drama chronicling the tales of Oher and his humble beginnings. A typically discreet and private man, Oher modestly embraced the limelight that followed him and the Hollywood feature that recounted his adolescent years. Today, he seldom waivers from his quiet nature, yet Oher effortlessly exhibits a conviction that transcends the always-changing personnel of an NFL locker room.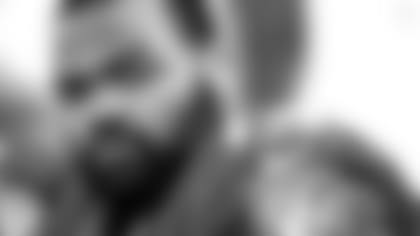 In the spring of 2009, Oher's NFL career hit the ground running. Immediately recognizing his versatility and athletic frame, Ravens coaches rotated the rookie through different areas of need along the O-line. Injuries would require Oher to compete at both tackle positions throughout his first NFL campaign, when he started 11 times at right tackle and five times from "The Blind Side."
Over the next few seasons, Oher would experience – and overcome – much of the same adversity. "Next man up," is a popular saying throughout the Ravens organization, and for a variety of reasons, coaches tabbed the always-consistent Oher to fill a void where needed.
Oher is a key cog in the Ravens' offensive line, and he has emerged as a well-liked and respected veteran teammate. Despite the frequent position changes, he has shown no reluctance to improve his craft. His attitude has never wavered.
"You always want to show the coaches and the team that you're willing to do whatever it takes to help the team win," said Pro Bowl guard Marshal Yanda, who is one of Oher's closest friends. "Sometimes it means switching positions, and that's a tough thing to do. Mike has done whatever he's needed to do for the team, and it was hard on him at times, but he's handled it really well."
Now entering his fifth season in Baltimore, Oher has started 37 regular-season games at left tackle and 27 from the right side. Last year, and for the second time in his career (2010), he played the entire regular season at left tackle. But Oher was moved to right tackle just prior to the start of the playoffs.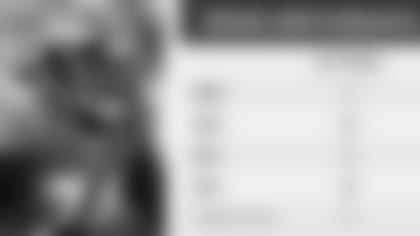 Despite the tremendous adjustments it takes to switch positions – particularly so late in a season – Oher embraced the challenge and competed at right tackle throughout the Ravens' entire playoff run. Up to and including his role in Super Bowl XLVII, Oher was lauded for his postseason performances. 
"That's probably one of the hardest things to do," explained second-year guard Kelechi Osemele. "It's almost like trying to think with the left side of your brain all season, and then all of a sudden you have to think with your right brain. It's very difficult to switch that. To be able to adjust like that and still be able to get off the ball as fast as Mike does, and flip the plays in his head as fast and efficient as Mike does – it's just incredible."
Although playing both tackle positions has been demanding, it's a skill Oher has fine-tuned throughout his professional career. Switching sides along the line hasn't been ideal, but he's accepted the task for the greater good of the team. And Oher's responsibility and execution at right tackle last postseason undoubtedly helped Joe Flacco put together one of the best playoff performances by a quarterback in NFL history.
"It's extremely difficult," Oher said. "One year you're playing one position, then you've got to change the next year. It takes a lot of hard work both mentally and physically. It's even more challenging to switch mid-season. Of course I want to be great at my craft, but I've always been a team guy, first and foremost. I've done what I've had to do to sacrifice for my team. That's what has been asked of me, and that's what I've done."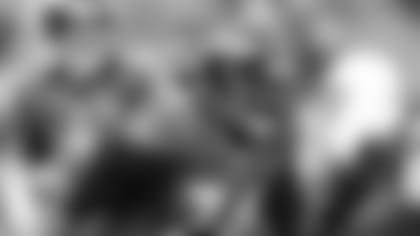 Oher has surfaced as one of the Ravens' most durable and reliable competitors. He's started all 64 games of his young career – tied for the fifth-most consecutive starts in franchise history. Younger players look to him as a model for developing work ethic and character in the beginning stages of their careers.
"He's definitely one of those guys where coaches can say, 'If you want to be successful, watch what he does; do as he does,'" said Yanda. "If you're a young player, watch him, follow him. He's not going to do you wrong in any aspect – off the field, on the field, meeting rooms, training room, wherever. He is so hard working and just a class act."
Now in his fifth NFL training camp, Oher has parlayed his 2012 postseason performance into what looks to be a starting role as the team's right tackle. Despite the constant shuffling that occurs on an NFL offensive line, Oher remains optimistic that the chemistry he has developed with his linemates will help cement a spot next to Yanda on the right side.
But, should circumstances call for Oher to move again, fans can bet that he'll put his nose down and quietly go to work.
"Michael embodies everything good about being a Raven," Head Coach John Harbaugh said. "No one outworks him. No one is tougher. He's smart and loves football. He's a special young man."
"At the end of the day, I've always just wanted to be an NFL player, and the Ravens drafted me," Oher explained. "I came from nothing, so I've always felt like I owed it to the Ravens to be what they needed me to be. They took a chance on me, and they've been there for me since Day One. You'll never hear me complaining about where I'm playing, because I've been so fortunate to be on the field as a part of this organization."