Most Iconic Moments in Ravens-Ben Roethlisberger History
From his first NFL game to countless scramble touchdowns, bone-crushing hits and plenty of picks, Ben Roethlisberger has had a lot of moments to remember versus the Ravens.
---
---
No Steeler has defined the Ravens-Steelers rivalry more than Ben Roethlisberger.
An 18-year career will come to a close Sunday at M&T Bank Stadium, the site of so many classic moments between the Ravens and their greatest villain.
Before Roethlisberger goes, here's a look back on the most iconic moments and games against the Ravens:
Sept. 19, 2004 – First Career Game
Roethlisberger's first game was in Baltimore in Week 2 of his rookie season. Roethlisberger came in for Tommy Maddox in the third quarter after the veteran was injured by a crushing Gary Baxter sack. Roethlisberger's first career pass was incomplete. His second was intercepted by Ravens linebacker Adalius Thomas. Chris McAlister also had a 51-yard interception return for a touchdown as Roethlisberger went 12-of-20 for 176 yards with two touchdowns and two picks. The Ravens won, 30-13.
Dec. 26, 2004 – Terrell Suggs Introduces Himself
After his debut, Roethlisberger won 13 straight regular season starts, including against the Ravens in Week 15 when he threw for 221 yards, two touchdowns, and one interception. His day ended in the third quarter, however, after Terrell Suggs introduced himself with a blindside hit following a touchdown pass that left Roethlisberger with an "unspecified rib injury." The Steelers clinched home-field advantage with a 20-7 win and the sore Roethlisberger sat out the regular-season finale before returning to lead the Steelers to the AFC championship game.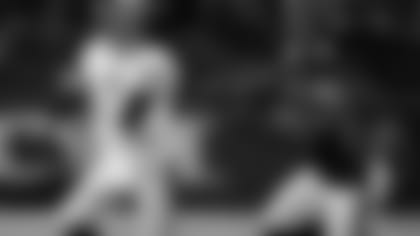 Oct. 31, 2005 – First Comeback Win vs. Ravens
This was the first of many down-to-the-wire shootouts between Roethlisberger and the Ravens. Roethlisberger put the Steelers up by a touchdown with an 8-yard touchdown pass to tight end Heath Miller, but Matt Stover put Baltimore back on top with three fourth-quarter field goals. Roethlisberger completed a pair of back-to-back passes late in the fourth quarter to set up Jeff Reed for a 37-yard field goal with 1:36 remaining that capped a 20-19 Steelers win. Pittsburgh went on to win the Super Bowl in just Roethlisberger's second season.
Nov. 26, 2006 – Bart Scott Cleans Big Ben's Clock
Roethlisberger still says the hardest hit he ever took came courtesy of Bart Scott on a free-running blitz that Roethlisberger didn't see. Scott got all 240 pounds of Roethlisberger airborne as he slammed him to the M&T Bank Stadium turf, knocking him temporarily out of the game. It was the exclamation point of a dominant performance by the Ravens defense, which shut the Steelers out, sacked Roethlisberger a whopping nine times, and picked him off twice. The Ravens won, 27-0.
Dec. 14, 2008 – Controversial Santonio Holmes Touchdown
Locked in a defensive slugfest for much of the game, with the Ravens leading 9-6, Roethlisberger drove the Steelers down the field in the final minutes. Facing third-and-goal from the 4-yard line, Roethlisberger weaved around the backfield before finding wide receiver Santonio Holmes open on the goal-line. Though Holmes has his feet in the end zone, it was originally ruled that the ball never crossed the goal line. However, the play was overturned after replay, much to the Ravens' dismay. The Steelers won, 13-9, at M&T Bank Stadium.
Jan. 18, 2009 – Back-Foot Chuck for a Title Game Touchdown
The Ravens and Steelers would meet again for the AFC title in what turned out to be another classic. Pittsburgh jumped out to a big lead shortly into the second quarter when Roethlisberger sidestepped a Ravens blitz and chucked an off-balance throw from his back leg to Holmes, who weaved through the Baltimore defense for a 65-yard touchdown. The Ravens fought back in the fourth quarter, but a 40-yard Troy Polamalu pick-six punched Roethlisberger's second Super Bowl trip.
Dec. 5, 2010 – Ngata Breaks Ben's Nose
Roethlisberger's nose was never quite the same after a run-in with Haloti Ngata, who unintentionally clubbed Roethlisberger during a sack. Roethlisberger came up gushing blood from his clearly crooked nose as he walked to the sideline with a towel over his face. At his retirement press conference nine years later, Ngata still cited the play as his favorite memory.
Jan. 15, 2011 – Third-and-19 Bomb to Antonio Brown
The Ravens had the Steelers on the ropes at Heinz Field in the divisional playoffs. In a tie game late in the fourth quarter, Pittsburgh was facing a third-and-19 from their own 38-yard line with just more than two minutes left. A punt would've given the Ravens a chance for a game-winning drive. Instead, Roethlisberger launched a perfect bomb down the right sideline to Antonio Brown, who pinned the ball against his helmet before going out of bounds for a 58-yard gain that set up the Steelers' game-winning 2-yard touchdown.
Sept. 11, 2011 – Ravens Force Seven Turnovers, Suggs Claims Roethlisberger's Rump
Still angry about how the previous season ended, the Ravens defense took out its frustrations on Roethlisberger and the Steelers in a Week 1 rematch at M&T Bank Stadium. Baltimore's defense picked off Roethlisberger three times and ripped the ball away from him twice as part of a staggering seven turnovers in a 35-7 butt kicking. Ed Reed had two of the interceptions and Ray Lewis had the other. Suggs sacked Roethlisberger three times and forced two fumbles. Afterwards, Suggs said of Roethlisberger, "God can have his soul, but his ass belongs to me."
Sept. 11, 2014 – Courtney Upshaw Destroys Big Ben
Scott's hit on Roethlisberger in 2006 took the cake, but the Steelers quarterback admitted that Courtney Upshaw's blast at the start of this game was a close second. The physicality of the Ravens-Steelers rivalry was apparent from the jump, as on the third snap from scrimmage, Upshaw destroyed Roethlisberger on a delayed third-down blitz. The hit was clean, but so jarring that Upshaw was penalized for unnecessary roughness. "I lost my breath instantly and remember hitting the ground thinking, 'Boy, that hurt a lot,'" Roethlisberger said after the Ravens' 26-6 win at M&T Bank Stadium.
Nov. 2, 2014 – Ben's Six Touchdowns Torch Ravens
Roethlisberger got his revenge later in the 2014 season with his best statistical performance against the Ravens in his career. He lit Baltimore up with six touchdown passes, completing 25 of 37 passes for 340 yards despite taking a hit to the jaw that spawned his grimacing Popeye meme. The Steelers rolled to a 43-23 blowout win at Heinz Field.
Jan. 3, 2015 – Suggs' "ThighMaster" Interception
In their fourth playoff meeting, the Ravens finally got their first win against the Steelers. Suggs helped seal it when he caught a tipped interception midway through the fourth quarter between his legs, nicknamed the "ThighMaster" interception. Joe Flacco hit Crockett Gillmore with a 21-yard touchdown pass on the next play to give Baltimore a 15-point lead. Though Roethlisberger threw for 334 yards, his two interceptions proved very costly.
Dec. 25, 2016 – The "Immaculate Extension"
On Christmas day, the Ravens and Steelers battled with the AFC North crown going to the victor. It was a wild back-and-forth game that the Ravens seemed to have in hand when Kyle Juszczyk powered his way into the end zone with 1:18 left for a go-ahead touchdown. But Roethlisberger completed eight straight passes on the ensuing drive, capped by a 4-yard touchdown toss to Brown in which he shook off two tacklers and reached the ball over the goal-line for a game-winning score dubbed the "Immaculate Extension."
Dec. 10, 2017 – Another Roethlisberger-Brown Dagger
Roethlisberger and Brown weren't done tormenting the Ravens late in games. The following year at Heinz Field, the Ravens led by nine points with less than seven minutes left when Roethlisberger engineered back-to-back scoring drives to snatch away a 39-38 victory. On the second drive that set up the game-winning field goal, Roethlisberger was sacked on first down and backed up to his own 8-yard line. He still converted a third-and-13, then hit Brown for a 34-yard gain on third-and-4 to set up Chris Boswell's 46-yard game-winner.