Ravens center Bradley Bozeman returned to practice Thursday after sitting out Wednesday as he recovered from a back injury suffered against the Chargers.
After Bozeman left Sunday's game, Trystan Colon played 26 snaps at center in his most extended action of the season. Offensive Coordinator Greg Roman said that if Bozeman did not play Sunday, the Ravens would not have to adjust their game plan with Colon in the lineup.
"We feel really good about Trystan, because he's been in the program for a couple years," Roman said. "He's continuing to evolve and grow. So, I don't really expect much different with him in there. We're pretty much a billboard for, 'Next Man Up,' and that's how every player in that locker room has to feel.
"I think 'Boze' brings you a certain style. Trystan might bring a slightly different style, but I think we can do everything we do with Trystan."
Left tackle Alejandro Villanueva (knee) also returned to practice Thursday.
Devin Duvernay Providing a Spark in Diverse Receiver Attack
While Marquise "Hollywood" Brown and Mark Andrews remain his go-to receivers, Lamar Jackson has been spreading the wealth.
Jackson has completed passes to nine different targets in each of the last two games, making the Ravens' passing attack more difficult to defend. Baltimore has had the NFL's most dynamic running attack since Roman became offensive coordinator, and now their passing offense has moved up to No. 11 in the NFL 266.5 yards entering Sunday's matchup against the Cincinnati Bengals.
Second-year wide receiver Devin Duvernay believes the Ravens are just scratching the surface of where they can take their offense.
"We've been on the same page, playing together for each other and we're executing at high level," Duvernay. "I feel like we just roll with 'G-Ro's' plan, and we believe in it. The future is bright, we feel like."
Duvernay (12 catches, 119 yards, one touchdown) clearly feels more comfortable in his second year, making an impact as both a returner and receiver. The Ravens are looking for different ways to get the ball in Duvernay's hands to take advantage of his explosive speed.
During Sunday's 34-6 victory over the Los Angeles Chargers, he helped set up Baltimore's first touchdown by gaining 11 yards on a jet sweep. In the third quarter, he returned the opening kickoff 47 yards, which set up another touchdown drive.
Before the season ends, Duvernay believes he will break a return for a touchdown.
"I think I can keep turning it up a notch," Duvernay said. "We're close to having touchdowns. So, that's my motivation, that's the unit's motivation. So, we're going to keep going."
Wink Martindale Knows Bengals Offense Will Be a Handful
Baltimore played its best defensive game of the season against the high-powered Chargers, but it's going to take another strong effort to contain the Bengals. Rookie wide receiver Ja'Marr Chase is fourth in the league in receiving yards (553) and has five touchdown catches. Chase and Bengals quarterback Joe Burrow won at national championship together at LSU, and that success has carried over to the NFL.
"He came out of the lab somewhere I mix between DeSean Jackson and Odell (Beckham Jr.)," Martindale said. "He's one of those guys that stands out and you say 'Oh man, he's going to be a great one.' Everybody wanted to talk about his preseason when he had the drops, but I haven't seen any of those. He's going to be a really good one."
The Ravens nearly shutout the Bengals at M&T Bank Stadium last season, winning 27-3 as Burrow was sacked seven times. But Martindale says Burrow is far more decisive this season with another season in Offensive Coordinator Brian Callahan's system, which is a major reason why the Bengals (4-2) have won their last two road games.
"I think that he's playing at a really high level – as well as he should be – with the weapons he has around him," Martindale said. "You're just seeing a lot of hard work and detail in the offseason from Joe. And I think, a year away from his last game, when we played him and everything else, they're a completely different team. I think Brian Callahan has done a heck of a job with him, especially down in the red zone, and it's going to be a tough challenge."
Wink Makes Comparison Between Josh Bynes and NBA's Udonis Haslam
Martindale often makes NBA and NFL comparisons, and said that Bynes was the Ravens' version of Udonis Haslem, the Miami Heat longtime power forward who seems to always be available whenever he is needed. Bynes' presence at inside linebacker Sunday went a long way toward stabilizing the defense.
"I talk about the NBA and how the NFL has become a matchup [game] like the NBA," Martindale said. "He's like our Udonis Haslem down in Miami; the guy that [president of the Miami Heat] Pat Riley has with him for years. I love the guy. He brought a calmness in the middle of the defense and settled everyone down."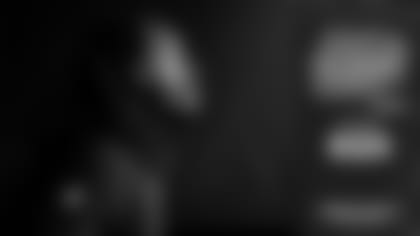 324: Josh Bynes Stops By The Lounge
Baltimore Ravens LB Josh Bynes talks about helping to settle down the defense, helping Patrick Queen, coming to the rescue again, and his unique career path.