The Ravens will be monitoring left tackle **Jared Gaither**'s right shoulder closely this week after he injured it Sunday against the New York Giants.
Head coach **John Harbaugh** said the team is awaiting results from a magnetic resonance imaging exam to determine Gaither's status for Baltimore's upcoming matchup with the Philadelphia Eagles.
"We're hopeful," Harbaugh explained Monday. "I think it's going to be touch and go."
Gaither left in the fourth quarter of the Ravens' 30-10 loss at Giants Stadium and did not return. Against one of the NFL's top front lines, Gaither was actually limited to blocking with one arm for much of the game.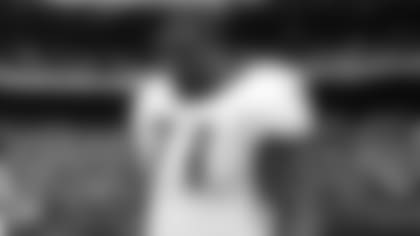 "Jared Gaither just did a tremendous job on all the guys rushing on the left side," Harbaugh said. "He basically was going with one arm there for a while and he was pass-protecting with one arm. I'll tell you what, talk about concentrating on your footwork and working on technique that way. He did really well."
If Gaither cannot suit up, one possibility would be moving right tackle **Adam Terry** over to the left side, where he started four games last season.
But, Terry is not a certainty to play. He came back from a right knee sprain that kept him out of five games this year only to injure his right ankle and briefly leave the game in the second half.
Harbaugh was optimistic that Terry would be ready for the Eagles.
"Adam will be OK," stated the coach. "He's fighting through all the little different things he's got, but he'll be fine. He's a tough guy."
The Ravens are also hoping to have their third top tackle, **Willie Anderson**, in the lineup, as well. Anderson, a four-time Pro Bowler, was inactive for the Giants game with an injured left ankle.
Anderson "has a chance" of playing this Sunday.
"It didn't hurt him at all not playing in the game," Harbaugh said. "The biggest thing we were concerned about was a setback in this game, so he's got a chance to come back."
Any combination of that trio would be beneficial against a ferocious Philadelphia squad that totaled eight sacks against the Cincinnati Bengals last week.
Without Terry, Gaither, or Anderson available, the Ravens had rookie tackles **Oniel Cousins**, a third-round pick, and **David Hale**, a fourth-rounder, at the bookends when they were attempting a late comeback.
"With those two young guys in there it was a little bit different," Harbaugh said. "Our backs chipped their way out a little bit more, but we couldn't change. We had to throw and they did OK."
Harbaugh agreed with officials when Giants coach Tom Coughlin successfully won a challenge that overturned an interception from Baltimore cornerback **Samari Rolle**. Rolle snared an Eli Manning pass to Steve Smith and fell to the turf, but replays showed that the ball came loose when Rolle bounced off the ground.
"The way the rule reads – and they called it right – you have to finish the catch. So when you hit the ground, you've got to basically finish the catch on the ground.
"He was down by contact with the ball, but when he rolled over, the ball kind of popped out. You could all see it. So they ruled it correctly, we thought."
The pick would have given the ball to the Ravens on their own 40-yard line, but because it was third down, New York punted on the ensuing play.
The Ravens were called for 10 penalties, sacrificing a total of 66 yards, and Harbaugh wants to emphasize reducing the amount of pre-snap flags moving forward.
Baltimore earned two offensive false starts and four defensive offsides calls, but there were no personal foul penalties.
"I don't think it really, really was the difference in the game, but it was *a *factor in the game," he said. "The pre-snap penalties, whether it's jumping off-sides on defense, whether it's moving on offense, those are things that we can control and we need to eliminate.
"I think we've done a good job of controlling a lot of the foolish penalties, the ones that we had earlier in the year. We've pretty much eliminated those and our guys are proud of that. But that's the next step, and that's something that we've got to do a better job with, no doubt."
Harbaugh said that he is not concerned with running back **Willis McGahee**'s availability, even though McGahee has been battling an ankle injury in recent weeks. … Despite 10 years as a special teams and secondary coach with the Eagles, Harbaugh doesn't believe his knowledge of his former organization will be much of a benefit to his coordinators. "I've had a chance to go through tapes with the guys who are breaking down the film, and you're not exactly sure, 'Is it this coverage or that coverage? Is it this blitz or how are they defending that?'" he said. "Offensively, probably to a lesser extent, somewhat on special teams… Maybe we can define things a little bit better. But any great extent? I don't think it's a great advantage." … Acknowledging his extensive special teams background, Harbaugh was greatly impressed with kicker **Matt Stover**'s NFL-record 372 consecutive PATs, a mark set in New York. "[It is] pretty amazing, really, when you think about it," Harbaugh commented. "We all play golf, and maybe those are three-foot putts. Well how many three-foot putts has he made under pressure now? That's a lot of putts, without missing one. That's just an amazing accomplishment."