It's an image etched in Ravens history.
Torrey Smith slipped behind the Steelers defense, and with eight seconds left shoved a dagger into Pittsburgh's heart with a sliding catch.
Sunday marks Smith's first trip back to Pittsburgh since that moment.
But what does the second-year wide receiver remember about it?
"I remember having an up and down game," Smith said. "I had half of my drops in one game, which is obviously terrible."
Smith's not just saying that to the media. It was also the first thing out of his mouth to Wide Receivers Coach Jim Hostler during Monday morning's walkthrough.
It shows why Smith has quickly become a coach's favorite and leader amongst his teammates.
His modesty, his work ethic, his resilience. They're three reasons why Smith's development is still rapidly ascending in his second year and why he's capable of an even better game in his return to Heinz Field this Sunday.
"He has been one of those very few players that you can say is a Raven," outside linebacker Terrell Suggs said. "You can go throughout the history of our organization. There are very few players that you can say [are true Ravens]. Torrey, I think he is shaping up to become one of those."
It's difficult to know what's more impressive: Smith's ascension to making the catch in Pittsburgh last year or his progress since.
Hostler likes to start from the beginning. And that opens with him not even wanting to draft Smith.
"I didn't want to draft Torrey because of what he showed up here doing," he bluntly said. "Hell yeah, I'm honest with him, and he knows that."
Hostler didn't like Smith's difficulties with catching. He didn't like that he came out of college as a raw route-runner.
"At practice he was like, 'You can't run this, you can't run that very well,'" Torrey recalled with a laugh. "I was like, 'I'm going to show you!' And I did."
The adage is that you can't teach speed. But Hostler says teaching catching and route-running without much natural ability are extremely difficult too. He said players who come into the league as pure speedsters generally result in failure.
Hostler said Smith, a second-round pick, was the least polished high draft prospect that he's ever worked with when he came out of college.
Smith didn't do much to change that perception early on in his career. Drops plagued him in training camp and followed him into preseason games. He ran a bad route that led to an interception and muffed three passes in one preseason game against the nearby Redskins.
The slow start created talk that Smith may never pan out.
"But I didn't know Torrey when we drafted him," Hostler said. "I don't think I've been around anybody, even around other positions, that has come as far as him."
Smith continued with his routine. He arrived at the Under Armour Performance Center last year every morning at 6:30 a.m. to catch balls. He hit the JUGS machine before and after each practice.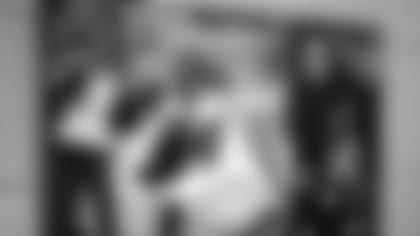 The work started to pay off, and Smith had a three-touchdown breakout in his first career start against the St. Louis Rams. But Smith went into Pittsburgh still very much a rookie.
In a way, the game was a microcosm of his season.
He was flagged for a holding penalty on the first play of the game that negated a 76-yard Ray Rice touchdown. He dropped a ball later in the half, then let the first potential game-winning pass slip through his fingers with 35 seconds left.
Even looking at photos of Smith's game-winning catch, it's hard to imagine how he actually held on. With the ball just inches away, his hands were still more than enough apart for the ball to slip through. The pass hit him in the wrist.
"I kind of cradled it like a baby," Smith said. "It's the play that may be the biggest play in my career ever when it's all said and done."
The play meant much more for Smith and his career than just beating the Steelers – which is already huge in its own right. It built trust and grew confidence.
"Here's a guy that went from absolutely no trust to a lot of trust from his teammates in that short of time," said Hostler, who at this point is one of Smith's biggest believers. "That's a testament to the kind of kid he is."
From that catch on, teammates saw a different, more confident Smith. Two weeks later, he posted six catches for a career-high 165 yards and a touchdown against Cincinnati.
"It's kind of like he grew up; he stopped being a rookie in that game," Suggs said.
Smith's work ethic hasn't changed since then, however.
He doesn't come in at 6:30 a.m. anymore because he doesn't have 7 a.m. rookie meetings, but he still catches balls every morning. Hostler says he takes more snaps in practice than any wide receiver, which includes the super determined and professional Anquan Boldin.
If there's ever a time that Smith wants to relax, he looks to Boldin, who he called a "role model." Smith still won't let the veteran beat him out to practice.
"If he sees me going out, he'll say 'Hey Q, can you just hold on a second?' And then he runs out," Boldin said with a laugh.
"He and I are just the same way. He's always looking to improve. He listens well to everything me and Coach [Hostler] say to him and he implements it in practice."
Hostler refuses to take any credit for Smith's development. It's because he says Smith's so mature that he doesn't need somebody to help him. He said all you need to do is show Smith, or tell him once, and he's going to do it.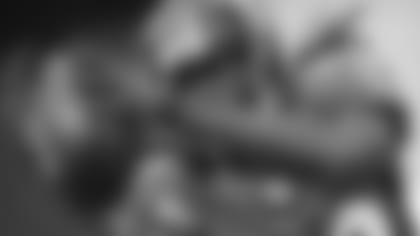 "What sets Torrey apart is his ability to make himself better at whatever it is," Hostler said. "Whether it's being in better shape, it's catching footballs, it's studying football, he can make himself better. That's rare. There are a lot of guys on this team that can do it in spurts. Torrey can do it every day."
Hostler said Smith's growth has been the fastest of any player he's ever coached in his 13 years in the NFL. He didn't even hesitate.
"By far the quickest," he said. "I think all great players in this league – and Torrey's in that line – have a mental ability to push themselves or let other people push them well beyond what they thought they could be."
Smith will never be able to stop working on his hands or his route-running technique, Hostler said. That's just fine because Smith doesn't plan on doing so.
But teammates see a player that is much more polished than a year ago at this time. He only has one drop so far this season, and is tied with Boldin for the most receiving yards on the team (548). Smith's seven touchdowns are tied for the team lead with Rice.
And if Sunday's game is hanging in the balance once again, the Ravens won't hesitate to go to Smith.
"He is becoming better and better every single route that we have. He is just really developing and becoming really, really confident," quarterback Joe Flacco said.
"I think some of it is the fact that we really trust him, and we are allowing him to show what he can do."