With wideout Anquan Boldin
's official unveiling as a Raven, General Manager Ozzie Newsome is happy to erase a rare blemish on his stellar draft record.
Newsome admitted that he erred back in 2003 by not drafting Boldin coming out of Florida State.
"When Anquan came out of the draft, he was the subject of a lot of discussion in our war room," said Newsome in a press conference on Monday. "There's not too many times that you get a chance to recover from a mistake," Newsome said. "And I think I made a mistake in that draft, worrying [more] about measurables than worrying about the football player. And Anquan is a football player."
Boldin dropped into the second round, largely because of a 4.71-second time in the 40-yard dash, but has since developed into one of the NFL's best at his position.
It took seven years and third- and fourth-round picks to snag Newsome's coveted player and the Arizona Cardinals' fifth-rounder, essentially righting the wrong.
"Any time I've had the opportunity to watch Q play, whether on tape or after one of our games on Sunday, I always enjoyed watching the way he approached the game and the way he played the game," Newsome noted. "Now I have the opportunity to watch him play for us here in Baltimore."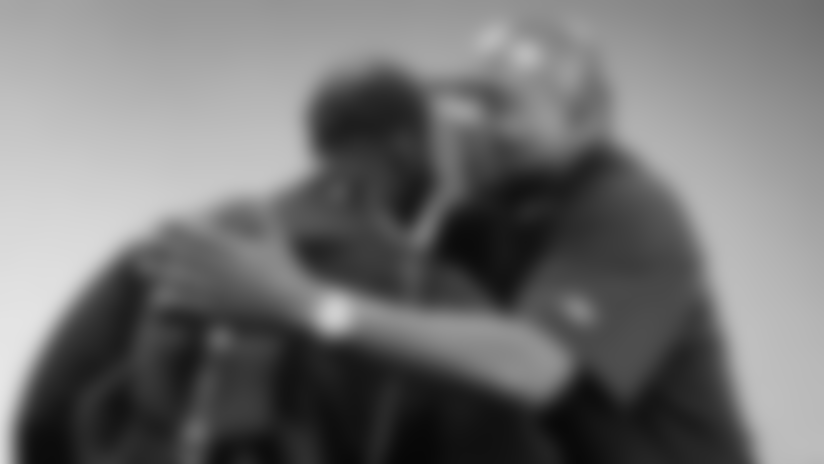 Boldin didn't take long to make an impression on the entire league as a young prospect.
His first season, Boldin caught 101 balls for 1,377 yards and eight touchdowns, winning NFL Offensive Rookie of the Year honors.
The Ravens, meanwhile, spent their initial first-round draft pick of 2003 on linebacker/defensive end Terrell Suggs
(10th overall). They jumped back into the round to
take quarterback Kyle Boller at No. 19. Boldin was gone by the time the Ravens picked again, as their third-round selection targeted running back Musa Smith (77th).
"We have some standards that are set in that room on measurables," Newsome said of the 6-foot-1, 217-pounder. "One of the first players that I went against that was Ray [Lewis]. Ray did not fit our measurables, but I saw a football player. In this situation, I got blinded a little bit and didn't appreciate the football player as much as I should have.
The chance to nab Boldin had been on Newsome's radar for a while. Boldin openly petitioned the Cardinals for a new contract when teammate Larry Fitzgerald got a huge deal, prompting rumors of a move.
Newsome said he would regularly contact his Cardinals counterpart, general manager Rod Graves, to gauge Boldin's situation.
By Friday afternoon, his dream neared reality.
"We had some dialogue with Arizona, but nothing as extensive as it was on Friday, starting about noon our time," Newsome explained. "We actually started to discuss different ways of making the trade. The other time was just a courtesy call, and every time I would make that call, it was, 'We love Anquan. We want to keep Anquan. He's a big part of what we're getting done.' I respected that.
"This time, the call was made, there was a different answer, which started the dialogue."
Boldin, who totaled 84 grabs for 1,024 yards and four scores in 15 contests last year, said a new contract – reported to be four years (adding three to his existing contract) for $28 million – was a relief to accomplish before even setting foot in Baltimore.
Boldin had dinner with Head Coach John Harbaugh on Sunday night before arriving at team headquarters Monday to ink the appropriate papers in Newsome's office.
"[The contract] definitely means a lot to me," explained Boldin. "Just talking to these guys on the phone, they sounded as excited as I was. But, it's definitely comforting to come to a place where you know that you're wanted with open arms."
Newsome chuckled when he was asked about the miss in light of an impeccable draft record. Since 1996, Newsome has selected 16 players in the first round, and they have earned a combined 42 Pro Bowls and several All-Rookie honors.
"I make mistakes all the time," said Newsome with a smile. "I just try not to make the same one twice."
Sitting next to his prized receiver, Newsome was happy to have another shot at Boldin.
"To be standing here, I finally got it right," Newsome said.