The Ravens recently spoke about putting teams away in the fourth quarter, but the Cincinnati Bengals were finished much earlier.
Baltimore cruised to a dominating 34-3 victory at Paul Brown Stadium by stomping out their AFC North rivals for their sixth win in the past seven contests.
And while those previous wins have all been dominating in their own right, Sunday's game may have been the most dominating performance, making a statement that even if the opponent is the lowly 1-10-1 Bengals, the Ravens refuse to let up.
"It's understandable to look at a game like this and say, 'that's potentially a game that they will overlook,'" said head coach **John Harbaugh**. "But our guys just aren't there. If we do things right, and we stay humble and keep working hard, we'll never be there.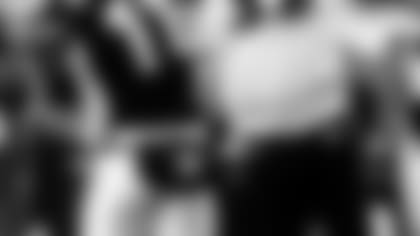 "That's a good football team that we lined up against," he continued. "It's not a record we lined up against. They were motivated to beat the Ravens. They have beaten the Ravens plenty of times here. For our guys to come in here and take care of business, I think that speaks very highly of our team."
The Ravens certainly treated the matchup like an important business trip. , who helped set up downfield opportunities for rookie quarterback Joe Flacco![](/team/roster/joe-flacco/3e20766f-6520-4ca1-9901-44389aaea8b8/ "Joe Flacco"). With the offense clicking on all cylinders, Baltimore amassed 451 yards.
They completely stymied the NFL's worst offense with stifling defense. With Ray Lewis![](/team/roster/ray-lewis/1c6d5ed3-fe49-4a89-a6b5-9e358e906ae7/ "Ray Lewis") and Co. hounding the unit, Cincinnati was held to only six first downs - tying a franchise record for futility - and 155 total yards.
In fact, when safety **Jim Leonhard** took a Jordan Palmer interception 35 yards for a touchdown late in the fourth quarter, it was an exclamation point that showed how the 8-4 Ravens view the remainder of their season, especially as they prepare for a playoff push.
"Obviously, as you progress you get a lot more confident in the product you put out on the field," explained wideout **Mark Clayton**. "We're confident that we'll go into this week and be able to prepare and get better and put an even better product on the field."
Clayton was a huge factor in the latest version of that product.
The four-year veteran arguably had the best game of his career. Clayton caught five passes for 164 yards (the third-best total in team history), hauled in one of those catches for a 70-yard touchdown, and even threw a 32-yard scoring strike to **Derrick Mason** The throw came in the third quarter, where Clayton took a handoff to the right edge and uncorked a tight spiral to a wide-open Mason, who was free behind cornerback Leon Hall, for his first pass attempt since 2002 when he was in college at Oklahoma.
Less than three minutes later, Clayton got behind Hall down the right sideline to make a spectacular one-handed catch on his way to the end zone. In a way, Clayton single-handedly increased the Ravens' lead to 27-3.
"That stretch was pretty big," said Flacco, who finished 19-of-29 for 280 yards and two touchdowns, the highest output of his young career. "In the first half, we went down and kicked some field goals. We wanted touchdowns in those situations, but we settled for field goals. To come out in the second half quickly and put two scores on the board was huge for the momentum of the game."
Defensively, the Ravens never let up from start to finish.
Only two of Cincinnati's first 10 drives lasted more than three plays. Eighty-nine of the Bengals' 155 yards came on a march just before halftime that was capped with a 21-yard field goal from kicker Shayne Graham.
It was the second consecutive week where the Ravens' "D" did not give up a touchdown.
"Once you get a swagger - once you get in a groove and understand what the other team is trying to do - you can try to anticipate the situations," linebacker **Bart Scott** said. "If you get behind, you can become predictable, and the play fakes become less and less decisive.
"That allows the linebackers to play fast, they're depending on those [fakes] to keep the linebackers out of plays."
However, the Bengals were playing without quarterback Carson Palmer, who missed his eighth game with an elbow injury.
His backups, Ryan Fitzpatrick and Jordan Palmer, did not fare well in their substitute duty.
Fitzpatrick connected on 12 of 31 passes for 124 yards.  He was sacked three times and saw multiple throws get batted down at the line.
Meanwhile, Palmer saw his first attempt go directly into Leonhard's hands, and the safety sprinted to paydirt at 2:28 in the final period.
Cincinnati's woes were not getting to anyone in the Ravens' locker room.
"They've got their issues over there, but we've got our own issues," right tackle **Willie Anderson** said, who spent his first 12 years in the league with the Bengals before he was released in September. "We can't go into a game and let the opponent's issues become our own issues."
Hearing what sparse crowd that was there boo his former team was a surreal moment, but Anderson is thankful he is on the squad that is in the thick of playoff contention.
The Ravens are one game behind the Pittsburgh Steelers in the division and currently would possess one of two Wild Card spots.
"It was different," Anderson stated, still damp from a Gatorade shower from his teammates. "I've never been through here. I always wondered where the visitors' locker room was. It's a whole new experience coming in here as a visitor, staying at the Westin Hotel, and seeing everybody. It was different, but at the same time, the win makes it fun."