In a 37-27 victory over the Cleveland Browns, the Ravens didn't look much like a team that has been dominated by defense in recent years.
Baltimore (5-3) racked up 429 total yards, boasted a 100-yard receiver and running back, and furiously fought back from a 14-point deficit to take the lead for good on Matt Stover's third field goal midway through the fourth quarter.
The Ravens' high-powered offense took multiple chances downfield, as rookie quarterback Joe Flacco completed 17 of 27 passes for 248 yards, including a 47-yard touchdown to Mark Clayton.
In fact, it was almost as if linebacker Terrell Suggs' 42-yard interception return for a touchdown with 2:43 on the clock wasn't even needed.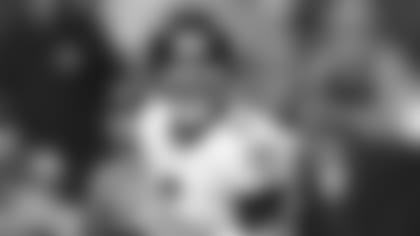 In matching their 2007 win total after only eight games, things have changed under the direction of new head coach John Harbaugh and offensive coordinator Cam Cameron.
"I think the defense is more proud of what the offense did than the offense is," Harbaugh said with a chuckle.
"You've got to tip your hat to the offense," Suggs stated. "Amazing what they did. They put up 14 points fast when we were down 27-13. They scored twice, and you could feel the sense of team being formed, what we've been searching for all year."
The 24-point rally began after the Browns efficiently scored two touchdowns on their initial two series of the third quarter.
Quarterback Derek Anderson found Braylon Edwards for a 28-yard score on a one-play drive, and then came right back after a Ravens three-and-out to engineer an eight-play, 72-yard march capped by reserve running back Jason Wright's diving 7-yard touchdown.
When things looked bleakest, however, linebacker Ray Lewis stalked up and down the sideline to implore his teammates to have faith.
"I told each of them to look me in the eyes," Lewis said. "I told them we were going to win the game and how we were going to do it. We have to believe that. Adversity builds character."
Flacco and Co. made their statement on the following drive.
Operating a no-huddle attack out of the shotgun formation Flacco has had success with all season, the Ravens spanned 79 yards in 11 plays all the way to Cleveland's 1. Fullback Le'Ron McClain began the resurgence with his fifth touchdown of the year.
Feeling energized, Baltimore's defense clamped down, immediately forcing a three-and-out as the third stanza expired.
In the fourth quarter, the Ravens got a big special teams play from Yamon Figurs, who brought a punt back 23 yards to the Cleveland 42-yard line. It only took Flacco two snaps for him to connect with wideout Derrick Mason for a 28-yard score, knotting the game at 27.
"I couldn't be more proud to be the coach of the Baltimore Ravens," Harbaugh noted. ""We talk about character and integrity and doing what's right – to overcome the adversity that they did in the second half speaks about how big their hearts are."
Rookie running back Ray Rice offered the Ravens' next clutch performance. The second-round draft pick, who finished with 154 yards on 21 carries (7.1-yard average per attempt), broke a 60-yard run, setting up a successful 22-yard field goal from Stover.
"We called the play and the hole opened up," Rice said after a day that saw him leave multiple tackles grasping at air. "As a running back, you always want a one-on-one. Your eyes get big when you see that hole. They close up a lot quicker in the NFL. That was one of the turning points."
A ground game that tallied 193 yards was supplemented by an explosive aerial assault.
Mason turned in 136 yards on nine catches. Clayton wasn't too far behind, with four grabs for 87 yards.
And, Flacco was virtually mistake-free. The quarterback's heady play has been a big reason the Ravens own a three-game winning streak. Over that span, Flacco has thrown for 620 yards, four touchdowns and no interceptions.
"I think we did a great job of getting what we wanted," said Flacco. "We had a chance to get them over the top for a touchdown. That was pretty big. We felt like they wanted to put pressure on us and we converted on those chances - enough for the win."
The Ravens jumped out to a 10-0 run with a 41-yard field goal on their opening drive, and Flacco followed that with his 47-yard strike to Clayton. Cleveland got a spark when Pro Bowl returner Joshua Cribbs scooted 92 yards to paydirt with the ensuing kickoff.
Stover and Browns kicker Phil Dawson traded field goals before Dawson tied the score with another boot - a career-high 54-yarder - with three seconds remaining in the first half.
After Stover's third boot gave Baltimore a three-point lead at 5:36 in the final quarter, the Browns still had a chance until Suggs stepped in front of Wright to intercept a duped Anderson. An untouched 42-yard sprint gave the linebacker his second-career touchdown.
Anderson, who finished 17-of-33 for 219 yards, two scores and the lone interception, was treated to loud shouts of "Bra-dy! Bra-dy!" for popular backup Brady Quinn.
"We're an aggressive defense, and that's probably one of the plays that we can make," Suggs said. "I rushed the passer the play before, and I saw him talking to himself. In a game time situation, what can he possibly be talking about?"
Meanwhile, Flacco continued his development as the Ravens' offensive leader.
"Your confidence is always growing," Flacco stated. "You get more and more experience each week. We are in the hunt but we need to just stack up wins. That is our main focus right now."