The Ravens came into Sunday's playoff tilt with the Miami Dolphins thinking it would be difficult to force turnovers against the most careful team in the league.
It was much easier than expected.
Miami coughed up the football five times, and the Ravens advanced to the postseason's second round with a 27-9 victory.
The Dolphins had actually tied an NFL record with only 13 giveaways all year, but that was all thrown out the window when safety Ed Reed![](/team/roster/ed-reed/89ece203-7de4-4b40-9651-f16f4c3b7699/ "Ed Reed") lined up across Miami quarterback Chad Pennington.
Reed snared two interceptions from Pennington, who only threw seven picks all season and set a Dolphins franchise record with a 67.4 completion percentage (321-of-476) in 2008.
"We heard all week about they don't turn the ball over, they don't turn the ball over, but bottom line, we force turnovers and that's the thing we did today," said linebacker Ray Lewis![](/team/roster/ray-lewis/1c6d5ed3-fe49-4a89-a6b5-9e358e906ae7/ "Ray Lewis"). "We did a great job getting after the ball. You take **Ed Reed**, you take **Fabian Washington**, take **Jim Leonhard**, take **Terrell Suggs**, take **Samari Rolle**, everyone on our defense contributed today.
"That's what you need when you're trying to go win a championship."
Baltimore will now face the Tennessee Titans next Saturday in Nashville at 4:30 p.m. after their first postseason victory since 2002. Ironically, that game also came minutes away from the University of Miami, where Lewis, Reed and running back **Willis McGahee** all went to school.
"It's almost overwhelming to comeback where God actually started my journey years ago," Lewis stated. "For us to comeback as a team and do this, its kind of the same approach we've taken all year. Just take 60 minutes, forget who we are playing and just see if we can come out and play mistake free football. Now of course we made some mistakes, but we fought for 60 minutes."
Ravens rookie quarterback Joe Flacco![](/team/roster/joe-flacco/3e20766f-6520-4ca1-9901-44389aaea8b8/ "Joe Flacco"), not the seasoned nine-year veteran, that was mistake-free.
Flacco may have only completed nine of 23 passes for 135 yards, but he did not toss an interception in his first playoff contest.
"There were a handful of throwaways we had to do today, and we had a couple where we had them beat deep and we missed them at the end of the game," Flacco said. "We didn't connect there, but we will make sure to connect in the future. We feel really good about how we played as an offensive football unit today."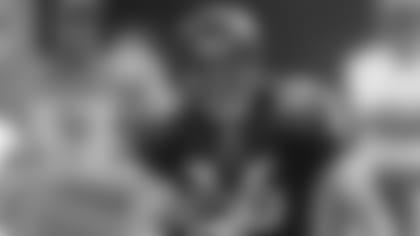 Meanwhile, Pennington, who was recently named the NFL Comeback Player of the Year, went 25-of-38 for 252 yards. And then there were those four picks.
Both teams traded field goals before the interception party began. At 8:56 in the second quarter, Leonhard jumped in front of wideout Ted Ginn for the first theft of the game. He returned it 20 yards to Miami's 45-yard line, but the Ravens were forced to punt after a three-and-out.
On the following series, Reed then made what could be considered the biggest play of the game.
As Pennington was flushed out of the pocket by Suggs, he uncorked a fluttering rainbow that Reed simply ran under. The former Hurricane took off to the Ravens' sideline before cutting back all the way across the field, sprinting 64 yards for an eventual touchdown.
It was Reed's fourth touchdown of the season and the longest postseason interception return in franchise history, bolstering his bid as the NFL's Defensive Player of the Year.
"The kid's a freak and he's the greatest safety alive," said Suggs. "When he got the ball in his hand, we knew that whenever he sees a crease he's going to hit it like an offensive player. When he gets the ball, he's going to go the distance with it"
Reed ran behind a devastating block from 345-pound defensive tackle Haloti Ngata![](/team/roster/haloti-ngata/9225ada6-37a5-4b66-9776-1b6e4df2fb50/ "Haloti Ngata"), who erased wideout Ginn (180 pounds) on the runback.
"I was just impressed he got up," Ngata said of knocking Ginn off the TV screen. "He's a man. I looked at the fastest guy that could catch Ed, and it was Ted Ginn."
Baltimore was able to add another **Matt Stover** field goal (31 yards) just before the first half ended to head to the locker room with a 13-3 lead.
And then, more turnovers would only exacerbate the margin.
On the opening march of the second half, Washington posted the third interception of the game, only to result in another Ravens three-and-out.
Then, defensive tackle **Marques Douglas** stripped Miami running back Patrick Cobbs, and Suggs fell on the football at the Dolphins' 19-yard line.
Four plays later, fullback **Le'Ron McClain**, who totaled 19 carries for 75 yards, rumbled across the goal line from 8-yards out.
McClain's touchdown atones for a fumble he lost on Baltimore's opening series of the day. He was stripped by defensive end Paul Soliai and linebacker Joey Porter recovered.
"We kept pounding today," McClain said. "We gave up the ball early, but after the fumble everyone gathered around me and told me not to worry and keep running north and south. You have got to keep gutting it out. It's like I said last week, we came in here, and we were hungry."
Reed just kept feeding. His second interception came on the ensuing march, which was one of the most promising for Miami.
Using an attack that featured short passes to the flats, Pennington drove the Dolphins all the way to Baltimore's 15-yard line, when Reed sniffed a throw over the middle to Cobbs. No. 20 jumped in front of the running back at the 8-yard line and then sprinted to the Ravens' 20.
The Dolphins were able to hang more points on the scoreboard with a 5-play drive that resulted in a touchdown, but it wasn't enough to overcome the deficit.
The Ravens offense put the margin out of reach when a 71-yard drive – highlighted by a 48-yard run by Willis McGahee to the Miami 4-yard line – ended with a 5-yard run by Flacco into the end zone.
Baltimore will meet the Titans in an effort to avenge a Week 5 loss to Tennessee at M&T Bank Stadium.
"It's special because we've been building a team for a long time around here," Reed, the 2002 first-round draft pick, said. "Since I've been here this is my first playoff win and a lot of guys in this locker room first playoff win in this league. This team is just trying to stay focused. Now it's time to get ready for the next one."