Heading into the Ravens' wild-card matchup with the New England Patriots, many pundits counted Baltimore out because of the Bill Belichick-Tom Brady aura.
Behind coach Belichick and Brady, the Patriots had won three Super Bowls this decade and were undefeated in the postseason at home.
A 33-14 Ravens win debunked that mystique with a huge first quarter, holding strong in the middle, and then clamping down in the end.
"It was a tremendous victory against a great opponent and we have tremendous respect for the New England Patriots, what they stand for, the way they kept fighting, even though they got off to a bad start," said head coach John Harbaugh. "They fought from the beginning to the end. And I think that speaks well about a Bill Belichick coached team, the New England Patriots organization [and] everything they've accomplished over the last 10 years. That's exactly how they fought out there today. But we are sure proud of our guys."
It was a pedestrian day for quarterback Joe Flacco
, who completed only four of 10 passes for 34 yards, but a huge day by a rushing attack that tallied 234 rushing yards and four touchdowns helped earn Flacco the distinction of being only the second signal-caller in NFL history to win playoff games in his first two seasons.
Flacco had been burdened by a hip injury all week, and even seemed to limp slightly during pre-game warm-ups, but he wasn't needed in light of the ground game.
Led by Ray Rice
, who tallied 159 yards on 22 carries, the Ravens opened strong on Rice's 83-yard touchdown on the very first play from scrimmage.
Rice followed two key blocks from right guard Marshal Yanda
, who cleared out nose tackle Vince Wilfork and then peeled back to further open the hole, to sprint for a career-long gain.
As explosive as a statement as it was, Harbaugh wasn't surprised. In fact, it was a portent of things to come.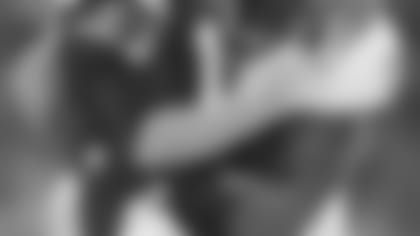 "I think to start off with the big run was a statement by our offensive line and by Ray," Harbaugh noted. "To start the run by the offensive line and to finish it the way Ray did, obviously, that was a huge statement."
Baltimore logged 24 first-quarter points, tying the second-most in NFL history for a single postseason quarter, the last time coming when the Jacksonville Jaguars hung 24 on the Miami Dolphins during the 2000 playoffs.
The first quarter was so lopsided, that the Ravens netted three takeaways, and all of them led to scores.
On the third play following Rice's score, linebacker Terrell Suggs
came screaming off left tackle Matt Light to sack and strip quarterback Tom Brady. Suggs, who marked his fifth playoff sack, pounced on the football at the Patriots' 17-yard line.
The Ravens turned that into a 1-yard touchdown run by fullback Le'Ron McClain.
Brady was intercepted later when Chris Carr stepped in front of a short slant to Sam Aiken in Patriots territory.
The Ravens simply drove down to the 1-yard line for Rice's second touchdown on the day.
Safety Ed Reed then got into the turnover party when he picked Brady off on the Patriots' ensuing series, returned the ball 25 yards, pitched it to Dawan Landry, who then took it another 25 yards to the New England 9.
That resulted in a simple 27-yard field goal by kicker Billy Cundiff
* *and a 24-0 lead.
"You expect to go out there and play a physical game and give it to them and put some points on the board, but you never really expect something like that," Flacco said. "The way our guys got after it today, I can't be more proud of them."
Despite the lead, Baltimore nearly let the Patriots salt it away by turning the ball over twice before halftime.
The Ravens lost an excellent opportunity to put the game out of reach when a punt glanced off safety Tom Zikowski's shoulder less than a minute into the period and the Patriots recovered in Baltimore territory.
The play was not challenged by Harbaugh, although it was unclear if the Patriots had possession of the ball as it bounced out of bounds.
"We didn't have anything on that," Harbaugh said of a clear replay. "If we had something, we definitely would have challenged it, but we didn't have enough."
With a fresh possession, Brady was able to find wideout Julian Edelman for a 6-yard touchdown to close within 24-7.
Flacco then made his first big mistake of the game when he threw into coverage and linebacker Tully Banta-Cain jumped the route. Fortunately for the Ravens, the defense held strong and forced a three-and-out.
Coming out of halftime, the Ravens' defense continued their terrorization of Brady, who took three sacks after only being sacked once in the previous five games.
Midway through the third quarter, Brady looked down the right sideline for tight end Ben Watson, but Frank Walker was there with a crushing hit, popping the ball loose.
Landry was there waiting for the tip, and he returned it 42 yards to New England's 22-yard line to set up Cundiff's 23-yard boot.
The Patriots were able to pull closer with Edelman's second touchdown – 1-yard strike – late in the period, but the Ravens simply answered with a grinding 12-play, 52-yard march that culminated in Willis McGahee's 3-yard dive over the goal line.
New England's season ended symbolically, as kicker Steven Gostkowski missed a 44-yard field goal that essentially squashed any Patriots hope.
Now, the Ravens will travel to Indianapolis to meet the AFC's top-seeded Colts on Saturday at 8:15 p.m.
And they do it with the confidence of beating one of the most-revered franchises in recent years.
"Being in this league for so many years, I have watched the greatest of the New England Patriots, so you have to tip to your hat to them," said linebacker Ray Lewis
, a 14-year veteran. "They are one of the top notch programs in professional football, three championships in the last 10 years. You have to erase all of that and just come play football. It was huge from that aspect, putting all of those things in one basket and we came out and played a heck of a football game today."