It was everything real football fans could have wanted in a postseason matchup between two heated rivals, and it was definitely the outcome any Ravens fan could dream for.
Baltimore's run through the postseason will continue to the AFC Championship game after a hard-fought 13-10 victory over the top-seeded Tennessee Titans, reminding some of those same fans of the Ravens' squad that captured the same opportunity at Nashville's LP Field eight years ago.
Of course, at that time, the venue was called Adelphia Coliseum. And despite a defense that has played nearly up to the standard set by Baltimore's record-setting 2000 squad, the Ravens are a different team.
"It's great to make our own history, our own path," said linebacker **Bart Scott**. "That team was great. We can't be compared to that team. That team has its own identity and we're trying to create our own. Like I said, we're not through yet. We'll evaluate all that stuff when it's over with."
In the days leading up to Saturday's matchup, the talk focused on the knock-down drag-out fight that would take place, and nobody was disappointed. Two fierce defenses performed as expected, regularly leaving the field littered with huge hits.
Bodies were seemingly falling with each series, as injuries continued to mount on each sideline.
But in the end, it was the Ravens that found enough offensively to advance to the next round and a showdown with the winner of the San Diego Chargers' divisional contest against the Pittsburgh Steelers.
In fact, both teams so desperately battled, that it wasn't until **Matt Stover** connected on a 43-yard field goal with 53 seconds remaining that the outcome was decided.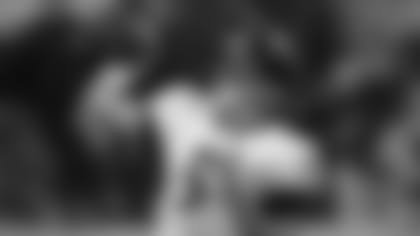 To get there, quarterback Joe Flacco![](/team/roster/joe-flacco/3e20766f-6520-4ca1-9901-44389aaea8b8/ "Joe Flacco"), who became the NFL's first rookie signal-caller to win two playoff games, coolly led a nine-play, 51-yard drive to set up the clinching kick.
Getting the ball after Titans kicker Rob Bironas knotted the score at 10 all with a 27-yard field goal at the 4:26 mark, Flacco was clutch, converting a critical third-down play with a 23-yard completion to tight end Todd Heap, and then setting up Stover's attempt with an 8-yard pass to wideout **Mark Clayton**.
But as big as his performance was on that late drive in front of a capacity crowd, Flacco didn't think there was anything unusual for his late-game heroics.
"It's the same as any other drive," Flacco stated. "We had Todd go up the seam and make a big play for us. We did a good job of getting into field goal range.
"We want to go out there and play our game. You still have to let it come to you. You gotta check the ball down when you need to. We ran the ball a handful of times. We did a great job on that drive. You're on the sideline and see that you get the chance, and that's all you can ask for."
And they definitely took advantage of that chance. Stover's 14th career game-winning boot made the Ravens only the second sixth seed in NFL history to take out the No. 1 team.
"I think at the end, our guys found a way to win," said head coach **John Harbaugh**. "They were finding a way to win too. It was exciting to see players step up and make plays. That is what really wins in games like this."
In such a slug-fest, the Ravens had to deal with multiple injuries to key players.
Linebacker Terrell Suggs![](/team/roster/terrell-suggs/ad26be43-1380-45f1-b047-a91e850d9761/ "Terrell Suggs") – the team's leading sacker – sprained his shoulder in the second quarter and did not return. Fullback **Le'Ron McClain** – Baltimore's leading rusher – left twice with an ankle injury and came back for a bit. Starting cornerback **Samari Rolle** suffered a groin injury and stayed on the bench. And both starting right tackle **Willie Anderson** (neck stinger) and cornerback **Fabian Washington** (shoulder stinger) came back after being helped off the field.
"We knew what kind of men we had on our football team: warriors, mighty men, all those things that you guys chuckle about," Harbaugh said. "Those things are all true. That was a knockdown, drag-out battle."
Tennessee struck the first blow with a touchdown in the opening quarter. On the Titans' second possession, rookie running back Chris Johnson took a short pass from quarterback Kerry Collins in the left flat, eluded a slipping Bart Scott, and then ripped off a 28-yard gain before he was brought down.
Collins maneuvered the Titans closer when he hit wideout Justin Gage, who finished with a game-high 10 catches for 135 yards, for a 20-yard reception. Johnson finished off the drive with an 8-yard touchdown run after he broke a tackle from cornerback Fabian Washington.
The Ravens came roaring back, however. On the ensuing series, Flacco hooked up with **Derrick Mason** for a 48-yard touchdown bomb.
Even though Tennessee brought pressure – something they did all day with their talented front four – Flacco side-stepped a rush from Pro Bowl defensive tackle Albert Haynesworth for the pass. Mason actually made the grab on one knee, but got up before he was touched and wrestled his way to the end zone.
"It was just a streak down the sideline, and Joe put it right on the money," Mason said.
The 7-7 tie was carried all the way into the fourth quarter until Matt Stover gave the Ravens a three-point lead with a 21-yard field goal at the 14:14 mark of the final period.
The Titans had multiple opportunities to score in the game. Just before the first half ended, Tennessee marched to the Ravens' 22-yard line, but running back LenDale White was stripped by linebacker **Jarret Johnson** and safety **Jim Leonhard** recovered with 25 seconds on the clock.
Tennessee coach Jeff Fisher decided to kick a 51-yard field goal on fourth down instead of punting, and Rob Bironas pushed it wide left even though the wind was at his back.
And, Titans tight end Alge Crumpler was hit by both Scott and Leonhard and coughed up another fumble on the Ravens' 6-yard line.
"We always have got one philosophy in this defense," linebacker Ray Lewis![](/team/roster/ray-lewis/1c6d5ed3-fe49-4a89-a6b5-9e358e906ae7/ "Ray Lewis") said. "If they don't score, they don't win. Bottom line, just like when we got to 7-7. Bottom line said if we don't give up no more points, we will come out a winner in this game. You kind of saw the way it was going back and forth.
"They were putting some drives together, but we were keeping the ball in front of us. As long as we can do that as a defense, we are going to have success."
Tennessee knotted the game again, taking advantage of the excellent field position caused by Crumpler's lost fumble. Backed into his own end zone, punter Sam Koch![](/team/roster/sam-koch/5db3abab-9670-4b0b-93b7-286dcac1e69c/ "Sam Koch") booted the ball to Baltimore's 45-yard line, and Collins marched 32 yards to set up Bironas' 27-yard field goal.
The Ravens took over for their last possession and made the most of it. Flacco found Heap for that crucial third-and-2, advancing to midfield.
Running back **Willis McGahee** then broke off an 11-yard run, and then Flacco hit Clayton to pull within Stover's range.
With less than a minute to move down the field, Collins only completed a single 5-yard pass before three attempts fell to the turf, and the Ravens found themselves competing for the conference championship.
"We have a slogan here: they're not in 'til the end," Scott noted. "They were moving the ball. They were doing a great job, they were breaking tackles. We just continued to fight and refused to let them in.
"We made the plays we had to. Sometimes that's the way the cookie crumbles. The ball came out. We'll take it any way we can get it."