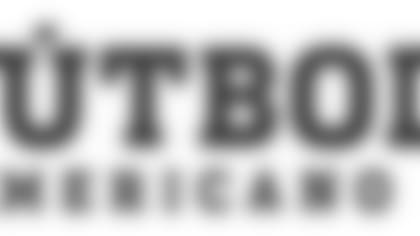 Each year, Americans observe National Hispanic Heritage Month from Sept. 15 to Oct. 15, by celebrating the history, culture and contributions made in the community. The Baltimore Ravens, along with the National Football League, took part in this celebration by hosting events for youth and honoring Hispanic community leaders.
On Tuesday Sept. 17, the Baltimore Ravens players, cheerleaders and mascot Poe joined over 150 predominantly Hispanic children at Bonvegna Field in Baltimore City for a Play 60 football clinic. The participants tested their passing, catching and running skills under the guidance of local coaches and special guest coaches linebacker Brandon Copeland, safety James Ihedigbo, safety Anthony Levine and center A.Q. Shipley. It was a day of football that brought laughter and smiles from the youth and their families.
In addition to the football clinic, each year the Ravens select an individual that is influential in Baltimore's Hispanic community. For the third consecutive year, the NFL and the Hispanic Heritage Foundation partnered to bring the NFL Hispanic Heritage Leadership Awards to all 32 NFL cities during the 2013 celebration of Hispanic Heritage Month.
During the third quarter of the Ravens Sunday game against the Houston Texans (9/22), the team honored Dr. Elizabeth Molina Morgan as the Ravens 2013 NFL Hispanic Heritage Leader, recognizing her for the positive impact she had on the Hispanic community in the Baltimore area and surrounding regions.
Currently the Chief Education Advisor for America's Promise Alliance, Dr. Morgan works closely with education leaders at the national, state and local levels to support school turnaround initiatives. She has spent more than 30 years working in all facets of public education and was the superintendent of Washington County (Md.) Schools for nearly a decade. In that role she helped the poverty-stricken district increase its graduation rate from 78 percent to 92 percent.
Each award recipient selects an organization of their choice that serves the local community to receive a $2,000 donation. Dr. Morgan has selected The Community Foundation of Washington County MD to receive this donation in support of their work in Baltimore's Hispanic community.