Each year, Ravens players join classes across the Baltimore area for the National Education Association's Read Across America event. This nationwide reading celebration takes place on or around the March 2 birthday of beloved children's author, Dr. Seuss. In the spirit of the day, guest readers are on hand across the country to spend time with elementary school children.
To reiterate and celebrate the importance of reading, cornerback Derrick Martin visited with the fourth grade at Severna Park Elementary in Severn, Md., on Friday, February 29. More than 50 students gathered around Martin as he read Seuss's Green Eggs and Ham.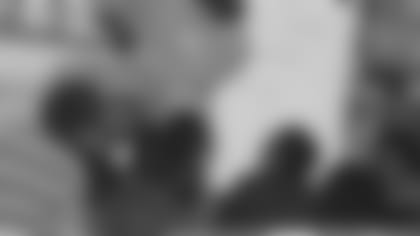 Martin, an elementary education major at Wyoming who is expecting his first child this month, was in the reading groove as he showcased the classic to the children, displaying the pictures and engaging the students in a lively banter.
"I am Sam, Sam I am," Martin said with a flourish.
One child interrupted, "Why does he always say that? He should just say his name is Sam."
Apparently, the students are well versed in grammar, in addition to their reading lessons.
Teammate Edgar Jones took his turn on Monday, March 3, visiting two second-grade classes at Phelps Luck Elementary in Columbia, Md. He first met with Ms. Favorite's class, whose last name was quite appropriate, according to the 7- and 8-year olds. The book of choice was Prehistoric Actual Size by Steve Jenkins, which describes creatures from the prehistoric world and features dramatic pull-out pages.
When Jones flipped to the page describing Gigantosaurus, the largest meat-eater ever, he questioned the group.
"Would you like a pet like that? What would you do if this was chasing behind you?!"
To which the kids quipped, "Ew! No way!" and, "He has too much teeth."
The day was about reading, and both players went on to explain how important reading is in everyday life, even as an adult and as a football player with an extensive playbook. Each encouraged the children to always have a book around them, big or small, even in the summertime.
The message was well received.