The Ravens are always looking for the best insider sources for information about the draft's prospects. In the case of one of the top wide receiver prospects, it doesn't get any better than one of the Ravens' own coaches.
New Wide Receivers Coach Tee Martin is the father of Clemson wide receiver Amari Rodgers, who is widely expected to be a Day 2 pick.
The Ravens already signed Sammy Watkins, who previously worked with new Pass Game Specialist Keith Williams in the offseason. Now could Baltimore give Martin his own son to groom?
"We have a good character report. I think we know what he liked for breakfast growing up, at some point in time," Head Coach John Harbaugh joked. "He didn't need a good report. He stands on his own. He has high grades from the coaches and the scouts, and he's definitely a player that we're talking about."
Rodgers grew up in Knoxville and was named Mr. Football in the state of Tennessee in both of his final two high school seasons. He originally committed to play at USC, where his father was an assistant coach, but later switched to Clemson to stay closer to home.
While it's now out of Rodgers' hands, the draft presents a second chance to reunite with Martin.
"I know that he's going to push me, he knows me more than anyone," Rodgers told Glenn Clark Radio. "I know that he knows what's good for me and what's not. So, if I had the chance to play for him, he would definitely build me into the player I know I can be."
Rodgers is coming off an exceptional senior season at Clemson in which he posted 77 catches for 1,020 yards and seven touchdowns. He had the most catches in the slot of any receiver in college football and came in just behind Heisman Trophy winner DeVonta Smith in yards after catch per reception (8.0), per Pro Football Focus.
It's the little things behind the stats that make Rodgers stand out. He's an attacking blocker, physical after the catch (nine broken tackles in 2020), and has excellent burst to challenge defendes. He's a dynamo in a 5-foot-9, 212-pound package.
"Amari is a big-time playmaker," NFL Network's Bucky Brooks said on "The Lounge" podcast. "Amari is in the mold of wing backs. If you go back to the 50s, 60s, 70s when people were running the Wing-T, the wing back was half running back, half wide receiver. Amari Rodgers fits into that mold. The best stuff that he does outside of running routes over the middle of the field is, man, just put the ball in his hands – bubble screens, quick routes, jet sweeps, all those things, he can handle that."
Ravens Director of Player Personnel Joe Hortiz smiled when he said Martin was the one person who didn't officially evaluate Rodgers, smiling and saying, "He knows him too well."
"On top of the player … he's just a great kid and highly competitive, versatile," Hortiz said. "At his Pro Day, he did running back drills, and he looked like a natural running back, which he was a running back in high school. But as a slot receiver, he's really physical, strong, knows how to get open – a reliable player. He also has some returner abilities. So, he's a fun player to watch."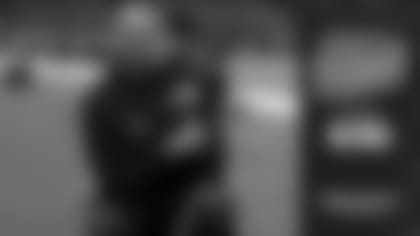 Bucky Brooks Joins The Lounge
NFL Network analyst Bucky Brooks compares wide receivers Terrace Marshall Jr. and Rashod Bateman and breaks down some of the top pass rushers in this year's class.
Much of the chatter surrounding the Ravens' wide receiver search has centered on big-bodied possession wide receivers who specialize in making contested catches and moving the chains. That is the type of player most fans envision complimenting Marquise "Hollywood" Brown best.
Rodgers is somewhat in the mold of Devin Duvernay (5-11, 210), who the Ravens drafted in the third round last year. Duvernay was used on jet sweeps and quick passes some last season and projects to have a bigger role in his sophomore season. Duvernay's presence could lessen the chances of Baltimore selecting Rodgers, but Brooks thinks Rodgers is worth a Day 2 pick.
"Amari Rodgers could certainly add a dimension to the Ravens offense as a slot receiver with big-time ability," Brooks said.