In the fourth and final preseason game, a 10-9 loss to the Atlanta Falcons, Baltimore gave many starters the night off - at least on the defensive side of the ball.
Offensively, the Ravens were happy to welcome their entire starting offensive line, their top three receivers and both of their best tight ends for the first time all year.
Quarterback, again, was the only absence.
Kyle Boller watched from the bench with a shoulder injury that was recently discovered to be worse than originally thought. Troy Smith didn't even make it to the stadium. He checked into a local hospital to combat a tonsil infection with intravenous fluids.
That left Joe Flacco and Casey Bramlet, a free agent journeyman who literally was signed hours before kickoff, as the only signal-callers in home whites.
And while the outcome of Thursday's contest was certainly unfavorable, the play of both starting units left the Ravens' coaches with some positives to take into the regular season.
"I thought, offensively, Joe did a nice job to start the game off," said head coach John Harbaugh. "Defensively, it was good to see some of those linemen out there and see what our defense would start to look like.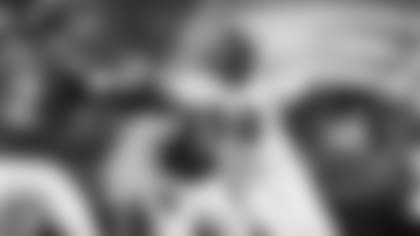 Flacco helmed the offense for one quarter, matching up with Atlanta's Matt Ryan in a showdown of the NFL's two hot rookie gunslingers.
The six punts that opened the game were a testament to each quarterback's youth, but Flacco eventually came out on top by leading a scoring drive before stepping off.
Flacco, who finished 8-of-13 for 72 yards and no interceptions, ended his night with a seven-play, 63-yard march capped by Matt Stover's 25-yard field goal. Flacco delivered a pinpoint strike to Mark Clayton on a 12-yard slant, followed by a deep ball to Demetrius Williams.
He nearly notched a touchdown when a lofted fade fell just outside of Williams' hands in the end zone.
The game was much more than one quarter, but with so much scrutiny on Baltimore's quarterback situation, Flacco's ability to establish a rhythm showed how the 18th-overall selection is maturing with each snap.
Flacco's solid play continued his bid towards a starting job when Baltimore plays the Cincinnati Bengals Sept. 7, and when asked if he felt ready to take that mantle, Flacco uttered a simple one-word reply.
Pushed for more, the quarterback elaborated.
"How are you going to learn when you're sitting?" he asked. "I think the best way to learn is to go out there and experience it. You learn a lot of different ways, but for me the best way to learn is to go out there and experience it for yourself and learn through your own experiences."
Ryan is certain to get that experience from Day 1. Already named the Falcons' regular season starter, the third-overall pick went 2-of-7 for 17 yards in a ho-hum performance.
He was bothered by a Ravens' pass rush that constantly crushed the pocket even without defensive tackle Kelly Gregg and linebacker Ray Lewis. Cornerbacks Samari Rolle and Chris McAlister and safety Ed Reed also sat.
Instead, players such as safety Jim Leonhard, who nabbed an interception and had a second one taken away by a penalty, defensive tackle Justin Bannan and linebacker Nick Greisen solidified the defense.
The unit limited Atlanta to only 36 first-quarter yards and one first down.
"I think the coaching staff does a great job of mixing guys in during practice, so it's not a big shock when you're looking at someone different to your left and right," Leonhard said. "You're kind of used to it."
Flacco gave way to Bramlet at 11:19 in the second quarter, and the two-year veteran needed three series before he was able to maneuver the offense into field goal range. A 25-yard pass to running back Allen Patrick, who saw his first preseason action when Cory Ross sprained his ankle, set up Stover's 31-yarder, pushing the lead to six points.
Bramlet's only practice time with the Ravens consisted of a walk-through in the team hotel's ballroom Thursday afternoon.
"I was a little bit [surprised at how early I entered the game]," a bleary-eyed Bramlet said. "I knew there was a chance I was going in, but when he told me to go get ready, I was surprised.
"In this situation, I feel like I came in and did everything I could do."
The difference, however, was D.J. Shockley's 20-yard touchdown pass to Brian Finneran. With backups Frank Walker and Corey Ivy starting for McAlister and Rolle, Shockley picked on third-string defensive backs to go 76 yards in only 44 seconds.
Shockley was helped by a pass interference penalty on Ronnie Prude before he offered a quick strike to Finneran.
The one-point lead was all Atlanta needed, as Stover and Falcons kicker Jason Elam traded field goals in the second half.
"We were pleased early," said Ravens defensive coordinator Rex Ryan at halftime. "We got some three-and-outs, but our second group was disappointing at the end of the second quarter. You have to earn a Ravens' helmet, and some of those guys will make our roster decisions easier."
Days before the last cuts, which must be made by Aug. 30, players are already scrutinizing their final performance in front of Ravens coaches. Some, such as Patrick, may have helped their cause. Others may have done some damage.
But for a position wracked with questions, Flacco seemed to do the former.