Ravens Host Football Clinic to Celebrate Hispanic Heritage Month and Worldwide Day of Play
In celebration of Hispanic Heritage Month and Worldwide Day of Play, the Baltimore Ravens hosted a football clinic for nearly 150 predominantly Hispanic youth at Baltimore's Patterson Park on Tuesday (9/21).
Participants suited up – in complimentary Ravens Play 60 t-shirts – to test their passing, catching and running skills under the instruction of some very special guest coaches.
Ravens players LB Brendon Ayanbadejo, DT Arthur Jones, RB Matt Lawrence and FB Le'Ron McClain, offered their football passion and expertise – in addition to a few autographs – to the future gridiron stars who lined Patterson Park's Utz Field.
The event supported the NFL's Play 60 campaign, which encourages youth to engage in at least 60 minutes of physical activity each day, in addition to healthier nutrition habits. The Mid-Atlantic Dairy Association were also on-site to offer information on the health benefits of milk and regular physical activity as part of its Fuel Up to Play 60 partnership with the NFL.
And when clinic participants weren't rotating with NFL players through the various on-field skill stations, they were busy getting pictures and autographs from a number of Ravens cheerleaders as well as Ravens mascot, Poe.
One lucky participant, 10-year-old Thomas Garcia, was selected through a raffle as the "tee-kid" for the Ravens' home-opener vs. the Cleveland Browns this Sunday (9/26).
As the event winded down, members of the Ravens organization distributed goodie bags filled with healthy snacks and juice to remind participants about the importance of good nutrition. Additionally, every bag included a special Play 60-branded football, which many participants were proud enough to get signed by their new favorite coaches.
Jared Gaither Goes Back to School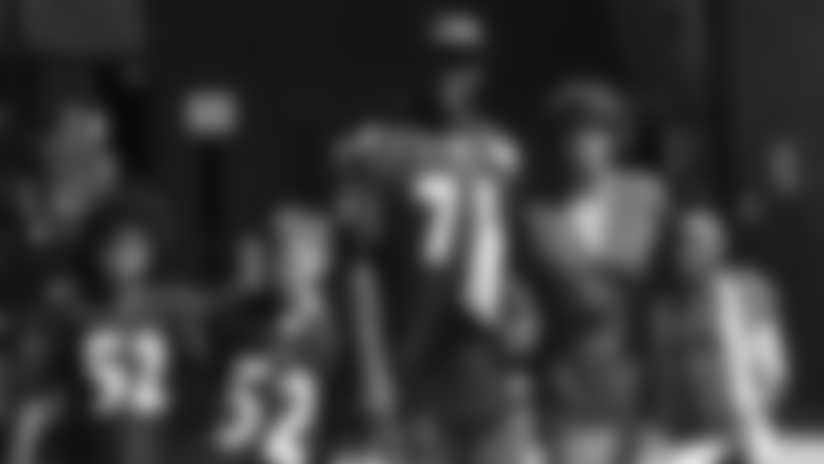 Riverdale Elementary School in Prince George's County, Md., welcomed back alumnus Jared Gaither on Tuesday (9/21), as the Ravens tackle made a trip through his old classrooms and hallways.
Gaither, whose 6'9" frame has outgrown the desks he once sat in, attended Riverdale from 1st-5th grade. Although most of his teachers have since left the school, Gaither was warmly greeted by current students and staff. More than 500 Riverdale students were invited to a special assembly, where Assistant Principal Carol Buhr and Physical Education Teacher John Bornman interviewed Gaither in front of the crowd.
At the conclusion, Principal Carol Cantu presented the fourth-year tackle with the Riverdale Elementary School "Outstanding Student Award," for outstanding achievement by a former Riverdale student and for being an excellent role model for current and future students.